Of All Paris Hilton's Looks - This One Stands Above The Rest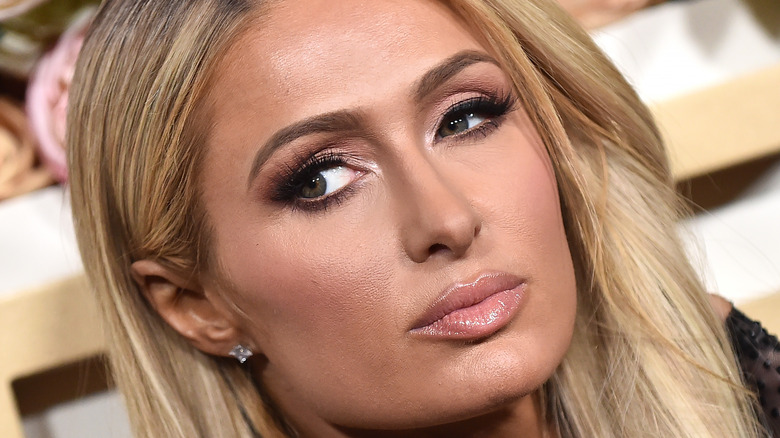 DFree/Shutterstock
Long before she Instagrammed all of her favorite style moments, indeed, before Instagram was even a thing, and even before Kim Kardashian was the biggest reality star on Earth, Paris Hilton was defining fashion (via W Magazine).
Trends from the early 2000s we can thank the hotel heiress for introducing include Juicy Couture tracksuits and Von Dutch trucker hats. As she said in a caption to a throwback photo on social media of herself and her sister, Nicky, "The early 2000's was such a fun & iconic era for fashion. People didn't have stylists & actuallyyy had personal style. Now everyone kinda looks the same."
According to Vogue, indeed, the former reality star set the tone of fashion twenty years ago more than anyone else. And so we will go back in time to 2002, when every outfit the so-called "original it girl" wore was splashed across every tabloid in the grocery store aisle. This was the year that True Religion jeans were the covet-worthy brand for every Hilton wannabe, and bare midriffs were a must-have accessory to any outfit (via Marie Claire). Another wardrobe staple was a rugby shirt — and don't forget you just had to complement your look with a choker and rhinestones (via Bustle).
Yes, let's go back to 2002, which is when "The Simple Life" star wore her most iconic outfit ever.
Paris Hilton's 21st birthday dress is legendary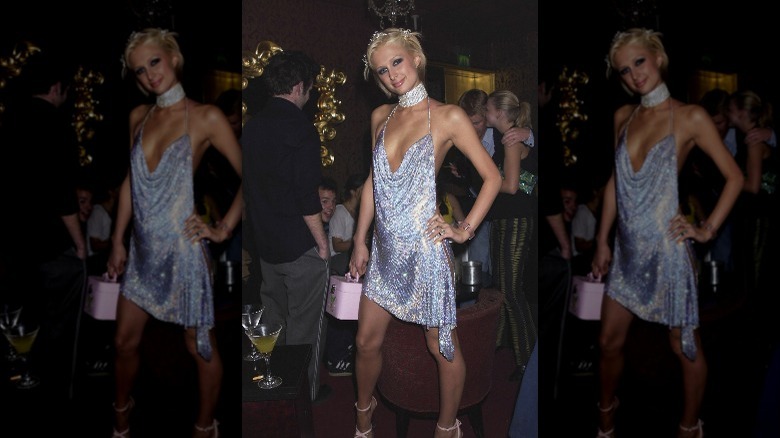 Dave Benett/Getty Images
Sure, Paris Hilton is known for her love of Juicy Couture tracksuits and rocked some pretty insane low-rise jeans back in the day (via Glamour). We love those looks and bow down to how they will forever remain a part of our pop culture fabric. But one particular outfit is so Paris, we had to remind fans of exactly what she wore on her 21st birthday that people are still talking about today.
The silver, sparkly, barely-there chainmail dress and choker Hilton rocked to celebrate turning the legal drinking age is so iconic, that more than one celebrity has mimicked the look. Not only did Hilton's sister Nicky dress up as Paris on her 21st birthday for Halloween in 2018, but the "it girl" of today, Kendall Jenner, is also all about the skimpy-yet-chic dress (via People).
As the original trendsetter tells it, "I was sitting with her mom [Kris Jenner] talking at her party and when [Kendall] walked in she just looked like this sparkling goddess." The star was familiar with the dress, as she'd worn it for her birthday years before.
Not only did a "flattered" Hilton recognize the look, but as it turns out, the model told her that she'd looked to "The Simple Life" alum for inspiration, with Jenner confessing, "Actually I saw the pictures and I told the designer because I was obsessed with it. So I had him copy it."
Paris Hilton and others still rock takes on her iconic dress to this day
Paris Hilton would likely agree that her iconic look from 2002 stands above all of her other fashion moments, some of which people say are inappropriate. "It's literally the best 21st birthday dress that anyone could ever have," she said previously (via People).
To be fair, since 2002, the star's style has evolved quite a bit. In recent years, Hilton has shown off a more mature sensibility when it comes to dressing for events. Case in point: In 2016, she donned a high-neck, long gown to an amfAR gala (via Harper's Bazaar). And her four — yes four — wedding dresses, which she wore to say "I do" in 2021, showed no hint of her belly button — and absolutely no denim was used in the creation of the designer looks (via Vogue).
And while we love the more grown-up Paris Hilton, we'll always love her 2002 birthday party dress the most. It seems we aren't alone, since the star is still sporting iterations of the look to this day.