The Jewelry In Queen Elizabeth's Final Portrait Means More Than You Realize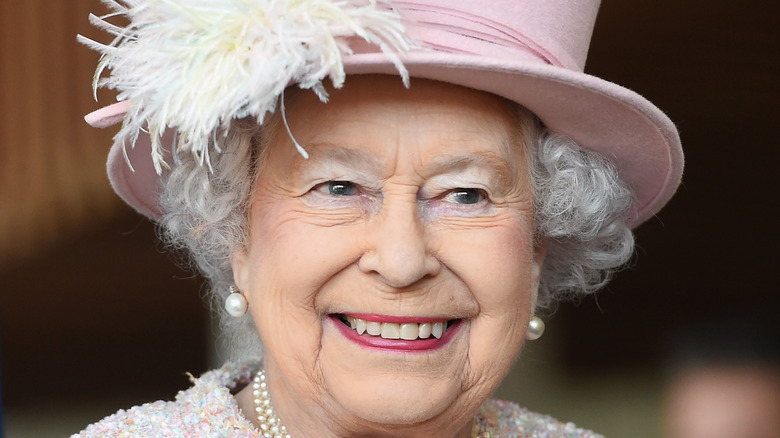 Stuart C. Wilson/Getty Images
Queen Elizabeth II sat for her first official photo as queen within three weeks of her father's death, according to People. She sat for photographer Dorothy Wilding, who had previously photographed members of the royal family, and the photos were used on postage stamps and as the queen's official portrait at British Embassies worldwide (via Town & Country). In all of the pictures, she wore jewelry that had a connection to her family.
In some of the 59 photos, she's wearing the Girls of Great Britain and Ireland tiara, originally a wedding present for the Duchess of York — who would become Queen Mary — in 1893; Queen Mary gifted it to then Princess Elizabeth for her wedding in 1947. Queen Elizabeth wore the tiara often, and it was said to be one of her favorites (per Tatler).
In other photos, the queen's head is bare and she's wearing simple, single pearl earrings — her mother and grandmother both frequently wore pearls — and the South Africa necklace, a diamond necklace she was given on her 21st birthday when she was traveling with her parents in South Africa. Fittingly, the queen's last portrait also featured jewelry with a family connection.
Queen Elizabeth wore jewelry with a family history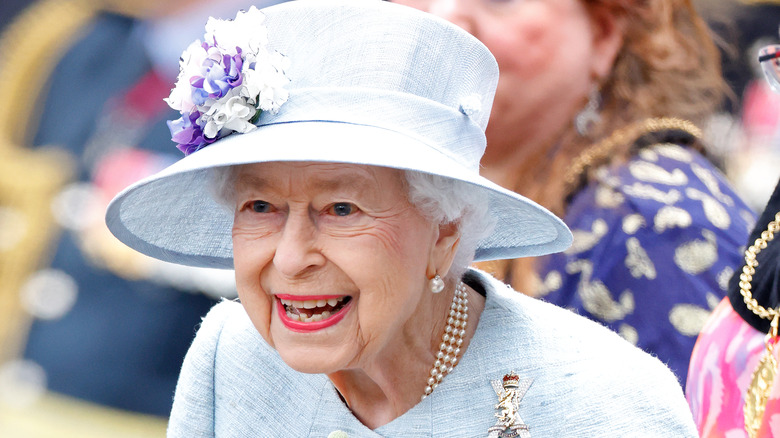 Max Mumby/indigo/Getty Images
Queen Elizabeth II's final portrait was released the day before her funeral, and as the royal family noted on Twitter when they released the picture, it "was taken to mark Her Majesty's Platinum Jubilee — the first British Monarch to reach this milestone."
In the photo, where she's smiling broadly, she's wearing her signature three-strand pearl necklace with matching earrings, and the final jewelry touch in the picture is an aquamarine brooch (per Vogue). Pearls meant a lot to the queen and the royal family, and Queen Elizabeth received a three-strand pearl necklace from her grandfather, King George V in 1935 for his Silver Jubilee, according to People. She loved it so much, she allegedly had a copy of the necklace made so she could wear it more often without wearing out the original, Timeless Pearl reported. 
As for the pearl and diamond earrings in the picture, it was Queen Mary, Queen Elizabeth's grandmother, who gifted them to her (via Vanity Fair). And the sparkly diamond and aquamarine clip brooches, according to The Court Jeweller, were a gift to the queen from her parents on her 18th birthday.
The queen was said to have at least 300 pieces in her personal jewelry collection, Marie Claire said. Out of all the options for her final portrait, she chose ones that clearly had sentimental value.