Royal Experts Slam Meghan And Harry's Reported Handling Of Their Netflix Documentary
Pool/Getty Images
Earlier this year, reports circulated that the Duke and Duchess of Sussex's highly lucrative Netflix deal was in danger of being canceled after the celebrity couple failed to live up to expectations. Netflix was reportedly annoyed with Meghan Markle and Prince Harry's behavior. As the Daily Mail reported at the time, the streaming giant was shocked when Harry did an interview with rival network NBC about his relationship with the queen.
Moreover, they were disappointed to learn cameras weren't allowed in Buckingham Palace to document the Sussexes' visit as they celebrated Her Majesty's Platinum Jubilee. Worse still, as an insider explained, "Harry and Meghan's slate of projects could be in jeopardy as they have announced plans to make shows that are educational and inspiring, rather than sexy and sensational." When Harry's grandmother passed, things took another turn.
Per Page Six, multiple sources with knowledge of the situation claimed Meghan and Harry were desperately trying to sand the edges off a planned Netflix docuseries out of concern that they could end up looking even worse in the eyes of the public, who have rallied behind the royal family following their devastating loss. 
According to experts, the celebrity couple has no idea what they're doing, and trying to fix things now isn't going to work. 
It may be too late for the Duke and Duchess of Sussex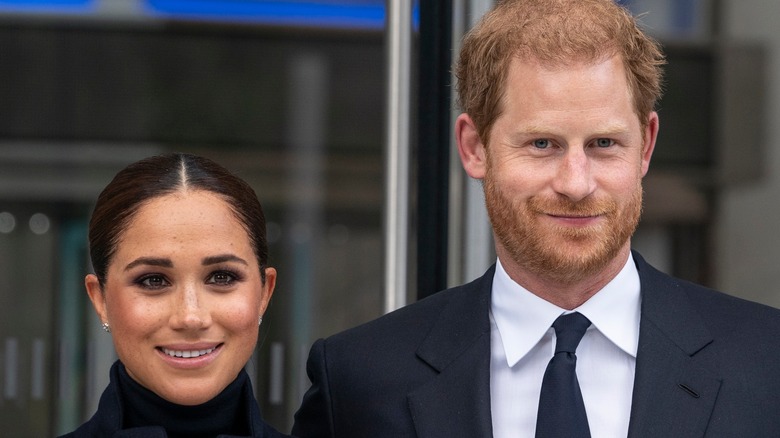 lev radin/Shutterstock
During a recent episode, royal experts at "TalkTV" discussed Prince Harry and Meghan Markle striving to edit parts of their upcoming Netflix docuseries in the wake of the queen's death. 
Commentator Afua Hagan argued: "I kind of feel, not in a mean way, that they made their bed and they should lie in it." Hagan pointed to how the Duke and Duchess of Sussex have already signed on the dotted line and received remuneration, which means they have to follow through. The royal expert also asserted that, at Her Majesty's advanced age, Meghan and Harry should've considered the possibility of her passing before they released anything. 
For fellow expert Daisy McAndrew, changing things now doesn't make any sense. "Because if they were preparing this series that was going to be coming out in November, December, and the queen was still alive, that would be worse if there's stuff in there that is offensive and she was still alive to see." As far as she is concerned, the Sussexes are running scared because the attention is back on them and they're floundering to fix something that can't be fixed. 
The couple's fears may not be unfounded, either, since royal biographer Phil Dampier informed The Irish Sun that all signs point to them being "slowly eased out" of the family. Dampier noted that their recent demotion to the bottom of the official website is a major warning sign. 
Meghan and Harry aren't seeing eye-to-eye with Netflix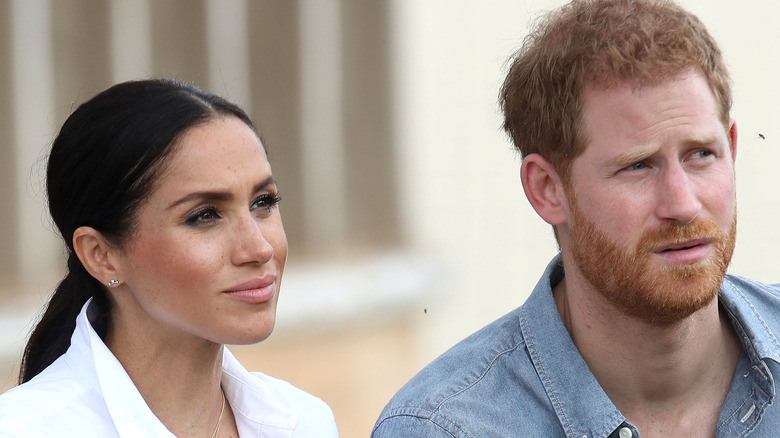 Chris Jackson/Getty Images
Either way, it's clear that Meghan Markle and Prince Harry are facing major problems with their Netflix doc. Sources divulged to Page Six that the couple is "panicked about trying to tone down even the most basic language." The problem is, they've been in the driver's seat since the beginning, so the couple must edit their own words. Making matters considerably harder, neither the Sussexes' own production company nor Netflix itself supports the proposed changes. 
They reportedly took aim at King Charles, his wife, Queen Consort Camilla Parker Bowles, and the Prince and Princess of Wales in the project and are now reconsidering their position. "They've made significant requests to walk back content they themselves have provided — to the extent that some Netflix staff believe, if granted, it will effectively shelve the project indefinitely," a source revealed. Unfortunately for the Sussexes, "Netflix is standing by the filmmakers." 
As a result, Meghan and Harry are now pushing to hold off releasing it until next year. The royal defectors may simply be in over their heads, or they misunderstood how much power they wielded. An insider previously told The Sun, "The deal may be millions on paper, but they are absolutely not allowed to make whatever they want." Likewise, the Sussexes are expected to keep Netflix happy and to do what they're told, so backtracking on their docuseries might not be the wisest move.