Why TikTok Is Raving About The Brownie Lip Trend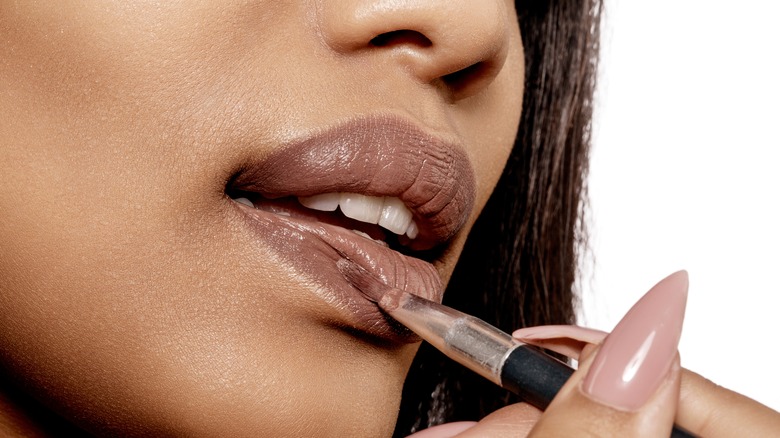 Miramiska/Shutterstock
At the end of August, Hailey Bieber posted a TikTok captioned "ready for all the fall things including brownie glazed lips." The video was more of an aesthetic one than any sort of tutorial. However, since it was posted, the TikTok has blown up, partially due to backlash from the Latina community and partially because people are loving the fall vibes. According to Allure, this isn't Bieber's first rodeo with "creating" beauty trends either. She previously brought about a TikTok frenzy with her "glazed donut" skin.
Beyonce's makeup artist Sir John also commented on the trend. Speaking to Diet Prada, he expressed how vital it is to credit Black and brown culture, sharing that the brownie lips trend originally came about from the "lack of products for Brown and Black people." He also reiterated that starting a conversation around where trends came from is extra important when you are as famous as Hailey Bieber, as young fans might think she originated it herself.
The look is super simple to achieve and a great low effort go-to
Whatever your view on the backlash, brownie lips are the perfect fall trend. Plus, now you know the origin of them, glazed lips are the perfect way to spice up your pout. Requiring only two products, the look is chic, sophisticated, and will suit most skin tones. Start perfecting the trend now so brownie lips can be your go-to lip look throughout fall and winter.
As outlined in this TikTok tutorial by @victorialyn, you'll want to start out with the Scott Barnes Naomi Lip Liner. The soft brown shade should outline both your top and bottom lip. For a Hailey Bieber-esque look, make sure to slightly blend in the liner to your actual lips for a nice chocolate brown base. Next, do a small zigzag motion in the center of your top and bottom lip and blend once again to prevent any harsh lines. By now, you should have a stunning brownie base.
Don't worry if you can't get your hands on the above products, as there are plenty of dupes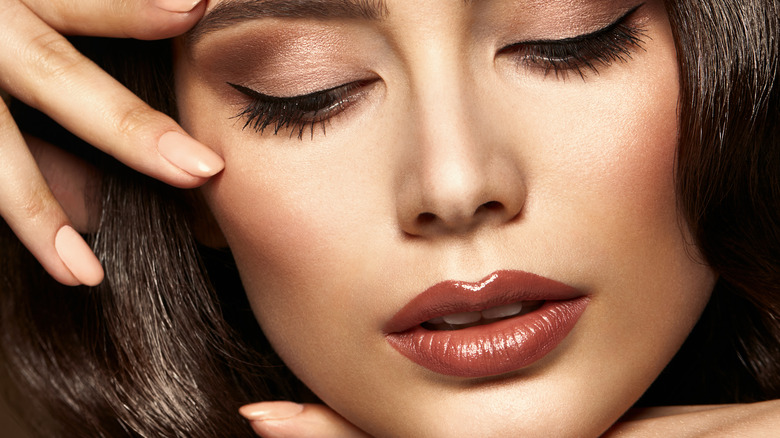 Inara Prusakova/Shutterstock
As seen in the TikTok tutorial by @victorialyn, you'll need a lip treatment to recreate the glazed effect. Hailey Bieber uses the Peptide Lip Treatment from her own brand Rhode Skin in the shade Salted Caramel. Simply apply the treatment all over your lips until they have a nice glossy shine, equivalent to the glaze on top of a donut.
If you can't get your hands on the above products, there are a few dupes out there. Instead of the Scott Barnes lip liner, Refinery29 recommends Charlotte Tilbury Lip Cheat Pencil in the shade Pillow Talk Intense. As for the Rhode Peptide Lip Treatment, which is currently sold out, a cheaper alternative would be Kopari Lip Glossy Original or Lanolips 101 Ointment, both of which will give you the same glazed shine that's so essential for the brownie lips look. 
Now you know the trick to achieving brownie glazed lips, you can slay all fall long.