Foot Traffic Data Shows America's Love For This Supermarket Chain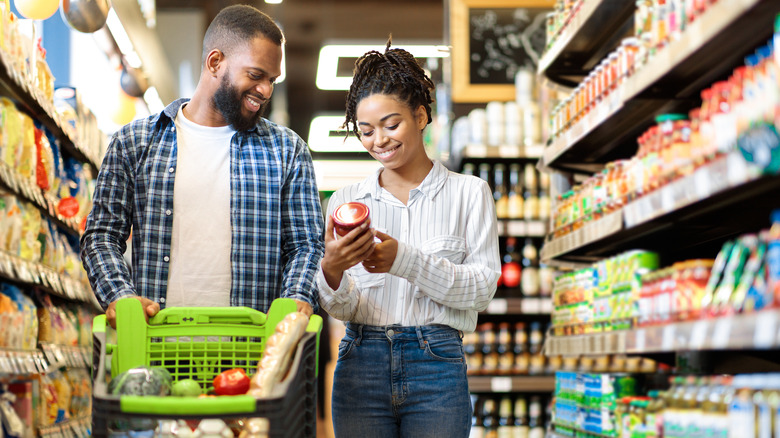 Prostock-studio/Shutterstock
"I want to leave the world in a little better shape than when I entered it." Doesn't this beautiful sentiment sound like it was said by a philosopher or a politician, maybe even an actor? Well, think again, because this quote belongs to the owner of a grocery store. Founder Fred Meijer coined this phrase when he opened his American superstore chain, Meijer. The company values their customers, family, freshness, health, and safety, while bringing reasonably priced goods to local neighborhoods.
According to their company website, Meijer is mainly a midwestern retail chain, with over 240 stores in six states. The superstore strives to offer a variety of groceries and merchandise while maintaining a "hometown feel." But can the family-owned grocery store chain survive the fallout of the pandemic, inflation, and changing shopping trends? The List created a graph via Data Herald that tracked monthly foot traffic at Meijer over the past two years. The results suggest that Midwest grocer might be struggling to get shoppers through their doors.
Meijer sees a drastic drop in shoppers as costs continue to rise
Unfortunately, even the nicest of grocery stores struggle to compete with grocery giants like Walmart and Sam's Club. American shoppers are favoring wholesale clubs over specialty grocers and smaller markets since inflation began to rise this spring (via Food Ingredients First). Due to markups on essential goods, consumers are limiting their shopping trips and saving money wherever they can, per Winsight Grocery Business. Foot traffic data shows that Meijer has been seriously affected by the changing shopping habits brought on by inflation. Per The List's graph, an extremely drastic drop from 250,000 shoppers in April to just over 160,000 shoppers in May signaled the start of Meijer's downward trending foot traffic. In July, the grocery store chain saw fewer shoppers than they had during the April 2020 closures due to the pandemic, marking their lowest monthly average in over two years.
Even with low foot traffic, Meijer continues to reach out to the community in a positive way. According to news outlet WILX, Meijer is selling affordable Halloween costumes made for children with disabilities. The costumes feature a number of different clothing modifications such as magnet and Velcro openings, and "hook-and-loop openings for children with arm and leg braces." Thanks to Meijer, these children can now go trick-or-treating while wearing an adorable and inclusive costume this Halloween. With decisions like that, we hope to see more of our midwestern friends travel to Meijer for their goods this spooky season.