Foot Traffic Data Reveals America's Favorite Wholesale Club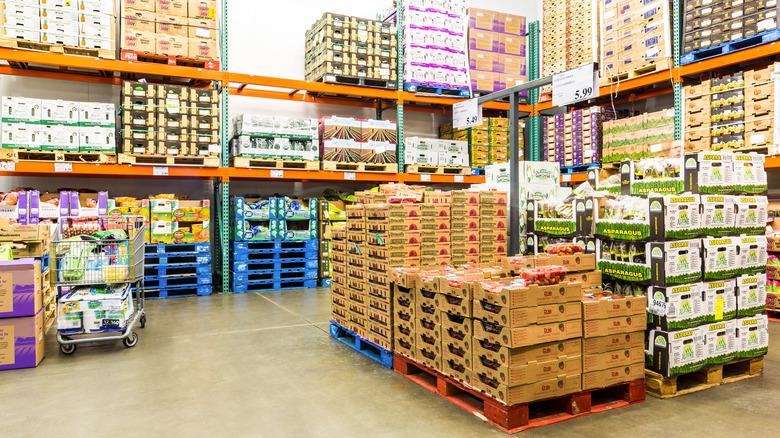 Mihai_Andritoiu/Shutterstock
Have you ever entered a wholesale club with only milk and laundry soap on your grocery list, and ended up leaving with $300 worth of goodies and impulse buys? That's not by accident — wholesale clubs like Costco have sneaky ways to get you to spend more money, and shoppers don't seem to mind. The great deals you score as you wander the maze of a store leave you feeling like you got a great deal at a fraction of the retail cost.
Wholesale shoppers must also have a membership in order to shop, which is where the store makes a good percentage of their profit. This allows the wholesale club to offer great deals while selling a large quantity, and shoppers feel like they've gotten a spectacular deal as they buy bulk items for a reasonable price. This easily justifies a small membership fee (via America's Money Smart Family). Some of America's most popular wholesale retailers are Costco, Sam's Club, and BJ's Wholesale Club — all three store memberships are reasonably priced and come with many perks and exclusive deals. Per Sam's Club, their cheapest membership is $45 annually, while Costco's is $60, according to their website. BJ's Wholesale advertises their lowest membership at only $55 a year.
When it comes time to decide which membership is right for you, you want to know which store outranks the rest. The List created a graph with exclusive data that tracked the foot traffic trends of all three wholesale clubs, hoping to find out which store is really the most popular.
Are wholesale clubs in trouble?
According to The List's foot traffic graph, one wholesaler outperformed the competition. While Sam's Club and Costco both follow a very similar foot traffic pattern, Sam's Club sees approximately 200,000 more visitors each month. BJ's Wholesale Club fell behind with an average of around 100,000 visitors each month, even during the very busy holiday seasons. It is hard to compete with wholesale titans like Sam's Club and Costco, who are known for their incredible bulk buys and reasonably priced food court, but also have more locations than BJ's. According to ScapeHero, BJ's Wholesale Club has just 239 locations in the U.S., while Sam's Club has 600 locations (via ScapeHero) and Costco has 578.
Unlike many other foot traffic graphs we've analyzed, all three stores saw a large spike in foot traffic during the beginning of the COVID-19 pandemic, as people prepared for the lockdown. (Anyone else remember the great toilet paper panic buying of March 2020?) In April, there showed a decline in visitors as people stayed home, but all three wholesalers quickly recovered to normal averages, as shoppers prioritized bulking up on necessities that the stores provided.
In the past few months, visitor counts have fallen pretty significantly for all three stores, as shoppers navigate rising prices due to inflation. According to a survey by NCSolutions, nearly half of shoppers in the U.S. can hardly afford to purchase essentials and have stopped buying non-essentials altogether (via Winsight Grocery Business). However, we aren't too worried about our favorite wholesale clubs; as long as they're still selling things like Costco's delicious hot dogs for $1.50, we'll keep renewing our membership.