Donald Trump's Truth Social App Still Faces A Major Hurdle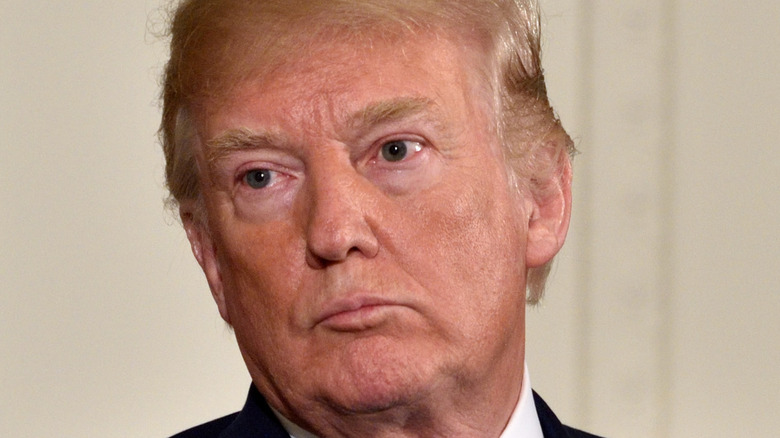 Evan El-Amin/Shutterstock
Still in its infancy, Donald Trump's social media platform Truth Social is seriously turning heads. The platform shares many structural similarities to Twitter, which the former president was permanently banned from following the January 6 insurrection. In a statement, Twitter outlined its reasoning for kicking Trump off its site. "After close review of recent Tweets from the @realDonaldTrump account and the context around them — specifically how they are being received and interpreted on and off Twitter — we have permanently suspended the account due to the risk of further incitement of violence," the company said at the time.
That didn't stop Trump from finding ways to address his fans and followers. Trump launched Truth Social, his own social media platform, in February 2022. "Get Ready! Your favorite president will see you soon," he wrote in his inaugural post. By April, the app had around two million users, according to Forbes.
Although Trump's Truth Social has welcomed a plethora of users — albeit slim in comparison to its rival, Twitter, which had about 290 million users this summer, per Statista – the former president's fledging app has another major battle ahead before being fully available to potential users.
Truth Social is still waiting to be allowed on Google Play Store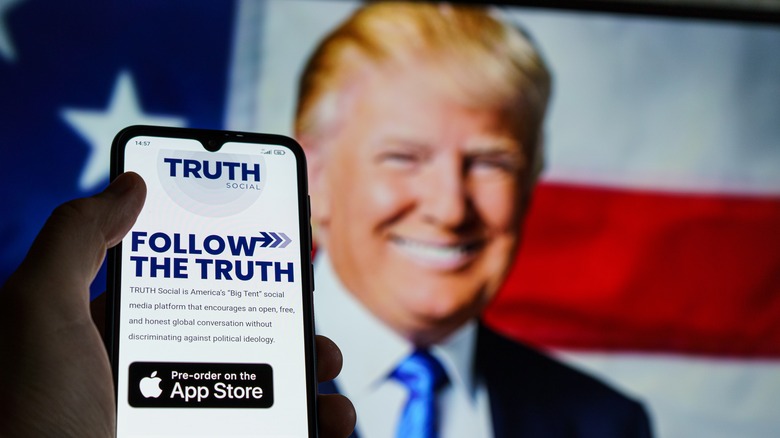 Rokas Tenys/Shutterstock
Though available for download on Apple and Samsung devices, Donald Trump's platform Truth Social has not been admitted into the Google Play Store, according to Fox Business. The company behind the former president's app, Trump Media and Technology Group, has apparently been in talks with Google since July. However, those who use Google smartphones will have to wait if they want to download Truth Social.
"We continue to have an open and productive dialogue with Google, and hope that Android users will soon be able to download Truth Social from the Play Store," TMTG CEO Devin Nunes told Fox Business.
Even if the app finds its way to the Google Play Store, some tech experts wonder if Truth Social will succeed in the arena of online platforms. "Truth Social looks exactly like something a developer would make if they were asked to build an app that does only the Twitter basics and nothing more," Forbes social media contributor John Brandon said when he first tried the platform.
Will Trump stay on Truth Social if he is allowed back on Twitter?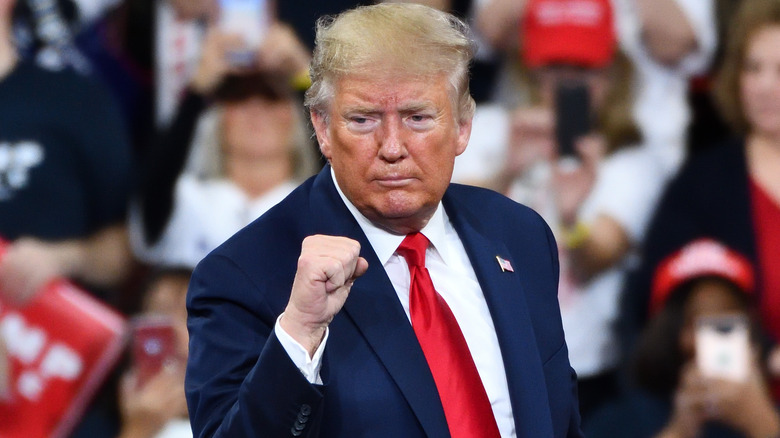 Evan El-Amin/Shutterstock
As Truth Social struggles to garner users comparable to its main competitor, billionaire Elon Musk has toyed with the idea of letting the former president back onto Twitter if he acquires the platform. According to NPR, Musk asserted that Twitter's decision to kick Trump off the site "was a morally bad decision, to be clear, and foolish in the extreme." The status of Musk's business dealings with Twitter remain in flux as of publication. 
That raises the question: What will Trump do with Truth Social if Musk lets him back on Twitter? In that case, it may not matter at all if the Google Play Store allows users to download the app if Trump makes the switch back to the more mainstream platform.
There are no clear answers at the moment. However, Trump's family members have not been as active on Truth Social as they have on Twitter. If Trump followed his family's course, the fledgling app's life could be over before gaining any steam at all.