The Number Of Times Donald Trump's Family Has Used Truth Social Might Surprise You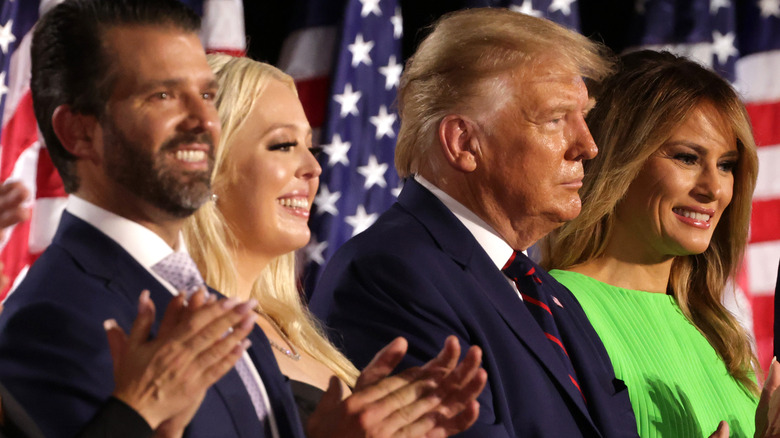 Alex Wong/Getty Images
Reports that Donald Trump's social media baby Truth Social is on the fritz have been circulating for weeks. The former president denies that his platform has seen lower-than-expected "truthing" or that the company owes one of its vendors a mini-fortune. But one undeniable shortcoming is that the Truth Social app is still not compatible for Android users (via Reuters). Another fact Trump can't dispute is how often his own family members are going onto the app.
First, it's important to note that Trump himself uses the app hourly. His account is followed by 4.11 million people. To put that in context, Trump had — wait for it — over 80 million followers on Twitter in 2020 (via The Washington Post). 
The app itself has about 2 million active users according to Statista — and while yes, some of those include Trump insiders like Donald Trump Jr. and Melania, the former first lady, who is actually truthing often? Intelligencer looked at the truthing habits of Trump family members ranging from Ivanka to Jared Kushner and what they found is pretty surprising.
Which Trump family member uses Truth Social the least?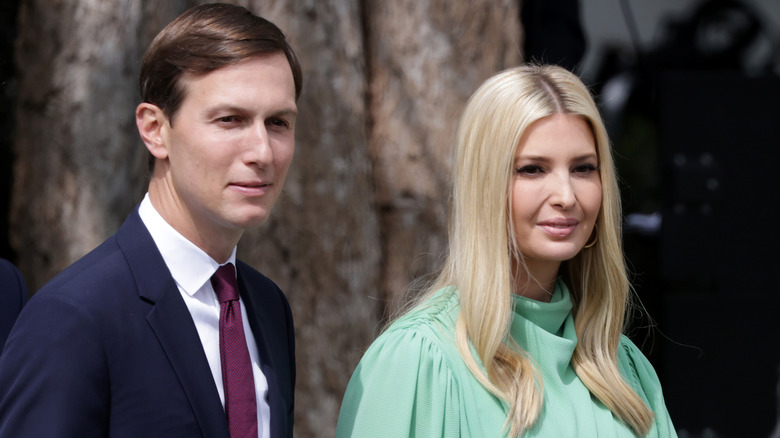 Alex Wong/Getty Images
Melania Trump has stood by her husband through thick and thin over the past several years. But when it comes to her footprint on Truth Social, the former first lady is treading lightly. Her account has less than 1 million followers and according to Intelligencer, she has only shared 55 posts. Meanwhile, Melania has 2 million followers on Twitter, and she posts there nearly every day.
Donald Trump Jr. is of course a huge Twitter user, with many of his posts stirring up controversy, such as when he defended his dad after the raid at Mar-a-Lago and another time the conservative shared a presidential quiz that was largely slammed.
When it comes to Truth Social, the former president's Twitter mouthpiece seems to also have time to share frequent content there as well. As for Donald Trump's other kids, Ivanka isn't on Truth Social basically at all, while she's quite active on more mainstream platforms like Twitter and Instagram. Eric Trump is more active on the platform according to Intelligencer, but by contrast, Tiffany doesn't even have an account on her dad's Twitter alternative.
As for Jared Kushner, his usage is somewhere between that of Donald Jr.'s and the oldest Trump child's betrothed, Kimberly Guifoyle's — she doesn't really use Truth Social at all. Maybe it's because she's too busy tweeting...