Donald Trump's Truth Social Platform Is In Some Seriously Hot Water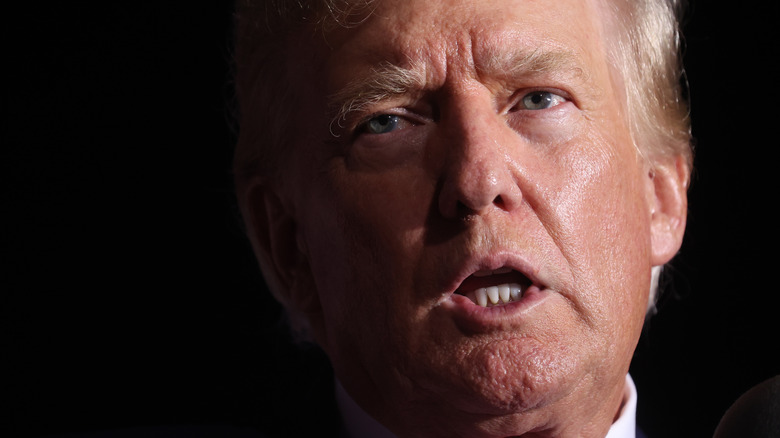 Scott Olson/Getty Images
After being booted off of Twitter indefinitely following the Jan. 6 insurrection at the Capitol, former president Donald Trump did what we'd expect and launched his own social media platform, Truth Social, in February of this year (via NPR and Mashable). His very first post said, "Get Ready! Your favorite President will see you soon!"
With his son Donald Trump Jr. acting as his mouthpiece on Twitter, and angering plenty of people in the process, the controversial GOP leader continued to build Truth Social's following. As Newsweek reported in April, the app was downloaded 1.4 million times in the months following its launch. Meanwhile, it was also a top download in the Apple store (via Forbes). Statista reports that the platform supports about 2 million active users who are mostly college-educated, Millennial men.
Truth Social is not exactly Twitter, clearly. But is this an apples-to-apples comparison?
Truth Social encounters multiple hurdles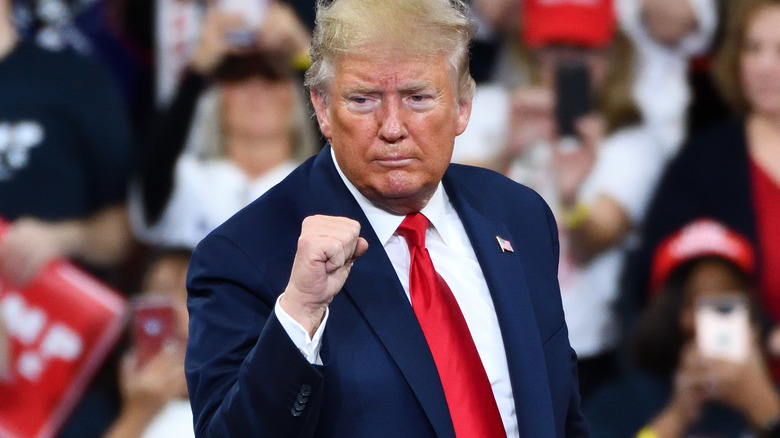 Evan El-Amin/Shutterstock
Twitter first disclosed how many active users it claimed in 2011 — five years after the launch of the social media platform. That number was an astonishing 100 million, and has grown to 300 million to date, putting the number of users Truth Social has somewhat to shame, although it's still a young app (via Britannica and The Hollywood Reporter).
But will Truth Social even have an opportunity to thrive?
As Axios reports, initially the FBI's raid on Donald Trump's Mar-a-Lago property led to a surge in downloads of Truth Social of 88,000 in just one week. But hot on the heels of this seemingly-good news, The Washington Post reported that Digital World Acquisition, which is poised to take Truth Social's parent company Trump Media & Technology Group public, is concerned about how the former POTUS' latest troubles may impact the platform's growth potential, with the company expressing worries that it may become "less popular" and noting the reason to be possible "further controversies" that would "damage [Trump's] credibility."
To be fair, just how Americans feel about Trump following the raid may surprise you. The Washington Examiner reports the likely 2024 candidate for the top job in the land is more popular than ever.
One of Truth Social's partners stands by the platform despite financial issues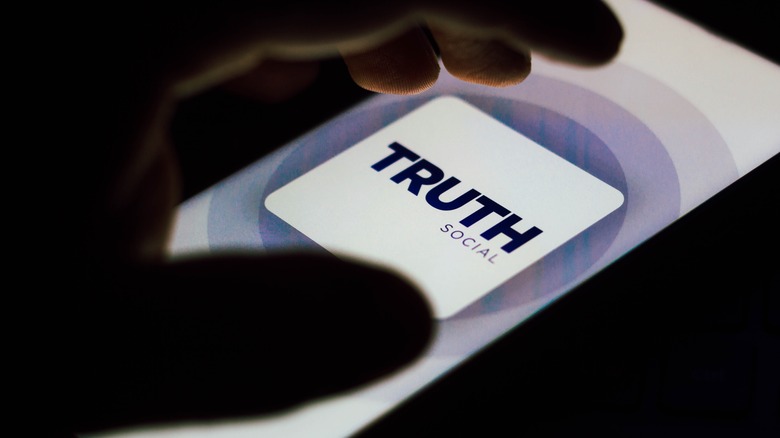 rafapress/Shutterstock
In other troubling news for Truth Social, its application for a trademark for the brand was also denied this week, signaling another indication that the platform is going nowhere fast (via Axios). 
One other eyebrow-raising issue is that Truth Social appears to no longer be paying RightForge, its web hosting service.
The New York Post reports that the conservative platform owes RightForge $1 million, but it's important to note that the company's CEO Martin Avila said in a statement in part, "Our founding vision is to make a second internet to support American ideas online. RightForge believes in the mission of President Trump's free speech platform and wish to continue supporting the president in his media endeavors."
At time of writing, Donald Trump himself had not confirmed or denied reports that his app is in danger and continues to post there frequently, most recently questioning the "heavily redacted" FBI affidavit that was just released.