Kanye West Has A Lot To Say About Jared Kushner And Ivanka Trump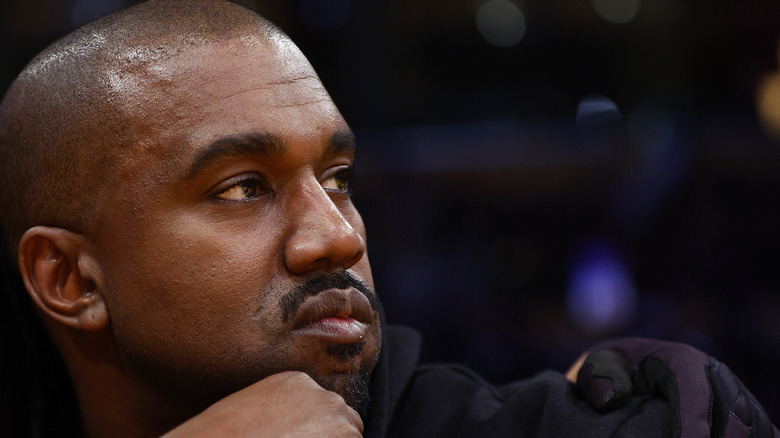 Ronald Martinez/Getty Images
Award-winning musician, producer, and rapper Kanye West isn't one to hide how he really feels about anybody. The artist has turned to various polarizing takes throughout the years, leaving fans stunned with his controversial moves on social media. Many of West's most eye-catching opinions revolve all around politics. For example, in 2020, West announced an impromptu run for president. Though the BBC reported that he only garnered around 60,000 votes — a huge drop-off compared to the other independent in the race, Jo Jorgensen, who got around 1.5 million — West showed that he was serious about entering the political ring.
But before seeking his own presidential bid, the musician had been a firm supporter of Donald Trump. Back in 2018, West shared his support for the politician on "Saturday Night Live" and received negative boos from the crowd, according to People.
Though West has obviously supported the former president and his administration, his latest comments have some puzzled over his true opinions about Trump's team — specifically, his daughter, Ivanka Trump, and her husband, Jared Kushner.
Kanye West criticizes Jared Kushner for holding Trump back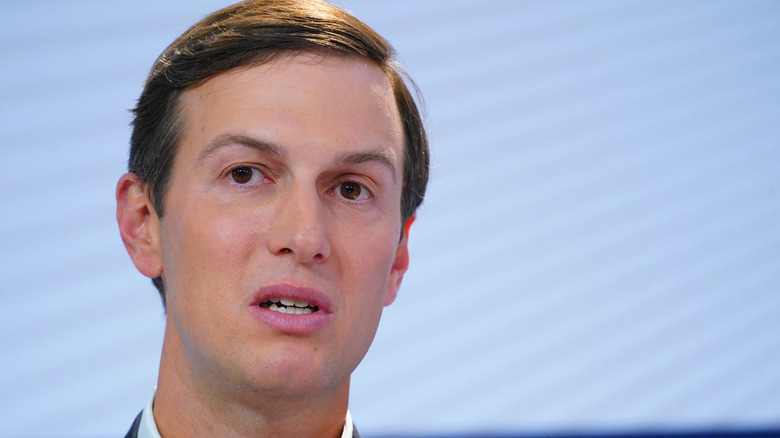 Leigh Vogel/Getty Images
In an October 7 interview with Tucker Carlson on Fox News, Kanye West slammed former presidential adviser Jared Kushner for apparently keeping Donald Trump from reaching his highest political potential. West, ever the controversial figure, spoke on a variety of topics, including defending his "White Lives Matter" shirt and touching on his tumultuous relationship with Kim Kardashian.
But his switch in opinion regarding Kushner caught many by surprise. The two had once been fairly close acquaintances, with People reporting that they both met privately at the White House during Trump's presidency. But that chummy bond has apparently since faded.
"These guys might have been really been holding Trump back and being very much a handler right then," West told Carlson, referring to Kushner and his brother. "They loved to look at me or look at Trump like we're so crazy and they are businessmen," West went on. The musician alleged that the Kushner brothers were scheming "to make money" during their time in the White House, citing business deals made in the Middle East where Kushner had $2 billion worth of investments from Crown Prince Mohammed bin Salman.
Kanye has personal bad blood with the Kushners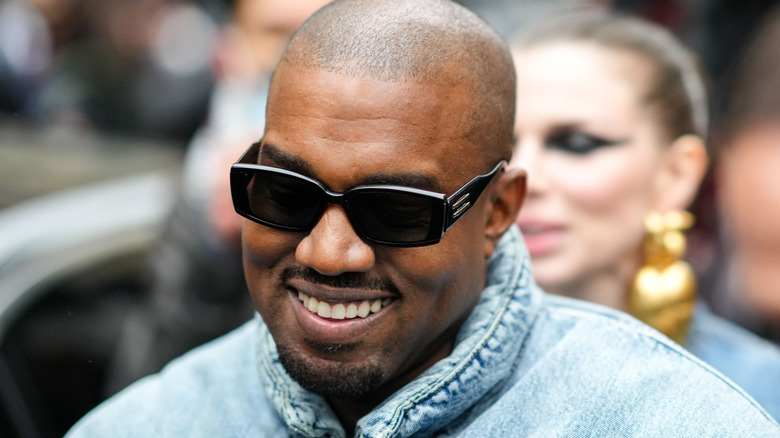 Edward Berthelot/Getty Images
This isn't the first time that Kanye West has called out the Kushners. In a deleted Instagram post, West ranted about Jared Kushner's brother, Josh Kushner, who had invested in his ex-wife Kim Kardashian's SKIMS brand, according to People. "F— JOSH KUSHNER," West wrote in the now-deleted post.
West went into detail with Tucker Carlson on Fox News about his vendetta against Josh. "You know, I had a dinner with Ivanka, Jared and Josh. And a couple days later, I found out that Josh Kushner had 10% of SKIMS, which is a line that I developed with Kim," West told the TV personality. "I found out after this dinner that Josh Kushner had 10% of SKIMS and I had 5% of SKIMS," West explained. "And regardless if Josh Kushner figured out how to put $150 million — I'm sure it wasn't out of his own account, but $150 million, and I'm sure Jared still has a piece of that fund."
Regardless of his hard feelings towards the Kushners, West did relay in his Instagram post that he was still a fan of Ivanka Trump. "IVANKA IS FIRE," he made sure to add in his since-deleted online rant, per People.