Here's How King Charles's Coronation Will Be Different Than Queen Elizabeth's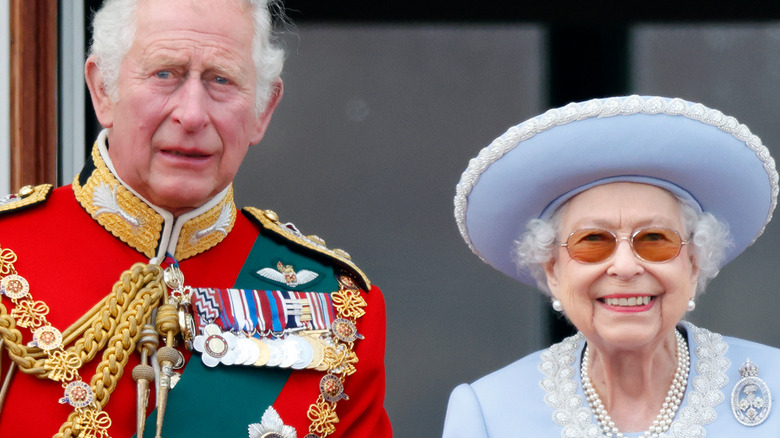 Max Mumby/indigo/Getty Images
On September 8, 2022, Prince Charles of Wales became King Charles III when his mother Queen Elizabeth II died at the age of 96. She had been monarch in Britain since 1952, when her father, King George VI, passed away at the very young age of 56 due to lung disease. She was not anointed as sovereign until her June 2, 1953 coronation (via Britannica).
Now, nearly 70 years to the day after the Queen was crowned, her son, who attended her coronation as a child, will receive the same honor, with the King's coronation reportedly set to take place on June 3, 2023 (via Bloomberg). And while many elements of the upcoming ceremony will be similar to the widely-watched coronation of Queen Elizabeth II — Fortune reports 27 million people in the United Kingdom tuned in to see their new monarch be crowned — it's also true that the King's coronation will signal just how different his rule will be from his mom's.
The King's coronation will be more climate and budget minded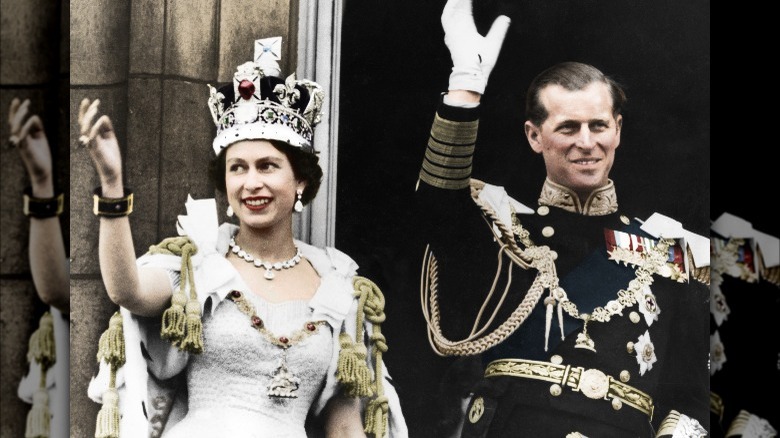 Print Collector/Getty Images
We already suspected that King Charles will do things his own way now that he has ascended the throne. As NPR reports, his rule is likely going to be more environmentally conscious, since climate change has long been one of the royal's passions.
Indeed, according to Express, the new monarch desires a low-carbon event. As such, the guest list for the coronation may be considerably smaller than it was for Queen Elizabeth's big day in 1953, to avoid too many foreign dignitaries using private jets to fly in next June. According to Royal.uk, over 8,200 people from close to 130 countries and territories around the world watched the long-reigning monarch's coronation.
Meanwhile, the King's coronation guest list is expected to be closer to 2,000 (via Fortune). Indeed, the new head of the British royal family has been quite vocal about his vision for a slimmed-down monarchy in general, a sentiment that is likely to be reflected in the ceremony that will see him crowned (via Financial Times).
King Charles wants to be mindful of frugality but still honor tradition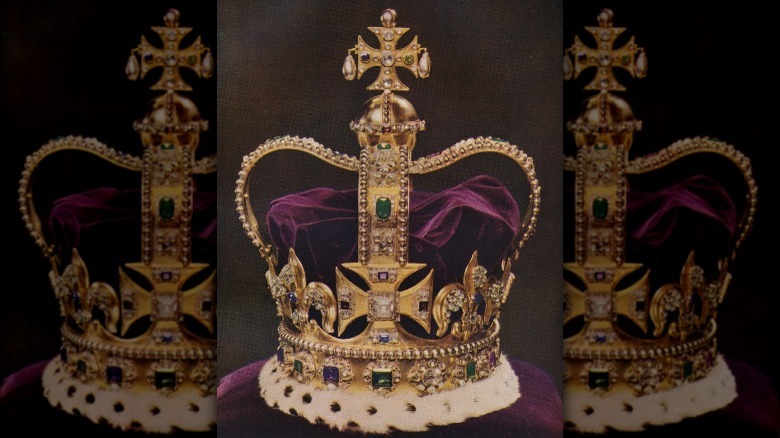 Print Collector/Getty Images
There's also the King's interest in saving money that royal fans will notice on June 3, 2023. As an insider explained to Express, "The King is by nature quite a frugal person whenever he is able to be and I would expect he will want the coronation to focus more on the spiritual elements than the more showy parts."
To that end, Fortune reports that especially in light of the English people facing inflation and the rising cost of fuel, King Charles will want his coronation to be sensitive to this plight and not include any elements that are too overblown.
That said, he still plans to ride in the gold carriage Queen Elizabeth was transported in to her coronation (via Daily Mail). He will also don St. Edward's crown like his mother did according to Hello! The bejeweled headpiece is worth an astonishing $57 million — hardly a token of frugality!
But another way King Charles' coronation will not mimic his mother's is its length, with The U.S. Sun reporting the ceremony will likely last about an hour — not three, like his predecessor's. Fortune reports the dress code will be more lax this time as well, with women not required to sport tiaras. We can also expect more diverse religious and cultural elements to the ceremony, although the oath the King takes will be the same.