The Text That Harry Reportedly Sent Prince William That Still Haunts Him Today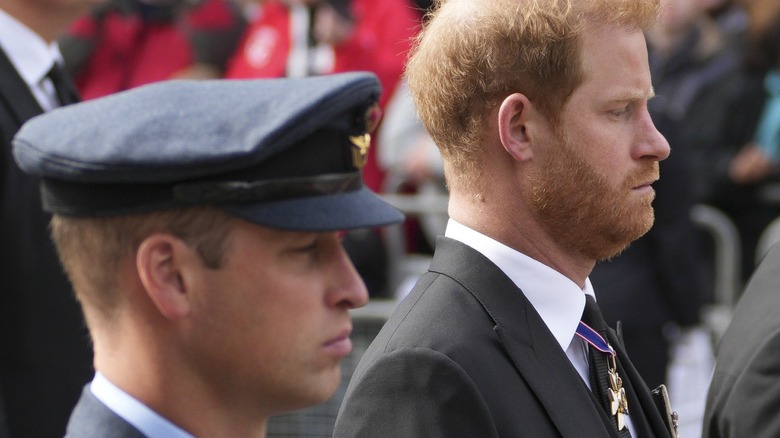 Wpa Pool/Getty Images
After years of highly-publicized turmoil, royal fans were thrilled to see estranged siblings Prince William and Prince Harry put on a united front, alongside their wives, while grieving the loss of the queen. The foursome, formerly known as the Fab Four, stepped out together while greeting mourners at Windsor Castle. But, as an insider later told People, footage from the event was highly deceptive.
"It was awkward. Both couples found it hard," the source clarified, adding, "They were in a stoic spirit of just getting through it for the queen." The Duke of Sussex and his older brother have been at odds ever since Harry and his wife Meghan Markle defected from the royal family in 2020. During the Sussexes' jaw-dropping interview with Oprah Winfrey, Harry even claimed his brother was "trapped" in The Firm.
As Marie Claire reported at the time, he argued, "I was trapped, but I didn't know I was trapped. My father and my brother, they are trapped. They don't get to leave. And I have huge compassion for that." They've seen each other a handful of times since, but the relationship is strained to say the least, despite attempts from both sides to find common ground — including, as it turns out, a harsh rejection from Harry.
Prince Harry turned his brother down with just two words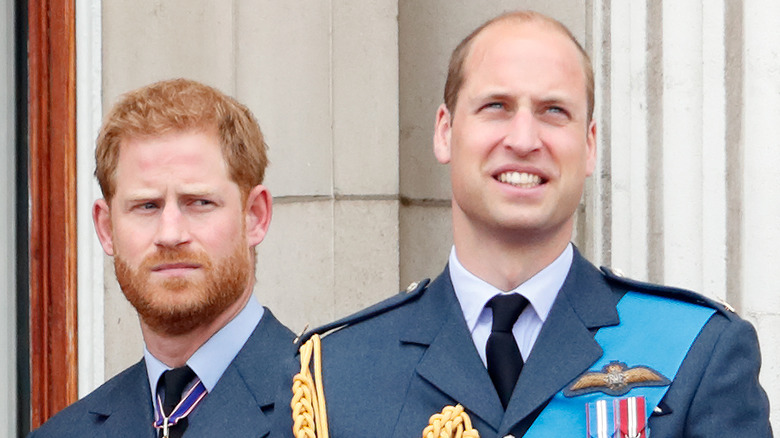 Max Mumby/indigo/Getty Images
Prince William and Prince Harry could have sorted out their relationship issues years ago, if only the Duke of Sussex was more willing to sit down and chat. According to an excerpt from Valentine Low's new book, "Courtiers: The Hidden Power Behind the Crown," published by The Daily Mail, back in 2019, William reached out to his brother to try to figure things out, following the Sussexes' South African royal tour.
Low claims, "William WhatsApped his brother to ask if he could come and see him" and, at first, Harry was open to the idea. However, when he learned the Prince of Wales's private secretary would have to be briefed about their meeting, Harry turned William down. "He was so concerned that William's team would leak the visit to the press that he would rather not see his brother than risk it getting into the papers," Low notes. 
A blunt, two-word message reading simply "don't come" scuppered any hope of a reconciliation. Although the warring brothers were reunited while mourning the death of their beloved grandmother, a royal insider informed The Mirror: "Any talk of a truce between the prince and the duke would only be temporary." The main issue is Harry's upcoming memoir, which continues to be a major source of tension. In fact, experts agree it's the one thing Harry needs to drop if he wants to reunite the royal family.
The warring siblings are still at odds, according to experts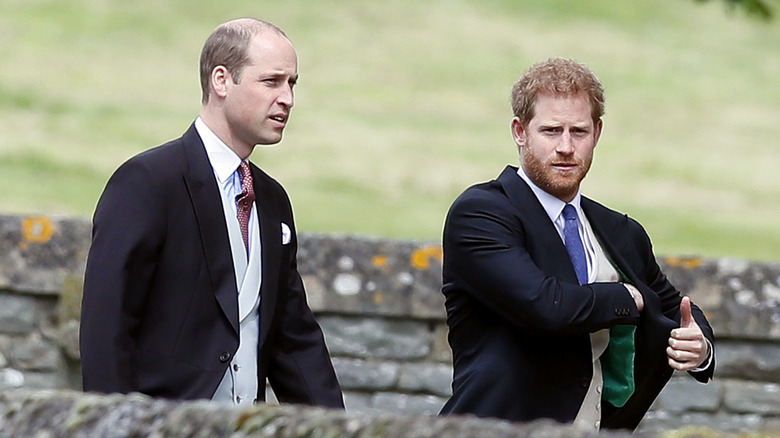 Wpa Pool/Getty Images
Funnily enough, it was actually a text from Prince William that convinced the Duke and Duchess of Sussex to take part in the Windsor walkabout. The Daily Mail confirmed William reached out at the last minute to ensure his brother and wife Meghan Markle would be there, even waiting around so the four of them, alongside William's own wife, Catherine Middleton, could meet the gathered well-wishers together.
However, The Sunday Times' royal editor, Roya Nikkhah, made it clear during a recent appearance on the British chat show "Lorraine" that there's still a long way to go to mend the relationship. "My understanding is things are pretty tense and pretty frosty still between them, which is a shame," Nikkhah shared. Fellow royal expert Tina Brown argued, also on "Lorraine" (via the Daily Mail), that Harry needs to scrap his memoir if he wants to move on.
She enthused, "This is an incredible moment to be used. The country loved that feeling of unity and seeing the brothers back together, it was a beautiful sight." But Brown also noted, "Unless he gives up his book and the tell-all documentaries and interviews then there can be no trust. I think if he does that there can be a way." Sadly, judging by these latest revelations, William and Harry are still struggling to communicate on a very basic level.