Expert Claims Things Still Aren't Looking Good For Prince William And Harry's Relationship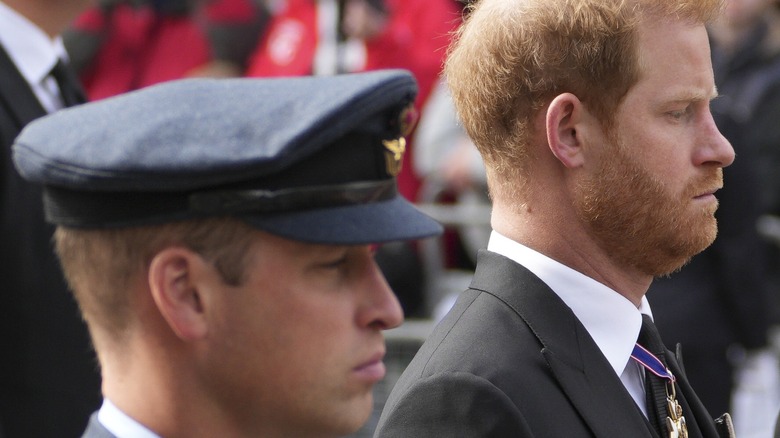 Wpa Pool/Getty Images
After the heartbreaking death of Queen Elizabeth II, royal watchers were hopeful that the bittersweet reunion of William, Prince of Wales, and Prince Harry, Duke of Sussex, would be the real deal. Prince William and Prince Harry — along with their spouses, Catherine, Princess of Wales, and Meghan Markle, Duchess of Sussex, showed a united front while greeting mourners outside of Windsor Castle. It was later revealed that William had invited the Sussexes to accompany he and Kate for the walkaround.
"It's such an extraordinary historical moment and also a deeply personal one for the family that you'd hope and think that all members of the family would unite and support [the King] especially," a source told People. "And perhaps some of those wounds can be healed in the process."
And while Harry and Meghan sat in the second row during the queen's funeral at Westminster Abbey, they sat in the same pew as William and Kate during the committal service at Windsor, per the New York Post. In fact, a body language expert believes that Harry regrets the rift between him and his brother. "During the service [Harry] was dabbing tears as well as tending to look around a lot and there were at least two occasions when his gaze that was more of a stare appeared directed at William," body language expert Judi James told The Sun. "His expression suggested sadness and possible regret."
But unfortunately, one source claims that the relationship between the brothers remains "frosty."
William and Harry's relationship remains tense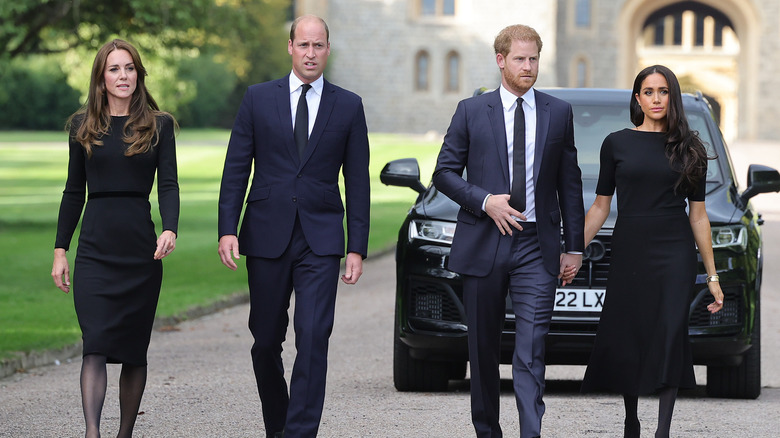 Chris Jackson/Getty Images
Despite spending time together during Queen Elizabeth II's funeral, things are reportedly still tense between William, Prince of Wales, and Prince Harry, Duke of Sussex. "My understanding is things are pretty tense and pretty frosty still between them, which is a shame," Roya Nikkah, the royal editor for the Sunday Times, said on the British chat show, Lorraine. 
Nikkah also spoke about a chapter in Valentine Low's book "Courtiers," which revealed that William had reached out to Harry in 2019, wanting to discuss the tension between them. But Harry ultimately turned him down over fears that the meeting would be leaked to the press by William's staff. "And that gives you an insight into just how tricky and perhaps lacking in trust that relationship now is," Nikkah said. 
A big source of contention between the brothers is Harry's upcoming memoir. Royal biographer Tina Brown has even gone so far as to say that if the duke wants to have any relationship with William, as well as his father, King Charles III, he should scrap plans for any and all tell-all projects. "This is an incredible moment to be used. The country loved that feeling of unity and seeing the brothers back together, it was a beautiful sight," she said on "Lorraine" (via Daily Mail). "But unless he gives up his book and the tell-all documentaries and interviews then there can be no trust. I think if he does that there can be a way."