What Is Foilayage And How Does It Work Differently From A Balayage?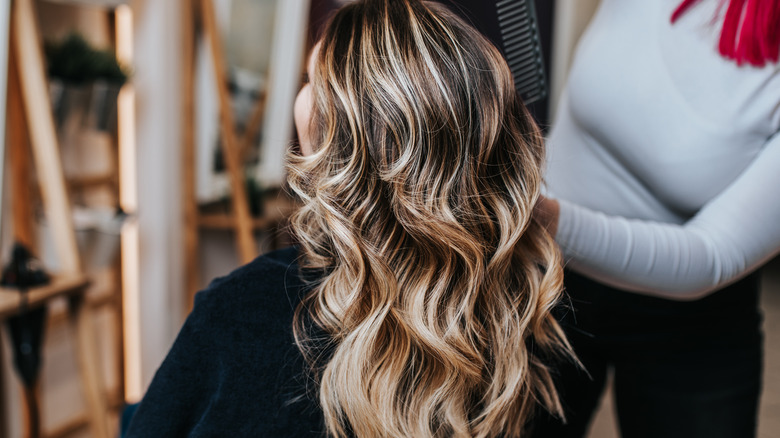 hedgehog94/Shutterstock
Dyeing your hair can be a fun and exciting new chapter for you. Whether you are going for a full-color change or a few highlights, coloring your hair is a fun way to mix up your look. In recent years, hair color trends have introduced new forms of dyeing your hair.
According to Behind The Chair, one of the most popular hair colors of 2022 is expensive brunette. While many want this color, it doesn't mean that they want to completely convert their hair to just this one color. This situation is where hair dyeing practices like balayage and highlights can make a difference. Adding these different colors in sections of your hair allows you to add more dimension. Apart from this, practices like balayage can make it easier on thin hair which tends to look flat. One of the newest forms of hair dyeing is foilayage. This new way of hair dyeing is different from balayage but isn't anything out of the ordinary. Foilayage may be your new favorite trend to take into the fall season.
What is foilayage?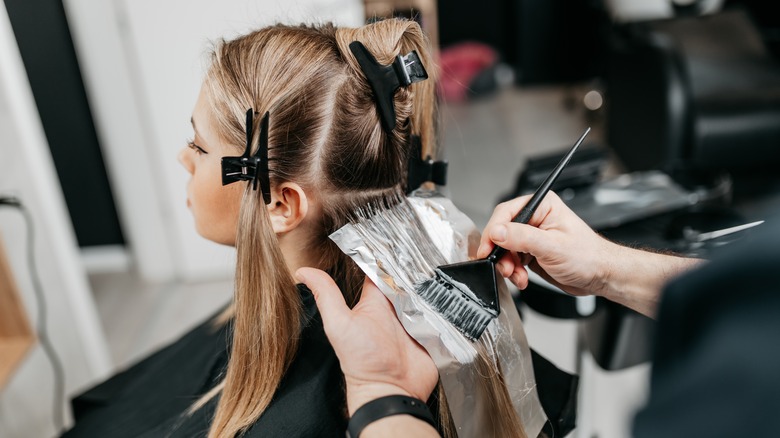 hedgehog94/Shutterstock
According to The Right Hairstyles, foilayage is a new technique that is a mix of foils and balayage. While using balayage, hairdressers will use foils in this technique to ensure the hair dyes lighter and blonder. Using the foilayage technique also lets the hairdresser dye sections of your hair, in a more targeted manner. If you wanted an ombre or a certain painted pattern in your hair, the foilayage technique might be the best way for you.
The foilayage technique is also best for those with darker hair (via Tierney Salons). Using the foils lets the heat trap in with the bleach and can help lighten up and color dark hair that is a bit more stubborn to change. Because bleach can dry out and lose its effect, trapping it in the foil can give you the extra help to ensure that your hair lightens without a struggle. On the other hand, if you have naturally lighter hair, foilayage can help lighten the hair, even more, adding another dimension to your hair. Overall, the foilayage technique is a great way to lighten your hair and give you the sun-kissed effect on the hair you desire.
The difference between foilayage and balayage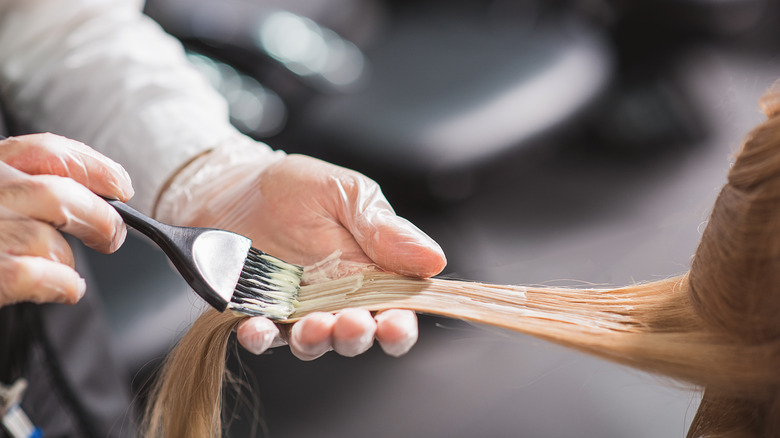 Olena Yakobchuk/Shutterstock
While very similar, foilayage and balayage are not the same.
Hairstyle Camp explains that balayage is a free-handed technique where your hair stylist will freely "paint" your hair with the dye and let it sit. With foilayage, they will use a foil to get a targeted color. Using foilayage will give your hair an extra punch as the color will be more vivid than with balayage. With the balayage technique, your hair will simply have a glow to it with your desired color, so that it appears more natural.
L'Oreal Paris adds that while both balayage and foilayage give a natural look, foilayage is a better technique to use if you want the appearance of dimensional highlights with more vivid and significant color. This technique is also more apparent and defined. Whereas, balayage would be better if you want subtly highlighted hair strands that don't involve much maintenance and don't want a significant change of color. Both techniques will give similar results but can differ depending on your hair goals.