Balayage Vs. Highlights: Which Is Better?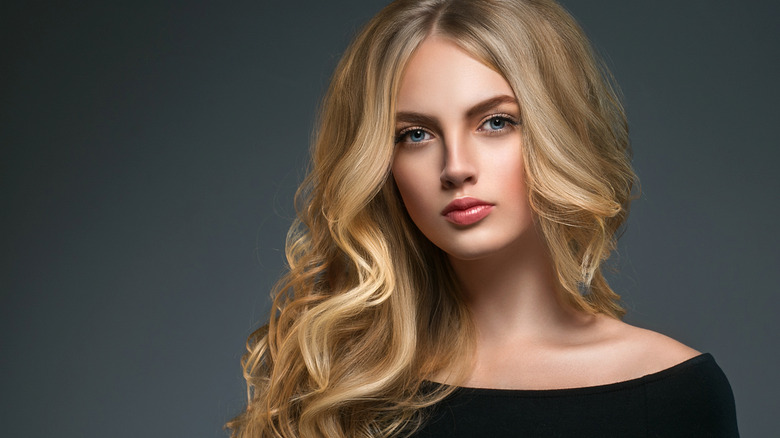 Irina Bg/Shutterstock
Changing up your look can be as simple as refreshing your hair color, but what's not so easy is figuring out how it should be colored or what to ask for. When it comes to color techniques, balayage and highlights are some of the most popular. Despite being so in demand, there are some common misconceptions out there about these coveted techniques. For starters, balayage isn't a specific color that you ask for, rather a technique that works on a variety of hair textures (via Good Housekeeping). It's especially forgiving when it comes to lightening curls because it creates less damage than completely bleaching the hair, colorist Olivia Casanova tells Byrdie. 
Similarly, highlights have also gotten a modern update and have come a long way since the chunky trend of the '90s. Today's highlights are more low-key, less damaging, and equally stunning (via All Things Hair). Not sure where to start when it comes to narrowing down between these two options? We're here to demystify the process so that you can figure out which is right for you.
How does balayage work?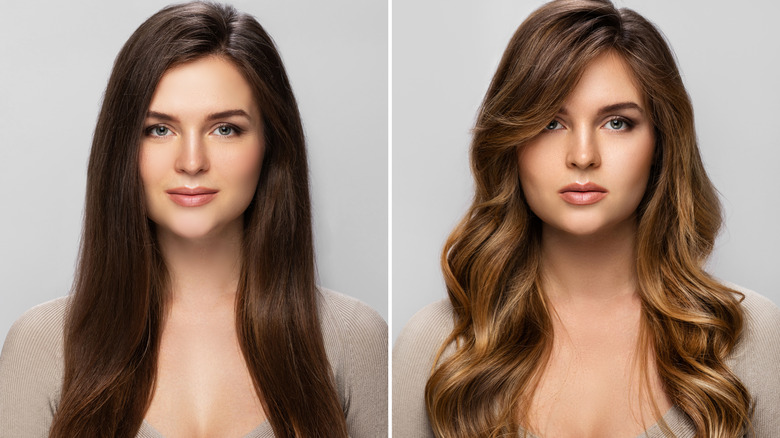 BLACKDAY/Shutterstock
The balayage technique emerged in the United States in the '70s, and in French, quite literally means to sweep, not paint (via The New York Times). It has grown increasingly popular in recent years as the color is expertly brushed across strands to look natural rather than uniform. According to colorist Matt Rez who spoke to the Ouai, balayage is a way to coat color onto hair sans aluminum foil. The result can be stunning as hair gradually appears lighter down the hair shaft. By going for this method, you can also experiment with lightening the hair with multiple hues of brown or blonde to add dimension to elevate your look beyond one hair color (via Glamour).
Additionally, this technique works best if you wear your hair in waves because they easily bounce the colored balayage strands and reflect them in the light. However, a huge plus of opting for the balayage look is that it requires way less upkeep since it's meant to give hair a lived-in look and blend with your natural hair color, not against it, explains hairdresser Richard Ward to Marie Claire. Something else to keep in mind is that since it does require more skill to achieve this look, get ready to drop some serious coin for balayage compared to highlights (via Hair.com from L'Oreal).
How are highlights different?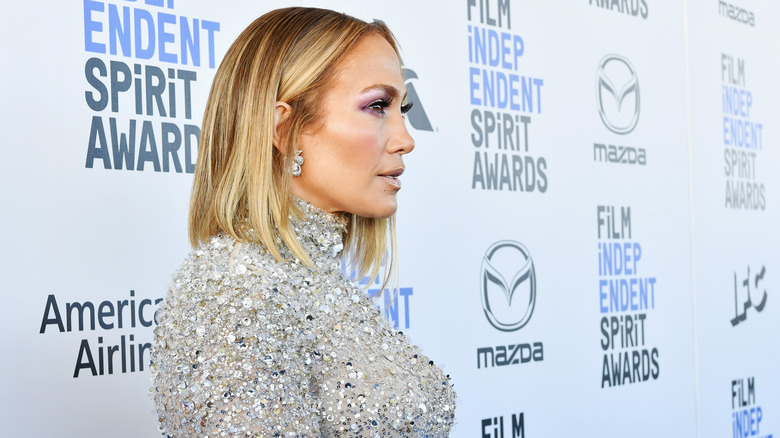 Amy Sussman/Getty Images
Unlike a free-spirited balayage, with highlights, it's possible to achieve a more seamless and uniform look. Per Refinery 29, they typically start as thicker and lighter ribbons of hair near the face and branch out into thinner, slightly darker, and more subtle pieces around the top of the head. Think the effortlessly blended highlights spotted on Jennifer Lopez while rocking a blunt bob. A classic technique is used where a small comb separates or weaves hair into foils. A lightener is then applied while the foils are folded over the hair to get strands as light as possible (via Behind The Chair).
There are also variations to this technique. With partial highlights, only select pieces are bleached, whereas full highlights can make your entire head look noticeably brighter as the color is lifted throughout, hairstylist Harry Josh shares with Pure Wow. For those who seek to experiment with a hair transformation, highlights are the perfect way to upgrade your look without having to ditch your base color (via All Things Hair). For a more natural look with even less contrast, Cosmopolitan explains that highlights can also be mixed with darkening lowlights to help offset overly lightened strands and avoid the chunky look. 
Whether you're going for face-framing balayage waves or structured highlights, it's not necessarily about which one is better, but rather which one is better for your hair and its needs.