The Bold And The Beautiful's John McCook Offers The Inside Scoop On Donna And Eric's Stunning Affair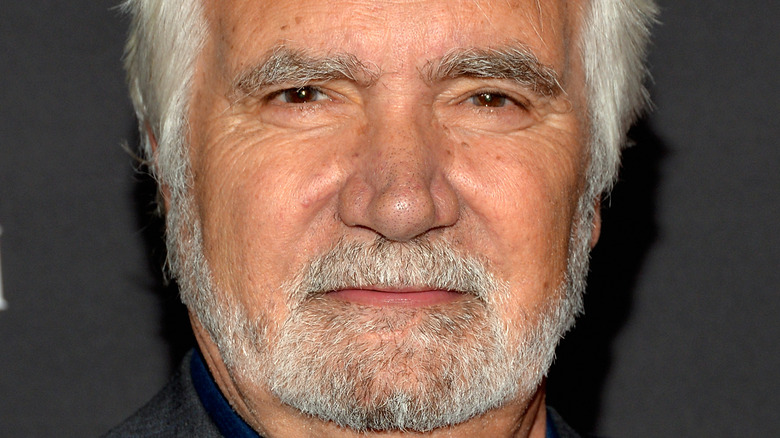 Michael Tullberg/Getty Images
Despite his many relationships on "The Bold and the Beautiful," Eric Forrester (John McCook) seems to have had more luck in his love life than others. Particularly his son Ridge Forrester (Thorsten Kaye). While Ridge goes back and forth between Brooke Logan (Katherine Kelly Lang) and Taylor Hayes (Krista Allen), so much so that fans are furious with him, things seem to be less dramatic with his father. At least to a certain extent. 
Though Eric Forrester and Quinn Fuller (Rena Sofer) were happily married for a time, their love wasn't meant to last. Quinn had a secret affair with Carter Walton (Lawrence Saint-Victor) that was part of the reason Eric pulled the plug on their marriage. Of course, many fans also remember that Eric had a relationship with Brooke, too (via Soaps). While it's rare for a woman to romance both a husband and son, that seems to be the case all too often in the daytime television world.
That said, it's Eric's new romance with his ex-wife Donna Logan (Jennifer Gareis) that has had a lot of people talking. Actor John McCook offered the inside scoop on the couple's stunning affair.
Eric and Donna are giving it a second go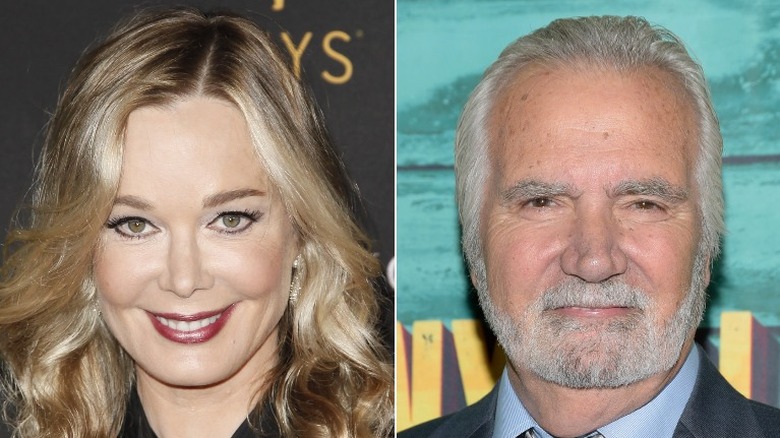 Michael Tullberg & Tibrina Hobson/Getty
Ever the gentleman, Eric Forrester always wants to do the right thing, even when faced with a moral dilemma. However, he's not always successful. Attempting to repair a marriage after infidelity is no small feat. Still, while his wife Quinn Fuller was trying to make amends for her mistake, Eric was having an affair of his own — with his ex-wife Donna Logan (via Soaps).
When asked about the storyline, John McCook told Soap Hub that he actually approved of it. He said, "I thought it was fun! This is a case of the actors being fans of the show, too ... I was very happy to see that happen. I love working with Jen [Gareis, Donna]." 
Thankfully, Eric and Donna's reunion hasn't been as scandalous as some of the other pairings on "The Bold and the Beautiful." McCook says that's because they are not the same people they were back when they were married the first time around. The actor added, "Donna's not a giddy airhead. The character of Donna is more mature now. They enjoy each other in a playful way. It brings such joy to Eric's life."
Eric and Donna might actually last this time around
According to John McCook, Eric Forrester and Donna Logan might actually make it this time. In an interview with Soap Opera Digest, the actor said that both characters are approaching their new relationship a little differently. He said, "What I really like about it is seeing how the characters have changed since. Donna was just a girl then. In a way, she put herself first, and now, she is a woman who thinks of others ahead of herself." 
In the same interview, Jennifer Gareis added that she sees a bright future for them. She said, "[Donna] has already said that Eric is the love of her life, and even though she was not a fan of Quinn, she did not want to sabotage their marriage. She stepped back because all she wanted was for Eric to be happy."
Well, let's hope that since Rena Sofer has left "The Bold and the Beautiful," Quinn won't be able to cause any damage to Eric and Donna's happiness. After all, Quinn was always the kind of person who wanted what she couldn't have.