Meghan And Harry's Kids Get Snubbed By A Big Royal Event For The Second Time
lev radin/Shutterstock
A few details are beginning to emerge about the coronation of King Charles III. The formal ceremony will take place at Westminster Abbey, as it has since 1066, and Charles will be crowned with the St. Edward's Crown, which was made for Charles II in 1661. Queen Elizabeth wore it for her coronation, but the solid gold crown had to be resized from when her father King George VI wore it for his, so that's likely going to have to be changed again, according to Hello! magazine. 
That's not likely the only difference between the coronation of King Charles and Queen Elizabeth. Rumors have been circulating that there will be 2,000 guests as compared to Elizabeth's 8,000 and that the service will take just an hour as compared to four, per the Daily Mail. 
One thing that Buckingham Palace has confirmed is that the coronation will take place on May 6, 2023, but some in the royal family may have other plans for that day.
Coronation day is Archie Mountbatten-Windsor's fourth birthday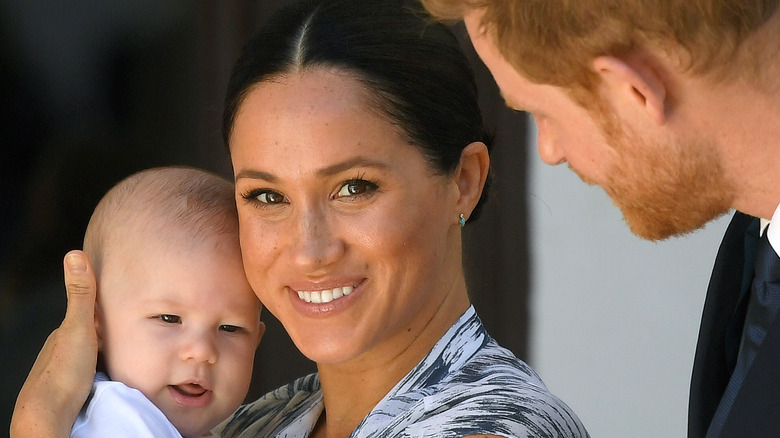 Pool/Getty Images
May 6, 2023, happens to be the same day that Archie Mountbatten-Windsor, son of Meghan Markle, Duchess of Sussex, and Prince Harry, Duke of Sussex, will turn 4 years old. In determining the date for the coronation, the Church of England, the royal family, and the government were all consulted, Hello! magazine notes. It seems unlikely that Archie's birthday was a consideration, but it's not the first time that a scheduling conflict like this has happened for the Sussexes. 
When Lilibet, Meghan and Harry's daughter, celebrated her first birthday, on June 4, 2022, it was in the midst of Queen Elizabeth's Platinum Jubilee weekend, and the family was in England for the festivities. Lilibet's first birthday party was at Frogmore Cottage, and, while the queen is said to have met Lilibet during the family's visit for the Platinum Jubilee, it's unlikely she was at the birthday party, according to Marie Claire. 
It's unclear at this point if the Sussexes will be attending the coronation and whether they are taking the scheduling conflict personally. One thing that may have been considered in terms of the date for the coronation is that having it in May means that the Trooping the Colour parade, celebrating the monarch's birthday, can take place in June per tradition, according to USA Today.
Royal fans and experts have mixed reactions about the date choice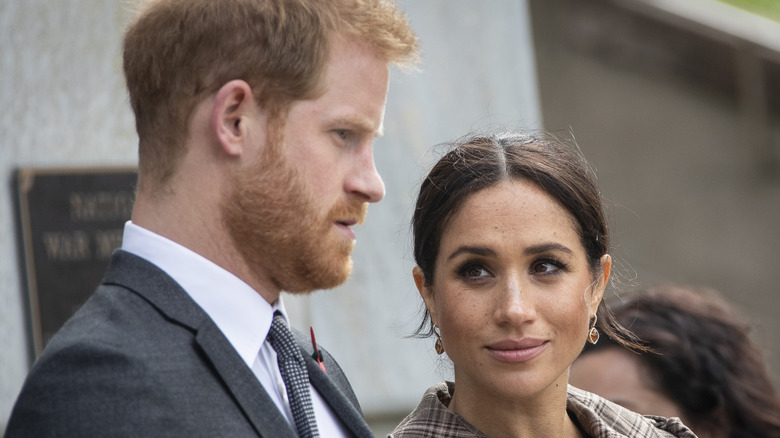 Pool/Getty Images
Some royal fans were angered by King Charles' choice of coronation date. "Weird isn't it? Grandpa stealing the spotlight from his grandchild," tweeted one fan. "A child's birthday is way more important than any coronation," commented another.
Many, however, saw other significance in the choice. "It's a dignified tribute to an historic date. May 6, 1910. King George V ascension to the throne," noted a royal fan. Another added (via Independent), "The world doesn't revolve around the Sussexes."
In addition, royal biographer Katie Nicholl doesn't believe that the king was slighting his grandson. "Well, having the coronation on Archie's birthday is definitely not a snub," Nicholl told ET. "Obviously, a huge amount of planning has to go into an important moment in history, such as a coronation, and the royal calendar is full of anniversaries and birthdays, so I think this is absolutely one of those occasions where it's a coincidence and hopefully a happy coincidence."
Nicholl also talked to ET about the possibility of Prince Harry and Meghan Markle, Duke and Duchess of Sussex, traveling to the UK in May 2023 to attend Charles' coronation. "We haven't got any official details on the guest list, but I'm hearing they are likely to be invited along with other senior and extended family members," Nicholl said. 
The author of "The New Royals" mentioned that, if the Sussexes attend, it could signal a mending of the rift between Harry and the royal family.