Gifts You Definitely Should Not Get Your Mother-In-Law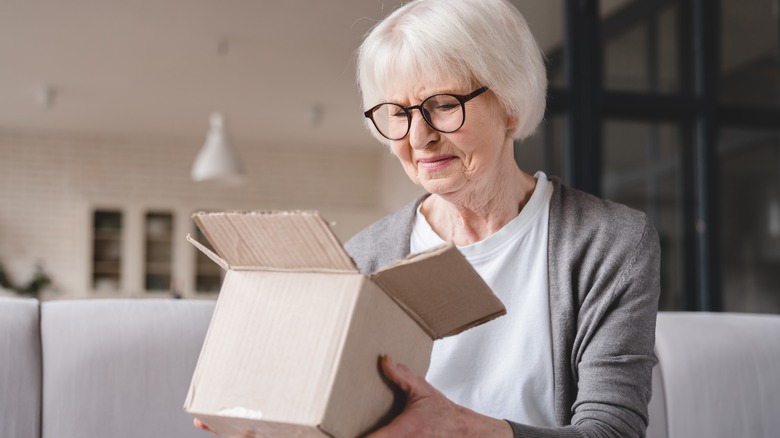 Inside Creative House/Shutterstock
Giving a gift can be a thoughtful way to express your love for someone during times of celebration or just to show them you care. But for many, gift giving can turn "the most wonderful time of the year" into one of the most stressful.
We get it: not everyone's love language is giving gifts. Figuring out what to buy for someone can be super challenging — you likely feel riddled with obligation to buy a gift for someone and worried about the judgment that follows if you don't succeed at landing a perfect present. Sometimes, it feels like a lose-lose situation, especially if the person receiving your gift happens to be your mother-in-law.
If the stereotype is to be believed, most people have a rocky relationship with their mother-in-law. The Evolutionary Psychological Science journal published a study that analyzed the science of in-law conflicts, and found that around 44% of both men and women have issues with their mother-in-law, even more so than their own mother, per New York Post. Don't get us wrong, mother-in-laws can be great (when they aren't constantly judging your life choices or making your spouse miserable), but they aren't always the easiest to shop for.
For all those with "mother-in-law" on their holiday gift list this year, we've curated a simple guide to help you identify what gifts say, "Thanks for making my favorite person," and which ones you should probably steer clear from.
These gifts make everything super awkward between you and your MIL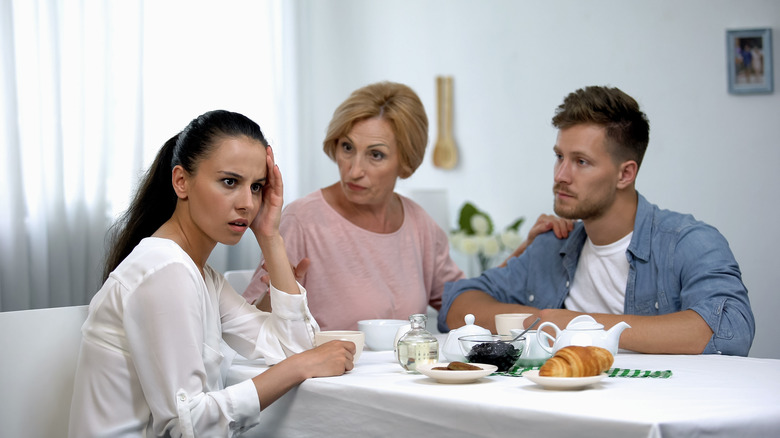 Motortion Films/Shutterstock
Author Deborah Y. Cohn published an article discussing her studies on gift giving, and found that the worst types of gifts can be categorized as aggressive, selfish, or obligatory.
Passive-aggressive gifts are more obvious than you think: avoid things like wrinkle cream or a mustache-waxing kit. Good Housekeeping shared some of the in-law gift giving horror stories, which included things like obviously regifted items, outdated electronics, and even a scale — yikes!
An obligatory gift could be something your MIL already has plenty of, like the wall decor with silly sayings on it. There are only so many times she should hang up a "Live, Laugh, Love" sign. Try not to repeat gifts: a framed family photo from the current year is a good, more personal alternative that will always be new.
Gag gifts can be funny to a close friend or family member, but your mother-in-law probably won't get it and it might come off as selfish instead. Unless you're all down for a white elephant-style gift exchange, avoid shocking gifts and pranks like whoopee cushions, sex toys, and shirts with weird sayings on them (in fact, maybe avoid clothing altogether, unless you're super familiar with her size and style).
There are a few things your mother-in-law wishes you knew, and one of them is probably how to give better gifts. Luckily we found a few gifts that scream thoughtfulness without straining your mind or your wallet.
These thoughtful gifts are mother-in-law approved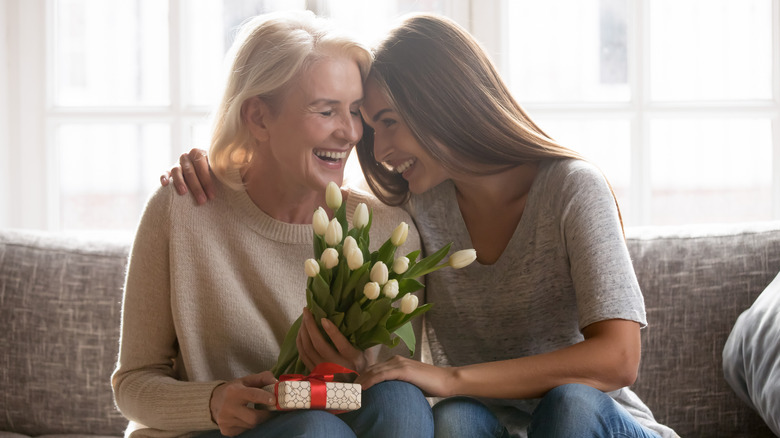 fizkes/Shutterstock
If your mother-in-law is anything like most, she might say that the only gift she wants is grandchildren. While that sentiment can be... sweet, we can't make that happen every year. For the years you're looking for a gift you can wrap and put under the tree for the mother of your spouse, here are a few ideas.
Per The Strategist, a good rule for gift giving in general is to try and incorporate something personal. You don't need to get anything engraved (in fact, that can be kinda tacky), but consider a person's interests and personality traits when gift giving. What is something that they will actually use, or enjoy displaying? Are they the kind of person that never treats themselves to anything nice and could use a little splurging? Answering these questions will get you one step closer to a thoughtful and appreciated gift. If you're still not very familiar with your in-laws, or you just aren't that close, you can never go wrong with a good book, a cute mug, or a nice luxury candle — and everyone loves a yummy treat. 
You may think a gift card is the ideal gift, but it can come off as impersonal. Instead, try booking an experience like a massage or a spa day, and encourage your in-law to take a friend, their spouse, or even you!
If you need even more ideas, here's a list of unique gifts that will make you look more thoughtful than you are.