Everything You Need For An Ariana Grande Halloween Costume This Fall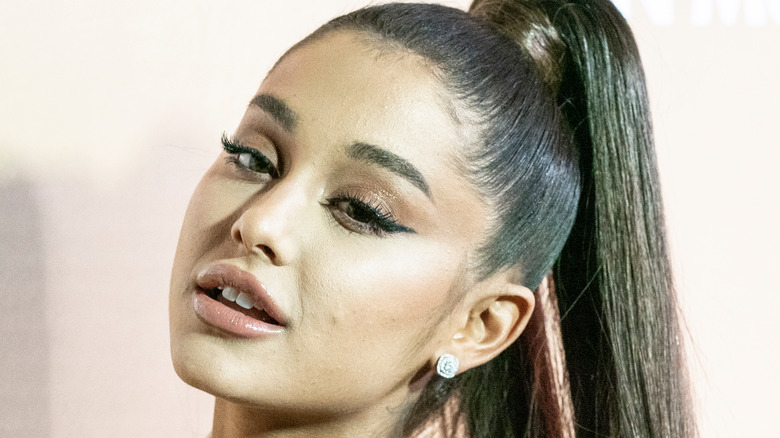 lev radin/Shutterstock
We may receive a commission on purchases made from links.
With the spookiest of holidays right around the corner, it's time to get your costume ideas in order. Halloween is a fantastic time to pretend to be someone you're not for a night and enjoy all the tricks and treats of the fall season. Whether you're looking to use the power of makeup to transform yourself into a zombie, or show off your imitation skills in a celebrity-inspired couples costume with your boo, pop culture has plenty of inspiration to offer in terms of choosing a Halloween costume. And who better to use as a blueprint than the queen of pop herself — Miss Ariana Grande?
Known for rocking big looks on her tiny frame, Grande has served up countless recognizable fashion ensembles throughout the years. Usually topped off with her signature high ponytail, the "Dangerous Woman" singer often opts for ways to elevate her casual looks and explosive outfits when she's working the stage at her shows (via Refinery29). Putting together a Grande Halloween costume idea is easier than it might sound, especially with the wide array of fashionable looks the pop star has donned over time.
Her signature hair and makeup are a must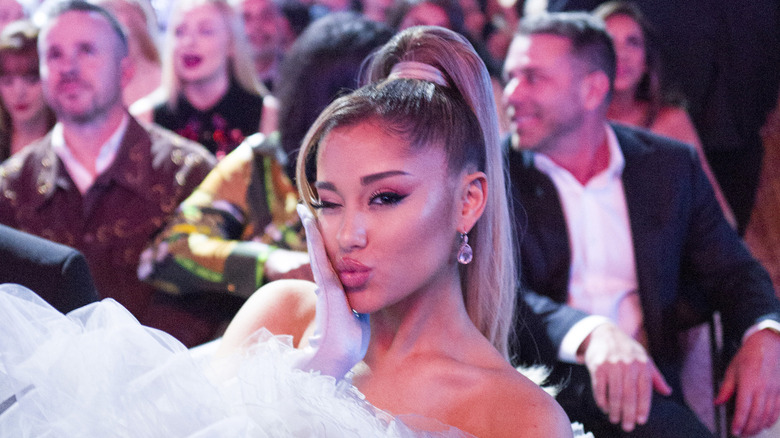 John Shearer/Getty Images
If you're an Ariana Grande fan, you certainly know that she normally rocks certain signature elements in her hair and makeup routines; the "Positions" singer nearly always has a long, high ponytail on and dramatic winged eyeliner. In order to accurately dress up as Grande for Halloween, per Elite Daily, you can't forget these key factors
To create her makeup look, you'll need some neutral-toned eyeshadow options, a black liquid eyeliner, some false lashes, and a nude lipstick. If you really want to take your Grande vibes to the next level, check out her R.E.M. Beauty makeup line. Released in November 2021 (via NYLON), R.E.M. Beauty is a space-themed makeup line designed by Grande, and inspired by her "out of this world" makeup looks. Within Grande's makeup line, you can find several of the items necessary for your Halloween ensemble — including the eyeliner marker in "midnight black" and the "daydreamin" dream lashes.
There are plenty of fashionable looks to choose from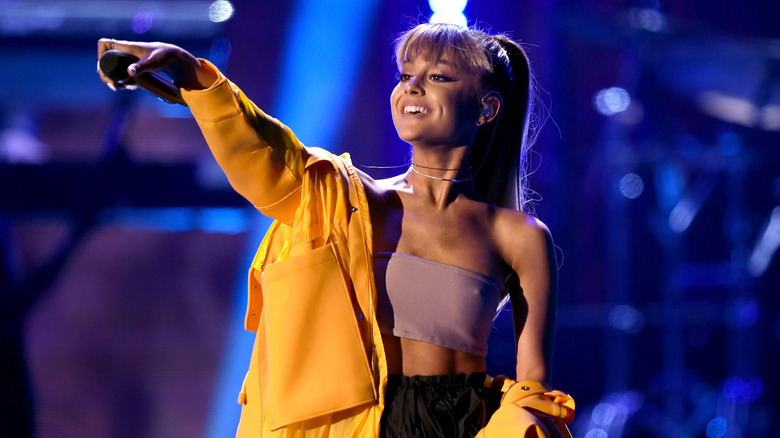 Kevin Winter/Getty Images
It's no secret that Ariana Grande is seen as a style icon, with her unique flair for making oversized garments work well on her tiny frame and accessories like animal ears make sense with her entire ensemble. Wearing massive sweatshirts with thigh-high boots or bras as tops with mini skirts are common looks when "The Voice" judge is spotted out and about, so those are easily recognizable outfits that might be simple to put together, even using items that are already in your closet.
If you're looking to replicate one of her most notable looks, like the recreation of the vintage Versace dress a la "13 Going On 30" she wore during a taping of "The Voice," per Vogue, you can get creative and create your own using what you already have, or find options online (like this dress, replicated from the Versace one). For a Grande look that's more suited to her street style, try her classic big sweatshirt/thigh-high heeled boot combination. This outfit is very easy to recreate, and is called "lampshading," per Refinery29. Simply use a sweatshirt that is long enough to cover you close to your knees, and grab a pair of your favorite tall boots to complete the ensemble. You can pair the look with another element Grande is often seen with — a choker necklace — and a sleek and straight hair look or her famous high ponytail. Whatever you choose, just don't forget the winged liner.