These Are The Best Makeup Products From Ariana Grande's R.E.M. Beauty Line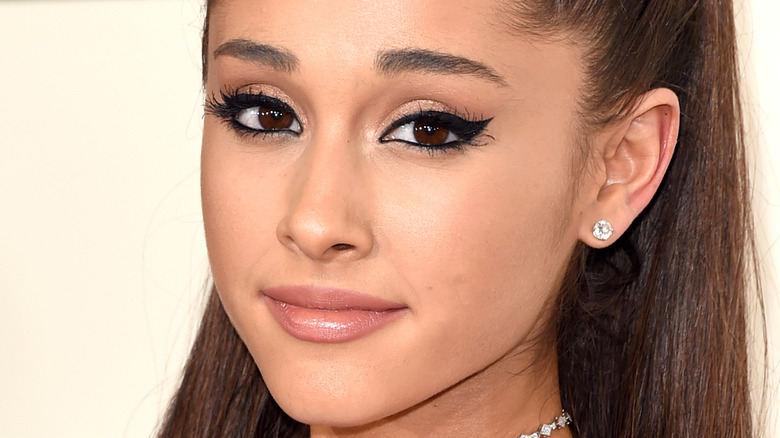 Jason Merritt/term/Getty Images
As a talented musician, actor, and dancer, Ariana Grande has become an absolute icon in the entertainment world. Known for her incredible vocal talents — and her signature high ponytail, among other things — Grande has now expanded her gifts into the beauty industry. Officially debuting on November 12, 2021 (via Nylon), the singer's space-themed r.e.m. beauty line has already skyrocketed (pun intended) into popularity. The r.e.m. beauty Instagram account has 1.3 million followers at the time of this writing, and, as of April 2022, the entire collection is available online and in-store at Ulta (via Allure).
Despite the unique space-like theme of her products, Grande is not the only celebrity with an affinity for all things makeup. Other stars like Selena Gomez and Addison Rae also have beauty lines of their own, adding to their already versatile careers. Grande's r.e.m. beauty line, however, does stand out from other options in its affordability; according to the brand's website, the entire collection ranges in price from $15-$40 per item. The line carries options for the face, eyes, and lips, so fans can easily create an entire look. If you're curious to learn more, here are the best makeup products from Ariana Grande's r.e.m beauty line.
Here are some of the best r.e.m. beauty eye products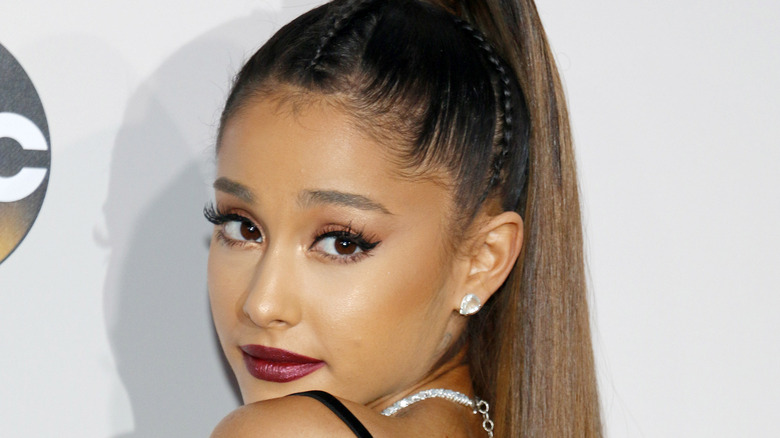 Tinseltown/Shutterstock
Because of her signature winged liner look, it may not come as a surprise to fans of Ariana Grande that her makeup line has a special focus on the eyes. In an interview with Nylon, the "Positions" singer said of the line's name, "It's also focusing on dreams and eyes and the idea that eyes are our most effective communicators. You can say more with the way you look at someone than you can articulate."
For a shimmery, colorful look, eye products like the r.e.m. beauty Midnight Shadows Lustrous Liquid Eyeshadow are a perfect fit. Recommended by Byrdie, these liquid eyeshadows are, "ultra-pigmented, long-wearing, and very blendable," the outlet says. The luster shades are perfect for a night out on the town, with their bright and shimmering metallic shades. For a more subtle, natural look, Allure speaks highly of the r.e.m. beauty Midnight Shadows Matte Liquid Eyeshadow. This product comes in a wide range of neutral shades, with texting-inspired names like "brb" and "txt me". 
Other recommended eye products, per E! News, include the r.e.m. beauty Midnight Shadows Eyeshadow Palette, which is perfect for those less skilled with liquid eye products, or those who prefer a powder shade on their eyelids. Additionally, E! News says that the r.e.m. beauty At The Borderline Eyeliner Marker is a "powerhouse liquid liner" with a smooth and smudge-proof formula.
The best r.e.m. beauty lip and face products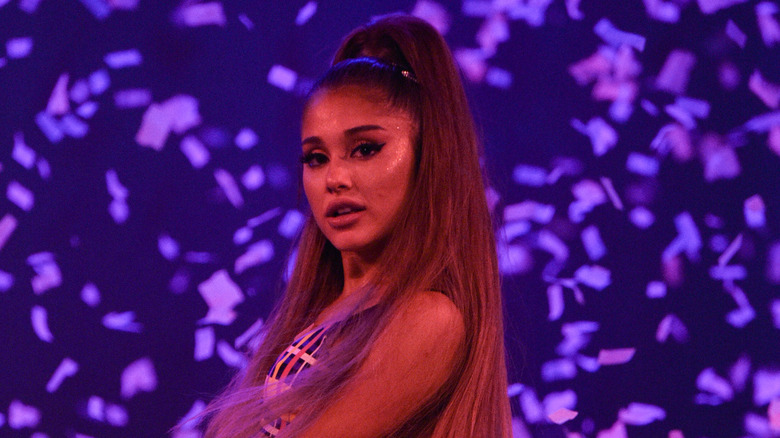 Kevin Mazur/Getty Images
While the focus of Ariana Grande's r.e.m beauty makeup line was largely set on eye products, she did not disappoint when it comes to her lip and face options. In a review of the line's unique packaging, Nylon pointed out that the matte lipsticks come in small tubes with a see-through window, revealing the color of the product when closed, and creating a look reminiscent of a tiny spacesuit. Allure points out the nice range of shades that the r.e.m beauty On Your Collar Matte Lipstick comes in, and praises the soft, velvety texture of the lipstick, which they also say doesn't dry out. With nicely pigmented shades and lightweight formula, Byrdie also points to the r.e.m. beauty On Your Collar Plumping Lip Gloss as a perfect option for your pout.
Grande also provided plenty of amazing choices for the face, including some incredibly pigmented and shimmering looks thanks to the r.e.m. beauty Interstellar Highlighter Topper. According to the brand's website, this highlight topper uses "vegetable-derived emollients" that contribute to a "dewy, luminous highlight." With so many amazing options to choose from, there is no doubt that using r.e.m. beauty products will help anyone create a look that's out of this world.