The Best Fall Color To Wear If You Have A Cool Skin Tone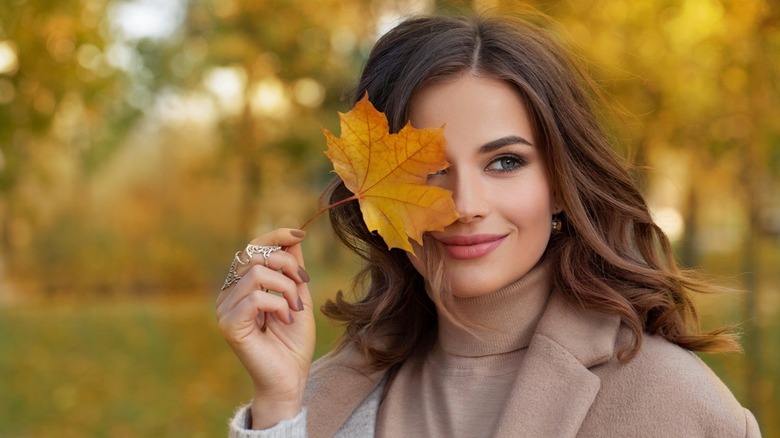 MillaF/Shutterstock
When it comes to fashion, there is no color that should be strictly off limits for anyone — fashion dress is all about experimenting, expressing yourself, and having fun.
Yet, in past years, women of a certain age were told to never wear black because it made them look older. The thinking is that black can accentuate shadows, wrinkles, and fine lines while also making you look more pale and sour (via Oprah). Still, many older women reject that outdated advice and don black clothing with abandon.
On the flip side, there are certain colors that make your face pop depending on your eye and hair color (via SheKnows). You likely know which colors immediately give you a boost. Many stylists also say that you can figure out which colors look best on you by finding out your skin tone.
If you have a cool skin tone, you'll want to wear these colors this fall.
Go for gray, brown, and blue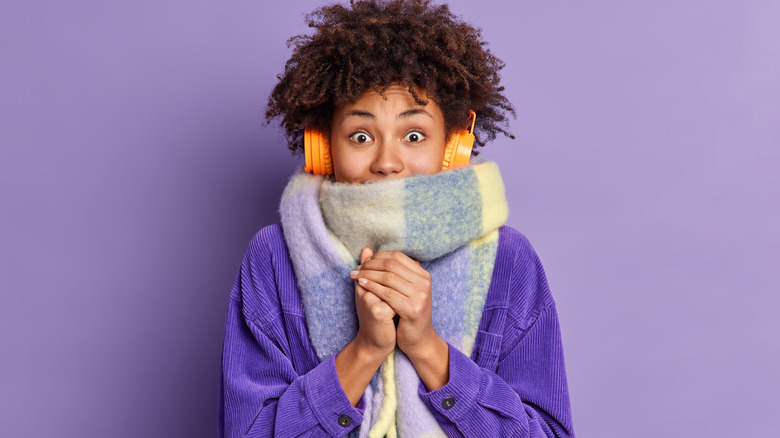 Cast Of Thousands/Shutterstock
Not quite sure if you have a cool skin tone? All you have to do is take a look at your arms. If you have a cool skin tone, you'll have more pink, red, or blue (via StyleCaster). Your veins will appear blue to purple as opposed to green which signals that you have a warm skin tone. Additionally, people with cool skin usually have blue, green, or gray eyes.
Cool skin tones are especially suited for some of the best colors of the fall, including grays, browns, and blues. These colors not only scream crisp fall weather but they are also versatile. OutfitTrends suggests pairing a charcoal gray sweater with a denim skirt. Both gray and brown look fashionable in skirts or pants. To complete the look, add a pair of ankle booties, which not only look great but are comfy and cozy.
Greens and purples make your look stand out this fall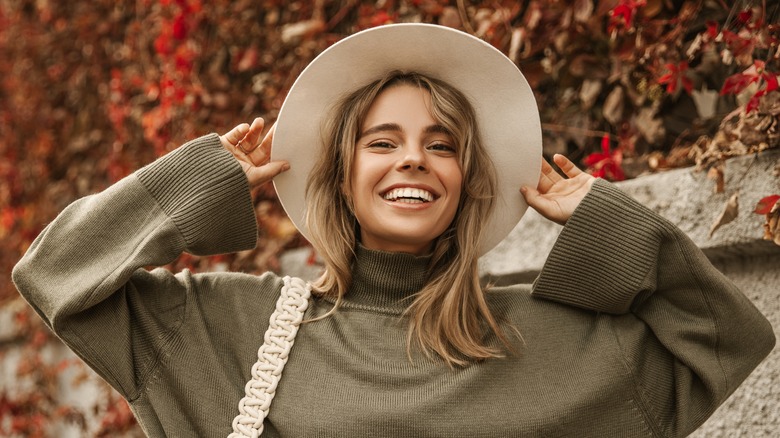 Look Studio/Shutterstock
If you're looking for brighter colors, try greens and purples. Lime green is a bold choice and stands out among typically darker fall colors. However, if you'd like to select a more subdued shade of green, go for hunter green, emerald green, and olive green, all of which also look great on cool-toned skin (via Wardrobe Shop).
Interestingly, you also can't go wrong with any shade of purple. In the purple arena, try a violet that has more blue undertones than red (Inside Out Style). You'll be able to differentiate because warmer violets will appear redder while cool violets will give off a bluish appearance. A cool violet jacket, sweater, or scarf is guaranteed to make your cool skin tone complexion pop this fall. From violet to eggplant, all variations of purple complement a cool skin tone and are ideal autumn colors.