Betty White's Secret To A Long And Happy Life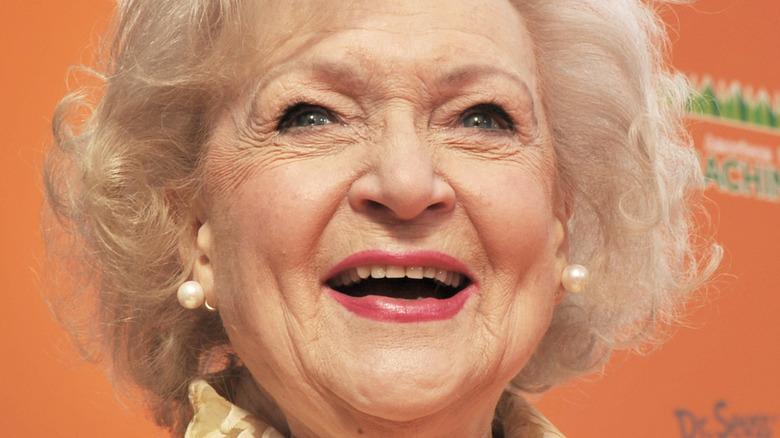 Kevin Winter/Getty Images
It's nearly impossible to string together the right combination of words to do justice to the achievements of the beloved Betty White. An actress, comedian, author, activist, radio and talk show host, and producer, White was a pop culture icon for over 80 years (via Reuters). Best known for her acting roles in various American sitcom shows, like "The Golden Girls" and "The Mary Tyler Moore Show," White was also a noted and compassionate animal rights activist. She devoted her life to saving endangered species and improving the quality of life for animals at the Los Angeles Zoo (per The New York Post).
Betty White passed away on December 31, 2021, just two weeks shy of her 100th birthday. After living a long life filled with incredible accomplishments, many have often wondered: what's her secret? One day before her passing, White's publicist shared a statement with Fox News about her lengthy and fulfilling life, capturing the essence of who she was in just a few short lines. "I've always been a cockeyed optimist," she said. "I got it from my mom. I'm gonna stick with it." In honor of White's glass-half-full outlook that allowed her to live 99 extraordinary years of grace, let's dive into her secret to a long and happy life.
Proof that optimism and kindness go a long way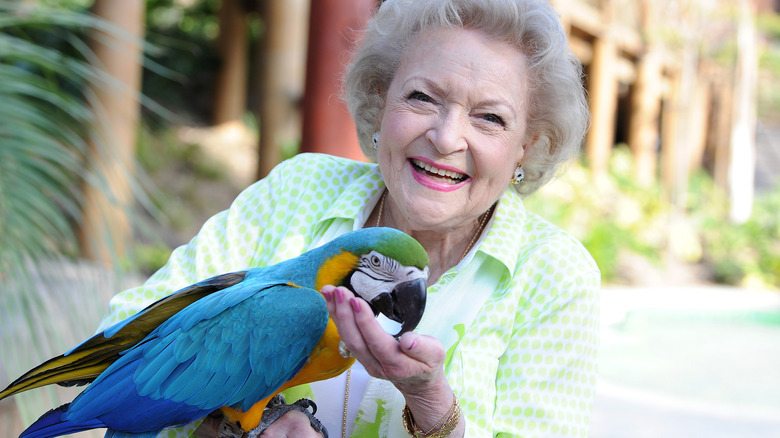 Angela Weiss/Getty Images
Betty White touched the lives of everyone she met, including the celebrities she worked with on many television and movie sets. Even before White's heartbreaking passing, several celebs shared sentiments of love for the American icon, simultaneously confirming White's confession that her optimistic disposition is the foundation for a long and happy life (via People). Actor Ted Danson, who worked with White on ocean conservation projects, told People that White radiated so much light into the world. "It's not like she's just a bubbly, joyful person. She wakes up every day and chooses to be that way." The "Cheers" actor added, "I think she leads a very purposeful life."
White made it known how important it is to not take yourself too seriously, depicted in her famous quote: "It's your outlook on life that counts. If you take yourself lightly and don't take yourself too seriously, pretty soon, you can find the humor in our everyday lives" (via ABC). Her legacy of compassion and kindness led her fans to create the Betty White Challenge after her passing, which urged participants to contribute to organizations that White advocated for, like animal shelters and rescue operations (per Variety). By what would have been her 100th birthday, January 17, 2021, the #BettyWhiteChallenge raised nearly $900,000 — proof that White's life was not only long and happy, but inspirational too.
More life lessons we can learn from Betty White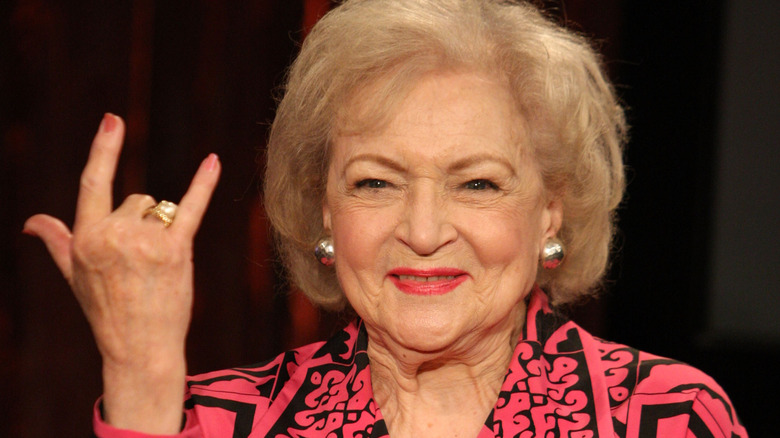 Bryan Bedder/Getty Images
Aside from her positive attitude, Betty White was a bona fide trailblazer, paving the way for women to break into the entertainment industry. In fact, she's considered the first woman to host a talk show, with her five-hour long daily show, "Hollywood on Television" from 1949-1953. (via Smithsonian Magazine). Through her career in the entertainment industry that spanned over seven decades, White led by example to fight ageism in Hollywood and the world in general. She left behind the bold message that women should embrace their age and use their life experiences to their advantage instead of hiding or fighting it (per MSNBC).
Holding the Guinness World Record for the longest TV career for a female entertainer, White seemingly refused to retire, adorning the screens of televisions worldwide for over 80 striking years (via Reuters). "Why should I retire from something I love so much?" She told The Huffington Post in a 2013 interview. "I'm blessed with good health; I'm blessed with being invited to participate in television, so why should I say, 'No, no, I'm retiring.' To do what? Nothing that I could possibly find to do would be as much fun as what I do for a living." Betty White certainly showed the world that there's truth behind the saying: when you find a career you love, you never have to work a day in your life.