Which Is The Best Hairbrush For Frizzy Hair?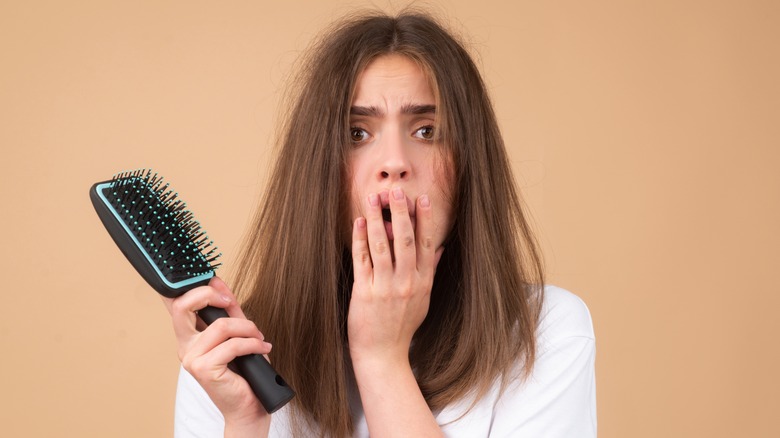 Volodymyr TVERDOKHLIB/Shutterstock
We may receive a commission on purchases made from links.
Unless you just have naturally flawless hair, you've probably experienced frizz. It can be so discouraging to spend hours on your hair only to have frizz pop up minutes after going outside. From proper care to using special hacks for frizz-free hair, there are lots of ways to prevent frizz. But what causes it in the first place? 
According to John Frieda, the cuticles of your hair kind of look like shingles on a roof. Frizz happens when those cuticles are raised, allowing moisture to invade. The final product? Expanded, not-so-sleek hair. The best way to combat this is to keep the cuticle sealed.
Hair care brand Briogeo says that raised cuticles aren't the only cause of frizz. Touching your hair too much throughout the day or failing to protect your hair while you sleep can also be culprits. Unfortunately, using hot tools can cause frizz. Remember those open cuticles? Poor hair care practices can deprive your mane of moisture, which can result in a less-than-desirable look (via Function of Beauty). As such, using the right methods and tools to tame frizzy hair is essential. 
The best brush options for sleek hair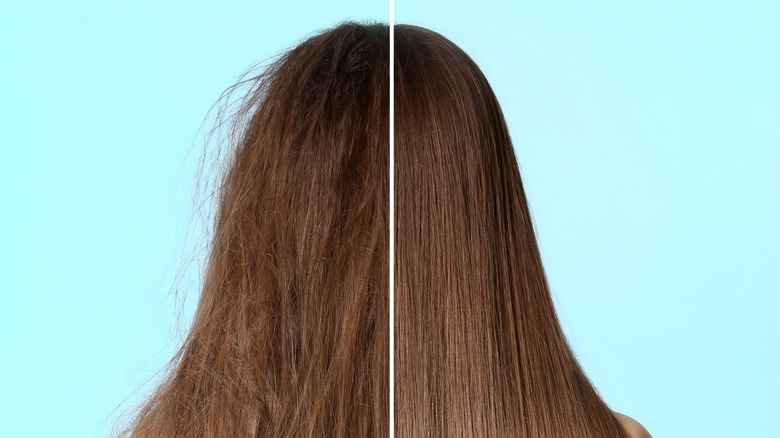 New Africa/Shutterstock
Thankfully, there are a ton of options to help you smooth those frizzy strands. While there are certain ingredients that can help smooth hair, don't just comb through your hair products! Styling tools — like the right hairbrush — can also play a part in getting the silky locks of your dreams. "If your hair is wavy, curly, or frizz-prone, a boar bristle brush is the way to go," Hawkins tells Elle. "It smooths out frizz and helps elongate your curls in a gentle way."
Just like hair products, different hairbrushes are suited for different hair types. If you battle frizz, Bustle seconds boar bristle brushes because they can help distribute the natural oils in your hair. Steve Waldman, the technical training director at Hair Cuttery Family of Brands, says these oils can help your hair keep its shape. "When examined under a microscope, a healthy cuticle lays down smooth, like the scales of a fish," Waldman told Healthline.
The best way to distribute those oils and weigh down those "scales?" Section your hair and brush slowly (via Today).
You can save or splurge on a boar bristle brush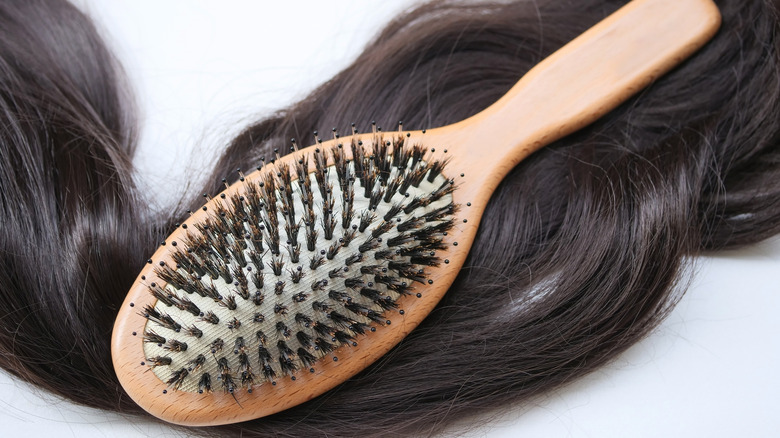 mayura benjarattanapakee/Shutterstock
When looking for specific tools, there are a few brushes that come highly recommended. If you're looking for an affordable option, hairstylist Darrius Peace loves the Black Egg Boar Bristle Brush. It's budget-friendly and works on all hair types (via Allure). The brush has 4.5 stars on Amazon and hundreds of positive reviews.
If you're willing to spend a little more, Cosmopolitan recommends the Spornette DeVille Cushion Paddle Boar Bristle 344 brush. The reviewers love how well the brush distributes oil, and the cushiony base helps protect your hair.
Jamila Powell, the founder of Naturally Drenched, says that you can't go wrong with the Mason Pearson Popular Mixture brush. It's a splurge, but it's a tool that even hair stylists use. "The Mason Pearson Popular Mixture Brush is possibly the most iconic boar bristle brush on the market and for good reason," Powell told Who What Wear. "It's definitely a luxury purchase but it's worth the price."
No matter what your budget is, there are plenty of options for a good boar bristle brush. Combined with the haircare products your stylist actually wants you to use, you'll be on the way to sleek hair in a snap.