General Hospital's Lynn Herring Weighs In On Lovable Lucy Let Loose On A Caper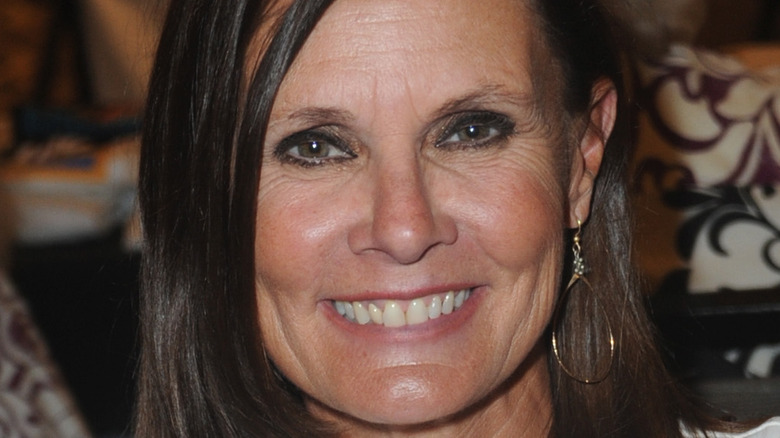 Albert L. Ortega/Getty Images
When the character Lucy Coe (Lynn Herring) started interacting with the other citizens of Port Charles on "General Hospital" in 1986, viewers were astonished to see this timid librarian transform into a stunning troublemaker. As Soaps in Depth reports, Lucy vacillated between causing trouble and doing good deeds. She even created General Hospital's annual Nurses Ball which is a fundraiser for AIDS research, and started the cosmetics company Deception, which has helped her focus on the business aspect of her life and stay out of trouble. She's lately had to deal with issues regarding Sasha Gilmore (Sofia Mattsson), the face of Deception, but now another pressing matter requires Lucy's particular set of sultry skills.
According to Soaps She Knows, Victor Cassadine (Charles Shaughnessy) has been up to no good, particularly keeping his granddaughter, Charlotte Cassadine (Amelie McLain), hidden away at a European boarding school so that his son, Valentin Cassadine (James Patrick Stuart) would do his bidding. Superspy Anna Devane (Finola Hughes) learned of Victor's nefarious deeds and has been helping Valentin find a way to take Victor down. Anna realized that Victor had a keen interest in Lucy and recruited Lucy to help in their plan against Victor. Lucy's objective is to seduce Victor and find out what exactly he is up to (via Soap Hub).
Since Lucy is now at the forefront of a major storyline, her portrayer Lynn Herring discussed her character's take on the plot.
Lynn Herring is happy that Lucy is in a major storyline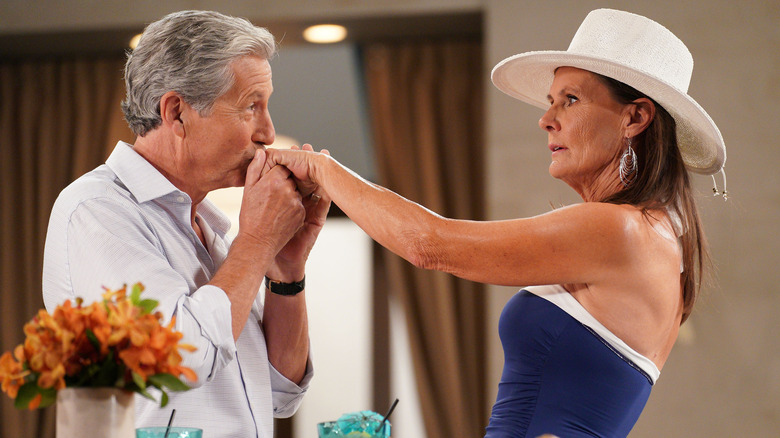 ABC/Christopher Willard
With Lucy Coe finally being in a front burner storyline again, "General Hospital" actress Lynn Herring spoke to Soap Opera Digest about it. "This is the first fun and truthful and challenging section for Lucy in, you know, nine years, so it's amazing to have something to sink my teeth into," she said. When asked what it's like working with actor Charles Shaughnessy, Herring stated, "he and I are having so much fun and laughing so much. We don't even have to rehearse that much; it just comes so naturally playing off of each other. It's been a joy." While Herring has never worked with Shaughnessy before, he is good friends with her husband, Wayne Northrop, who plays Roman Brady on "Days of Our Lives." 
She also explained that working with Finola Hughes and James Patrick Stuart is equally fun. She elaborated on how the scene where Lucy shows Anna the expensive bracelet that Victor gave her was improvised. As Anna admired the piece of jewelry, Valentin had to reign things in and yell at the women to "get back to business." Herring feels that such improvised touches help the viewers better understand the inter-character dynamics. Remarking that both Hughes and Stuart enjoy improvising, she stated, "I just love working with the two of them."
Lynn Herring feels Lucy can handle any danger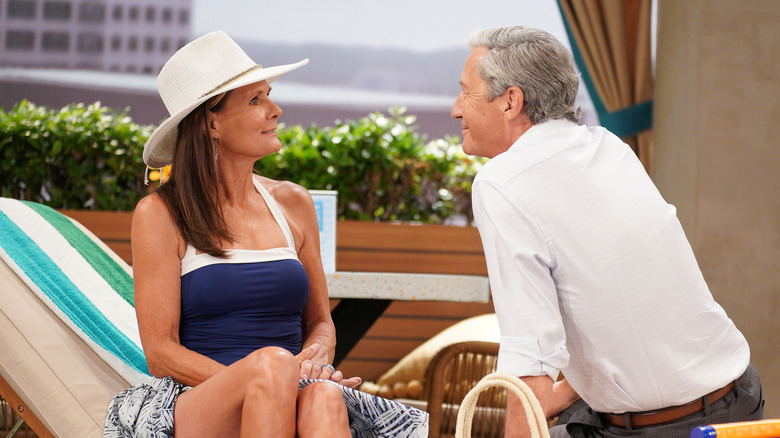 ABC/Christopher Willard
Soap Opera Digest also asked actress Lynn Herring what Lucy Coe is feeling about helping Anna Devane and Valentin Cassadine. "It's almost like there's a volcano that's been dormant, and they gave her only a little lava and off Lucy goes!" she said.
As Soaps She Knows points out, by helping Anna and Valentin, Lucy is putting herself in danger. But Lucy insists on working with them because she feels she's helping her boyfriend, Martin Grey (Michael E. Knight), and his presence in her life has been good for her. "I think Lucy is always wanting to live on adrenaline and Deception gave her legitimacy and a business purpose," she continued in the interview, "but in her personal life, Martin kind of stoked a lot of that wild side again and got her feeling very desirable and interesting." Herring explained that Lucy realized she had skills in the form of her feminine wiles that she could use against Victor. She stated that the danger that Lucy faces is akin to rescuing someone in a storm, when one just rushes in without any regard for personal danger. 
Although Herring wrapped up the interview stating Lucy can handle anything, Celeb Dirty Laundry speculates the danger might be too much even for the clever Miss Coe.