General Hospital's Lynn Herring Remembers Her First Kiss As Lucy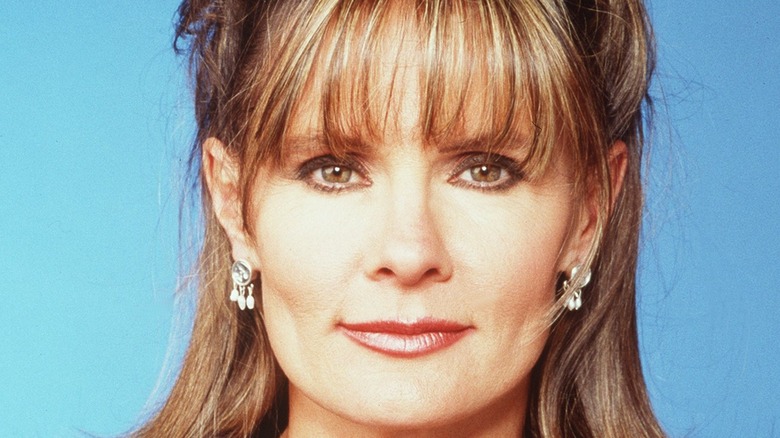 Getty Images/Getty Images
There are plenty of iconic players on daytime television, and one of the most popular is "General Hospital" character Lucy Coe, played by Lynn Herring. Coe debuted on the soap in 1986 as a shy librarian, but soon transformed into one of Port Charles' most lively residents who loved to stir up trouble. 
"When I got to come in, mess with people's heads, and be so self-driven, that was pure entertainment," Herring told We Love Soaps. "They said, 'This girl is going to be entertaining because we don't know what she's going to do next.' And then what I love is that they let her show the cracks in the facade, and her vulnerability, and how much she wanted to be liked, and how much she wanted to succeed."
Through the years, Lucy became the CEO of Deception Cosmetics, founded the annual Nurse's Ball, and even slayed vampires on the spinoff "Port Charles," per Soap Central. And of course, she has found love — and not always in the right places. Lucy had an affair with Bobbie Spencer's husband, Tony, married Alan Quartermaine in a red dress, and had on-again and off-again relationships with Scotty Baldwin and Kevin Collins. 
And while Herring has kissed plenty of her costars during her time on "GH," she vividly remembers the first time she had to lock lips on-set.
Lynn Herring was concerned about the technical side of her first GH kiss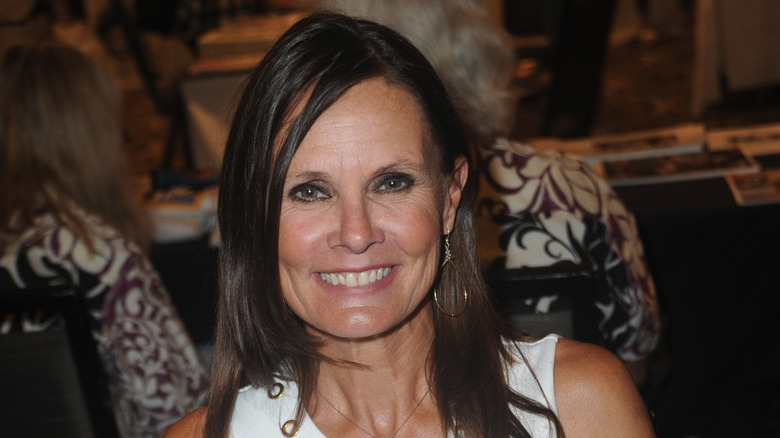 Albert L. Ortega/Getty Images
Lynn Herring's first kiss as Lucy Coe on "General Hospital" was with Guy Mack, who played Patrick O'Connor from 1985 to 1988. According to Herring, the scene was a bit nerve-wracking for her, but not because of her costar.
"I remember being very worried because back then, they had you turn your head a certain way for camera angles and I was more worried about the technical side of it than the actual kiss, wondering, 'Uh-oh, is my head tilting to the left correctly?'" she told Soap Opera Digest.
That doesn't mean that the kiss was all bad. In fact, Herring was pleasantly surprised that her costar's lips were so soft. "Then I thought, 'That's not appropriate to be thinking about!'" she explained.
Herring might have gotten some advice before her big kiss from her husband, former "Days of Our Lives" star Wayne Northrop. The couple married in 1981 and share two sons. And while she knows there's nothing romantic about an on-screen kiss, Herring admits that she would sometimes get jealous of her spouse's love scenes. "It bothered me in the beginning, when they were doing all that passionate kissing. I kept telling myself, 'It's just the same as my acting class.' But then I'd remember our instructor telling us we had to feel what we were doing from the inside out — and I'd get a little worried," Herring told People.
Lynn Herring continues to be a big part of GH
"General Hospital" fans love Lucy Coe, so it's not surprising that the character — and her portrayer, Lynn Herring — has been a part of the show off and on for more than 35 years! "Lucy Coe knows everything about everyone in Port Charles and we would be lost without her," the show tweeted on the actress's 35th anniversary in 2021. "Please help us congratulate @TheLynnHerring on the 35th Anniversary of her #GH debut!"
Of course, Lucy's love life is still on fire. The character has sparked a romance with Martin Grey, played by Michael E. Knight. And viewers are loving the pair together, with one fan tweeting, "Martin and Lucy have more heat than a majority of the couples under 40."
As for Herring, she is grateful for all of her time on "GH." "Reflecting is good for me; I'm always on fast-forward and I like to live in the moment. But this 35 years, it's just been such a gift, and I realize my whole life would have been completely different without 'General Hospital,'" Herring told Soap Opera Digest. "It's given me what I have, from my appreciation of storytelling to being able to have a ranch, to be able to get [my kids] through college. It truly gave me everything I have. I just feel like it's the best gift ever."