Of All Victoria Beckham's Looks - This One Stands Above The Rest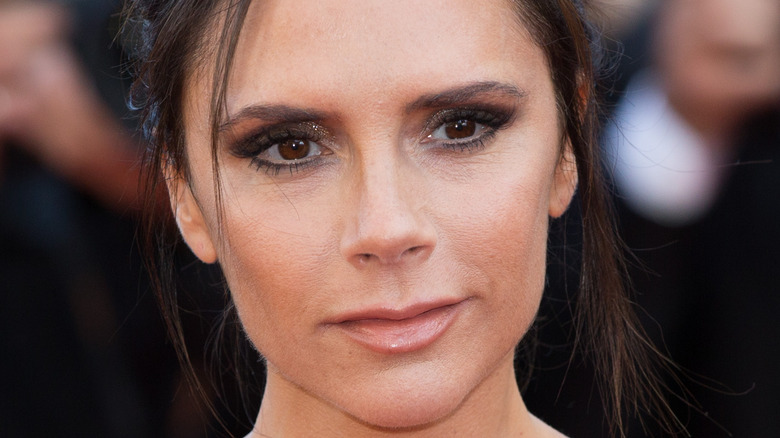 magicinfoto/Shutterstock
If you grew up in the '90s, or even just like listening to music from that decade, then you'll definitely know Victoria Beckham, who's undergone a stunning transformation since her Spice Girls days. Further, the woman formerly known by her nickname, Posh Spice, is making major waves as a high-end fashion designer. Trading the stage for the runway, Beckham has become one of the most prolific designers around and has built a brand that is a favorite among the fashion elite (via Harper's Bazaar). 
While Beckham's journey from pop idol to in-demand designer wasn't always easy, it brought us many incredible fashion moments. Having developed a signature style, the former Spice Girl has become an inspiration for those who love a chic and luxurious look above all else. True to her iconic nickname, Beckham has produced many refined and elegant ensembles that remain effortlessly true to her brand. 
Even though some of her looks might seem simpler, on the surface, than other style inspirations, they are the epitome of English elegance and glamour. This signature minimalist but always luxurious take can be seen in her fashion line, too. The furthest thing from the outfits once donned by the Spice Girls, Beckham is a natural fashionista who has become a global inspiration. 
Victoria Beckham held her own with the Parisian elite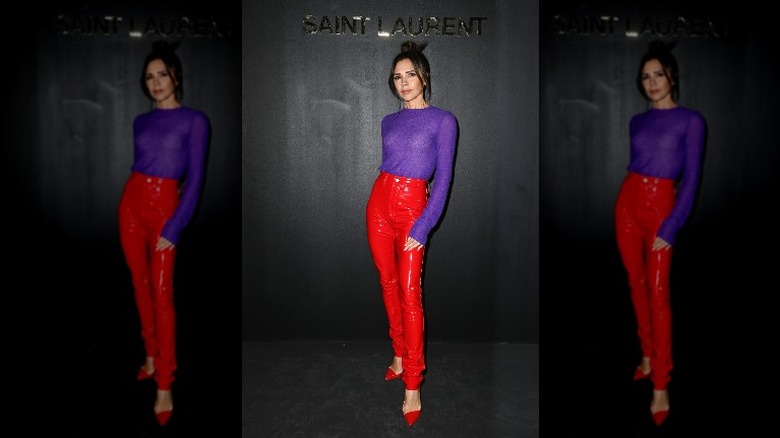 Pascal Le Segretain/Getty Images
Even though Victoria Beckham is no stranger to chic ensembles, one of her looks truly shows us the range that the fashion designer has. While attending the Saint Laurent Fall/Winter 2022 show in Paris, Beckham wore a stunning color-blocked outfit that was an absolute head-turner. Pairing a purple, long-sleeve blouse with a pair of bright red PVC skinny trousers, Beckham was a dream in color. Sweetly, she took her son Romeo as her date (via Harper's Bazaar). 
Finishing Beckham's look off was a pair of red pointed heels. In true Posh Spice fashion, the statement skinny pants came from her own fashion line. Not afraid of pairing two vibrant colors with each other, Beckham showed us all that she is more than a minimalist fashion icon. The most noteworthy aspect of this look is not only because we rarely see Beckham wearing these vibrant shades, but because they remain elegant and refined. 
Instead of opting for a classic black or white shade, these bright colors show that even when wearing color, you can still look opulent. Further demonstrating her fashion icon status, Beckham continues to surprise us while never straying too far from her signature style (via Vogue). 
The former Spice Girl is always effortlessly chic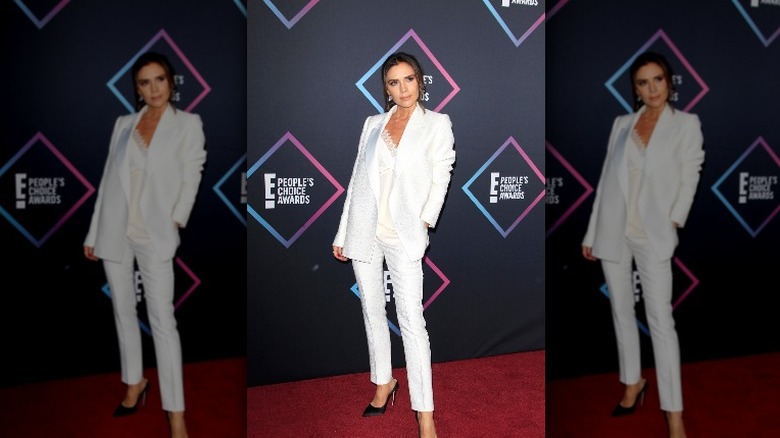 Kathy Hutchins/Shutterstock
Naturally, as a bonafide fashionista, Victoria Beckham has had more than one incredible style moment over the years. During Beckham's same trip to Paris, in March 2022, she also showcased a fabulous look while visiting L'Hotel La Reserve (via Celeb Mafia). This time going for a more '70s style ensemble, the designer paired a brown plaid blazer with a purple blouse and mustard-yellow corduroy pants. 
This combination of colors and patterns was done in a refined way that kept her looking luxurious and high-end. Finishing off the look with a deep burgundy clutch, the former pop star was ready to take in the fall fashion with the trending colors of the season. Another of Beckham's most head-turning looks was her chic attire for her son, Brooklyn Beckham's, wedding to actor Nicola Peltz. 
Opting for a silver slip dress embroidered with flowers, the proud mother produced an iconic mother-of-the-groom wedding look (via Vogue). Equally luxurious and sleek, the slip dress was a classic but modern choice for the ceremony. Elsewhere, while collecting her Fashion Icon Award at the 2018 People's Choice Awards, the high-end designer stunned in an all-white suit (via People). Whether on stage or on the runway, you can always count on Victoria Beckham to make a statement.