Meghan Markle And Prince Harry Are Reportedly In Hot Water With Netflix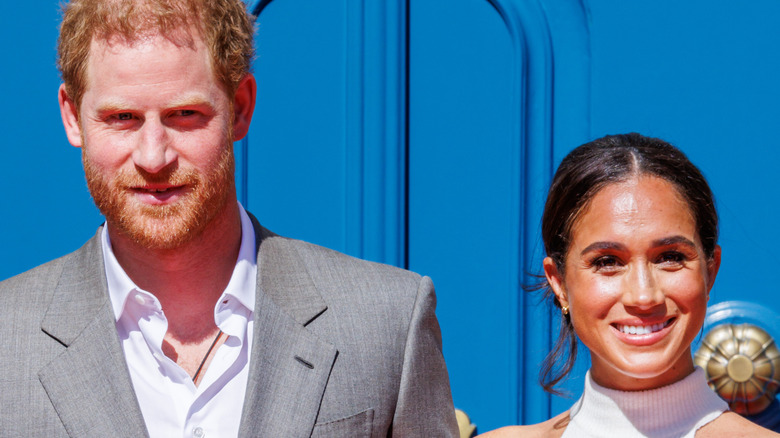 Patrick Van Katwijk/Getty Images
Amid the heartbreaking death of Queen Elizabeth II, Prince Harry and Meghan Markle's distance from the royal family has been put into even starker relief. The couple was seated in the row behind virtually everybody else at Her Majesty's funeral, per Page Six, while Meghan and Harry's new position at the bottom of the royal website hints that their relationship with King Charles is in a worse place than ever before.
According to various royal insiders and experts alike, nothing is going to change until The Firm knows what Harry has written in his memoir. In fact, as The Sun confirmed, during their recent sojourn to Britain, senior royals were intending to avoid the Sussexes at all costs — that all changed when the queen died, but the reunion was anything but warm, per People. Likewise, their Netflix series is another major bone of contention.
And yet, with the show just a couple months away from dropping, the Sussexes' relationship with the streaming giant is reportedly crumbling too. 
The streaming giant is flummoxed by the Sussexes' approach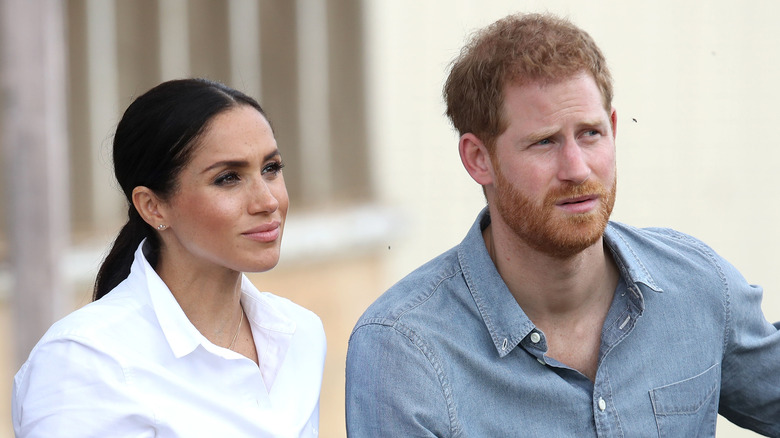 Chris Jackson/Getty Images
There have been ongoing reports that the Duke and Duchess of Sussex are at loggerheads with Netflix over proposed edits to their upcoming docuseries. But sources now claim employees at the streaming service have been left flummoxed by alleged contradictions in their recorded testimony. According to Page Six, "A lot in the show contradicted what Harry has written, so that was an issue," per a senior Netflix source.
They were referring to the prince's tell-all autobiography, which is due for release next year. Further, "Then Harry and Meghan made significant requests [to filmmakers] to walk back content they themselves have provided, for their own project." There was speculation the Sussexes were actively trying to bury the series in the wake of the queen's death, because they were worried about how it would make them look in the eyes of the British public, who are very much behind the royal family (via Page Six).
Netflix refused to back down though, and are sticking with the planned release schedule, which should see the series debuting before the year is out. The celebrity couple has been filming for over a year, and if various stories are to be believed, they're taking aim at everybody from King Charles and Queen Consort Camilla Parker Bowles to Harry's brother, Prince William, and his wife, Kate Middleton in the show.
Meghan and Harry aren't shying away from being honest on camera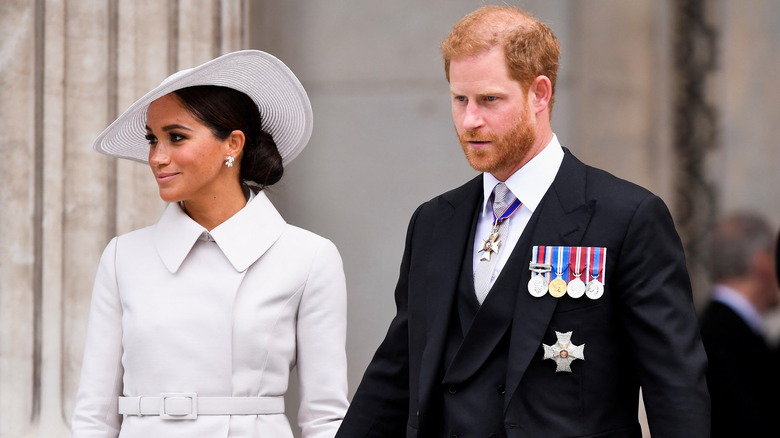 Wpa Pool/Getty Images
Although rumors swirled that Prince Harry and Meghan Markle were desperately scrambling to fix their Netflix series, in order to curry favor with the royal family, a source clarified to The Telegraph that any changes being made are completely normal. "There seems to be a big misconception that they need or want to turn the project on its head," they acknowledged. "There are always edits being made, but that's how it works — people give notes, sometimes things are changed if there's time before a deadline."
The "multi-episode series" is scheduled for release in December, and a source close to the Duke and Duchess of Sussex confirmed neither it nor Harry's upcoming memoir are about settling scores. "This isn't supposed to be a take-down of anyone or anything. ... There's no finger-pointing," they noted. Moreover, it's not worth worrying too much since, "Everything they do ruffles feathers." 
The insider argued, "It doesn't matter what they say or write, the chatter will be there regardless. Even if they didn't mention the royal family at all, people would still say it's a snub." In fact, this may be Harry's way of finally putting everything to bed. The Firm certainly seems concerned about what the celebrity couple might reveal, with Express reporting King Charles stormed off when Harry refused to divulge his memoir's contents.