The Meaning Behind Prince Louis' Name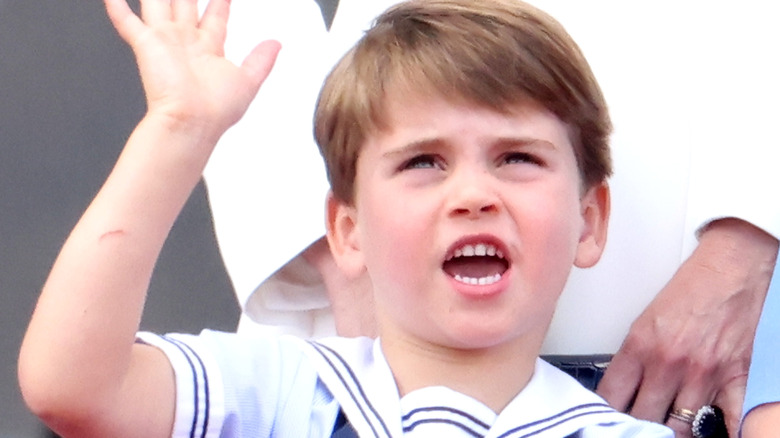 Chris Jackson/Getty Images
Kate Middleton has confessed to feeling a lot of pressure when it came to naming her children, Prince George of Wales, Princess Charlotte of Wales and Prince Louis of Wales. As the Princess of Wales confessed to Amy Stubbs, deputy director of midwifery at Royal Surrey County Hospital in October of 2022, she ended up selecting her "favorite names" but not without experiencing the gravity of the world waiting for the announcement of each name (via People).
When it came to naming her first child, the royal and her husband Prince William would go on to announce the highly-anticipated moniker two days after his birth in 2013 (via History). In 2015, Princess Charlotte's name was shared with royal fans around the globe in the same amount of time (via Hello!). But flash forward to 2018, and we would have to stand by for four long days before finding out what the third child of the Prince and Princess of Wales was named (via Marie Claire).
At the time, royal commentator Victoria Arbiter told Town & Country that the delay was likely the result of several factors. "On one hand there's a desire to inform the families before a public declaration is made and any new parent appreciates having a little private time to get to know their new addition before the onslaught of announcements," she said.
When the new parents of three finally did share Prince Louis' name, fans everywhere were ready to unpack the meaning behind their choice.
Louis is strong family name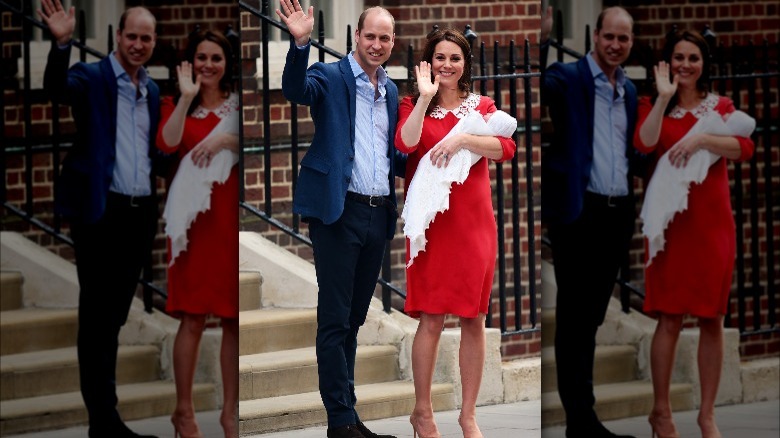 Jack Taylor/Getty Images
Like they had before, Kate Middleton and Prince William shared their son's name via a Twitter announcement. "The Duke and Duchess of Cambridge are delighted to announce that they have named their son Louis Arthur Charles," the tweet read. "The baby will be known as His Royal Highness Prince Louis of Cambridge."
People promptly started mispronouncing the new prince's name, reportedly saying it like "Lewis," when in fact in the U.K., the royal's name would be said like "Louie" (via Today).
Now that the housekeeping piece is out of the way, what does the now 4-year-old's name mean? Well, when it comes to his first name, it's worth noting that the royal couple wasn't exactly reinventing the wheel. The Prince of Wales' full name is ​​William Arthur Philip Louis after all (via E! News). The family of five also includes another Louis: Prince George, whose middle name is Alexander Louis.
Hello! notes that Louis has even more familial significance, as the late Prince Philip's uncle was named Lord Louis Mountbatten and his maternal grandfather was Prince Louis Alexander of Battenberg.
Prince Louis' middle names pay homage to the new King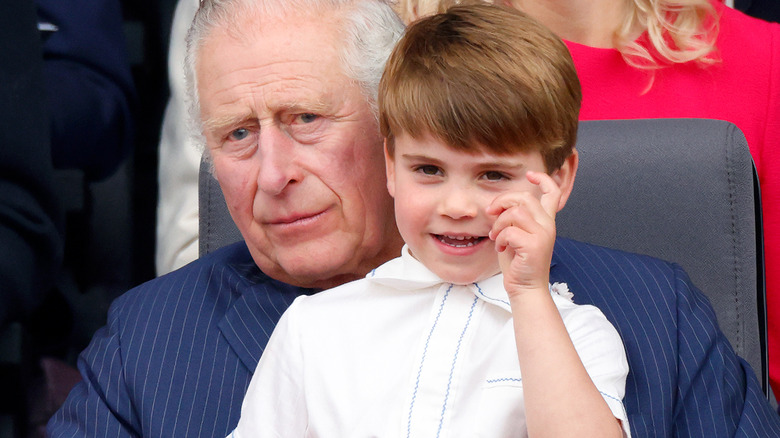 Max Mumby/indigo/Getty Images
While no British king has been a Louis, there is a famous French monarch with that name. In fact, he is the only sovereign to rule for longer than Prince Louis' great-grandmother, Queen Elizabeth II. The late Queen, whose death little Louis was said to be struggling to accept, was the monarch of Britain for more than 70 years (via CNBC). Meanwhile, King Louis XIV ruled France for an astonishing 72 years.
At this time, Prince Louis of Wales is fourth in line for the throne, making it somewhat of a longshot that he will ever be another King Louis — but admittedly, stranger things have happened (via Royal.uk).
Moving on to the child's middle names, with Bustle reporting that it's customary for both royals and Brits to be given more than one, Charles obviously pays homage to the tot's grandfather who now sits on the throne. As for Arthur, this name too honors King Charles III, whose full name is Charles Philip Arthur George (via Hello!). That the youngest son of William and Kate is especially close with his grandfather makes his name choice even sweeter (via My London).
Finally, remember that little Prince Louis' dad, the new Prince of Wales, also has Arthur as part of his middle name.