What You May Have Missed In Part One Of The Season 12 RHOBH Reunion
As the Season 12 finale of "The Real Housewives of Beverly Hills" comes to a close, fans were looking forward to the first part of the three-part reunion that premiered on October 12, 2022. Fans have been excited to see all of the women's reunion outfits (in which they were disappointed this year), see Erika Jayne talk about her legal drama, and hear Lisa Rinna talk about the incident that happened in Aspen with Kathy Hilton — and recently, there has been speculation about whether sisters Kathy Hilton and Kyle Richards are even speaking to one another.
Garcelle Beauvais, Sutton Stracke, Crystal Kung Minkoff, Kyle Richards, Lisa Rinna, Dorit Kemsley, and Erika Jayne were all in attendance. Diana Jenkins joined through a Zoom call due to a recent COVID-19 diagnosis. Kathy Hilton was not present in part one of the reunion special, although the trailer for next week's episode shows her arriving at the set for the next part.
Missed part one of the reunion or want a recap before the second part airs? Read on to recap the biggest moments, heated arguments, and revealing truths of part one of the RHOBH Season 12 reunion.
There was outfit backlash
The "RHOBH" reunion looks were revealed on Instagram prior to the show, and fans were quick to call out the mismatching and "cheap-looking" dresses that many of the housewives wore. Although it is not a show based on fashion, these women have money and also live in Beverly Hills, where they are expected to dress to the nines every day.
Fans were quick to leave comments on the franchise's Instagram page after the reunion outfits were revealed. One user wrote, "How disappointing that these are the ladies of Beverly Hills, don't you all have stylists?" while another wrote, "Where is the theme?!"
Crystal had one of the safest looks despite the neon yellow color, fans said. Lisa Rinna wore a cheetah print dress, in which many fans claimed she looked like a "wannabe Kardashian." Dorit Kemsley's hairstyle confused many fans, who said she looked very casual in comparison to her usually over-the-top designer duds. Fans called Erika Jayne's look something that would be worn in "a Dancing with the Stars routine," while they said Kathy Hilton's dress looked "old." Kyle, Sutton, and Garcelle got their fair share of criticism from fans, too.
A special guest appeared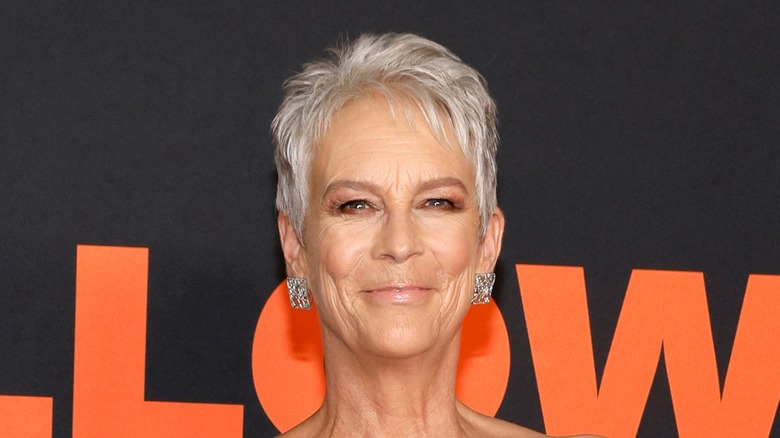 Ovidiu Hrubaru/Shutterstock
Jamie Lee Curtis, a dear friend of Kyle Chandler's from their movie roles in "Halloween," "Halloween Kills," and "Halloween Ends," was a special guest on the "RHOBC" reunion show. Andy Cohen even called her an "honorary housewife" at the beginning of the show.
Curtis was also featured on an episode this season where she promotes her charity, My Hand In Yours, with all proceeds donated to the Children's Hospital Los Angeles. In the episode, she showed the ladies multiple products from her line, including a wind chime that Dorit called "chic." Curtis expressed her thanks to the show for giving her a platform, saying she didn't realize the show's outreach until she appeared on the episode, which was the biggest day in history for her charity. To show her appreciation, Curtis rebranded her charity to "the CHicest CHildren's CHarity" in honor of Dorit's excitement and enthusiasm for her items. She also gifted each housewife in attendance a pumpkin carved with their face in it, inspired by her and Kyle's roles in the "Halloween" movies.
Dorit Kemsley called out Andy Cohen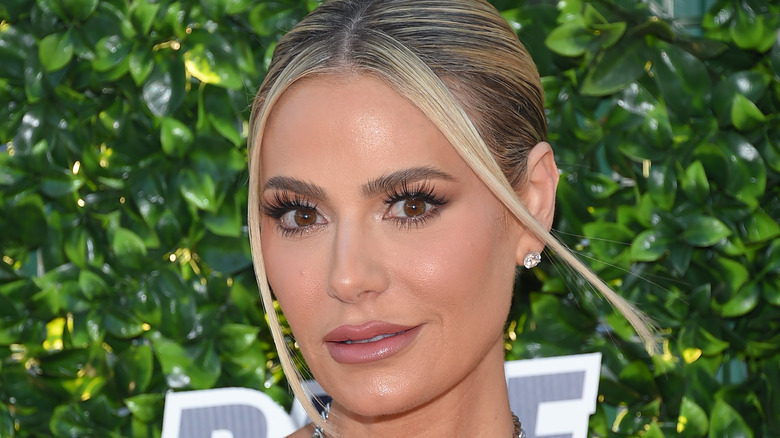 DFree/Shutterstock
During part one of the Season 12 "RHOBH" reunion, Andy Cohen asked Dorit Kemsley about the armed robbery that happened to her and her children last October. She was home with her two children when two armed men in hoodies broke in and held her at gunpoint, per Us Weekly.
Dorit has been extremely open this season in talking about her healing process in the aftermath of the robbery. In one episode, she goes through an EMDR therapy session with a specialist who tries to help her work through the robbery by reliving some parts of it. She admitted that she knows it will take time to heal from this incident, and she told viewers on the reunion that she still has PTSD.
While Dorit spoke about how the robbery has altered the course of her life, she caught Andy Cohen yawning. She called Andy out and asked if she was boring him, to which he responded that he was swallowing a yawn and that Dorit was not boring him. This was the second year in a row Andy has yawned while Dorit was speaking, although his yawning while she spoke about her robbery seemed almost like a snub. The show even cut back to show Andy yawning during last year's reunion.
They discussed attacks against a housewife's son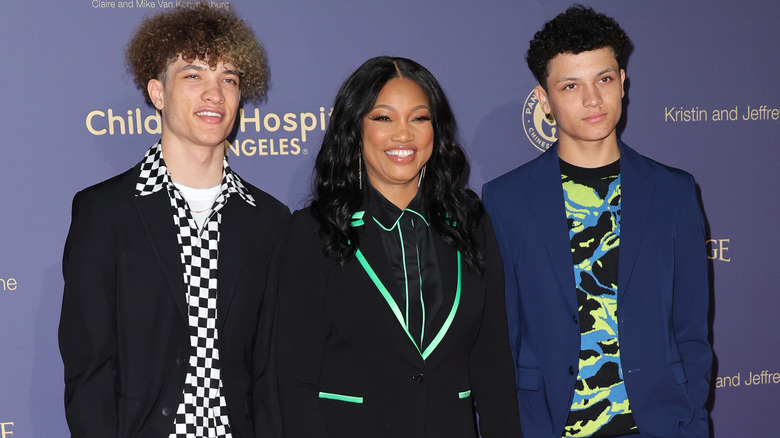 Momodu Mansaray/Getty Images
Dorit Kemsley's robbery wasn't the only drama this group of housewives discussed during the "RHOBH" reunion. Andy then turned it over to Garcelle Beauvais to talk about the recent hate her 14-year-old son Jax has been receiving on social media — specifically, hateful Instagram comments from what seemed to be bots. The comments became inappropriate, attacking the child for many of his mother's actions. One bot even commented something on Jax's post that was extremely hateful, and the end of the comment also said to tell your mom "to leave Diana alone."
Garcelle said these types of comments and hate got her thinking that one of her castmates may be behind the attacks on her family. She said she believes someone may have paid money to purchase bots to harass her family online. Lisa Rinna was one of the first of Garcelle's castmates to condemn the attacks and call them "disgusting and unacceptable." Diana denied being behind any of the social media attacks.
Garcelle told Andy, "So for me, it felt like I wasn't wanted on this show, so this is a way to get me out. Because if you attack my children, most likely I will leave. And so that's why I felt that way. But I do have an investigation going on." Diana said she also has an investigation pending as well. Cohen said Bravo condemns this behavior and hatred toward any of its cast members or their families.
Diana Jenkins got called out for social media comments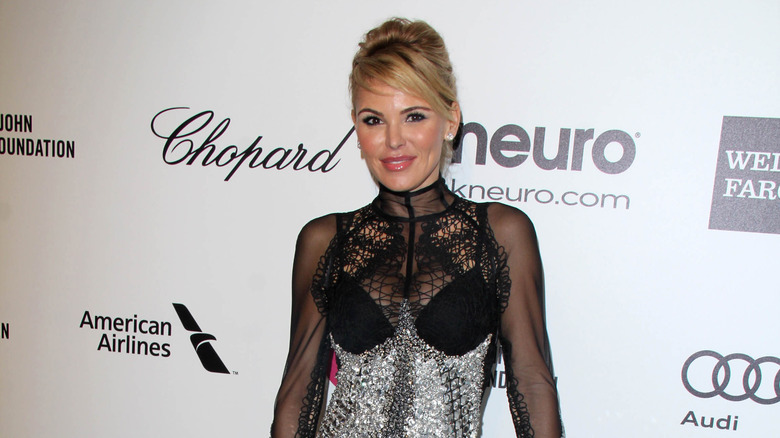 Kathy Hutchins/Shutterstock
While he had her tuned in on Zoom during the "RHOBH" reunion, Andy addressed Diana Jenkins' comments on Twitter, which recently had the internet up in arms.
Twitter user @philly.diva reposted a side-by-side comparison picture of Diana, claiming she looked completely different in the images, which made Diana very unhappy. After Diana called her out, @philly.diva clapped back and said "you had time today!! But the fact is...both pics are you. However, neither of them look alike! Welcome to the bravo-sphere! Keep that same energy with the rest of Instagram that thinks you have no storyline and should be fired ... and not just with Black content creators."
Diana then responded, "It can't feel good being a Black content creator," and the internet exploded into a frenzy. During the reunion, Diana said she was mortified and embarrassed.
"Black content, to me, I just associated with a dark web — with something that is not positive. ... Didn't associate with a female, a woman, or her skin color, none of that," Diana said to Andy and her fellow housewives. Her castmate Crystal was the one who called her immediately and told her to take down her comment because her words meant something different than what she wanted to say.
People on social media were quick to point out that Diana should know better. One user commented, "First of all, anti-Blackness is global. Also, she's been in the U.S. for almost 20 years."
Erika Jayne apologized to Crystal Kung Minkoff for insensitive comments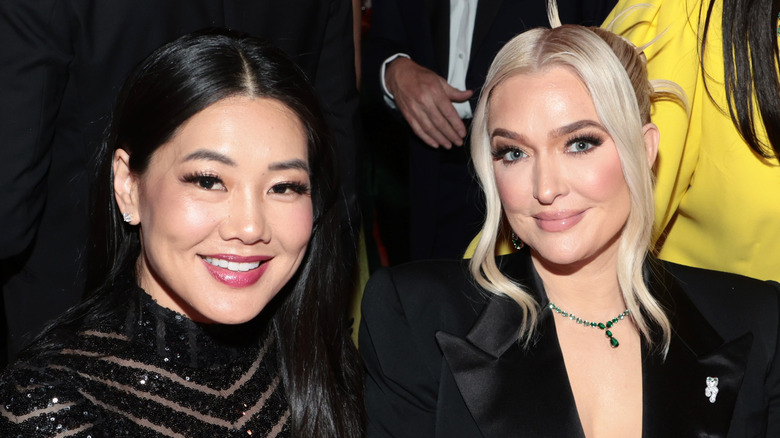 Jamie Mccarthy/Getty Images
During Season 12 of "RHOBH", Erika Jayne made comments to Crystal Kung Minkoff that upset her. Crystal was open about her struggles with disordered eating, confiding in multiple castmates about it. Erika joked about her eating habits and about using laxatives to lose weight, something that Crystal and a lot of viewers saw as completely inappropriate. During the reunion, Erika apologized to Crystal and regretted the words she used. 
Crystal then told Dorit Kemsley that she was upset with her as well. In a previous episode, Dorit had told the other housewives that Crystal confided to her that she throws up every morning. Crystal was upset with Dorit for telling everyone else because this was something that she wasn't comfortable having shared. "I'm very particular how I speak about it. I tend not to be very graphic about it. It's very shameful. And when I saw that [I thought it was] unacceptable — not okay," Crystal told Dorit. Dorit was very apologetic toward Crystal.
Crystal Kung Minkoff got called out by Kyle Richards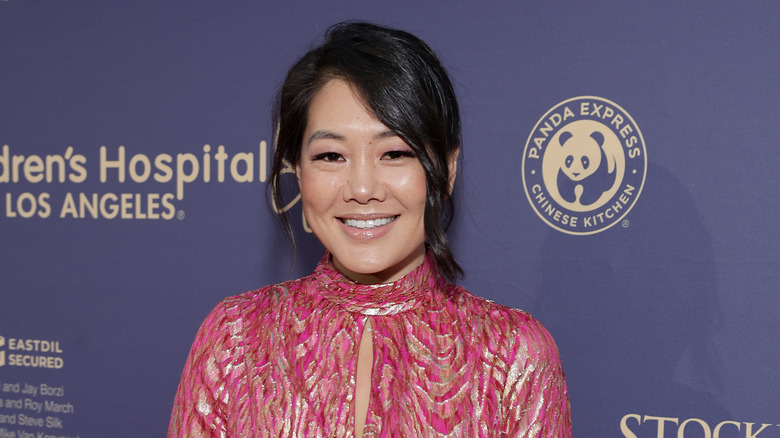 Matt Winkelmeyer/Getty Images
"RHOBH" housewife Crystal Kung Minkoff was also under fire during the Season 12 reunion for some hurtful things she said about another housewife. Many of the other cast members were upset at Crystal for her behavior toward Sutton Stracke. Sutton made a comment Crystal didn't particularly like, and Crystal labeled it as "dark" to the other housewives. They quickly became concerned, thinking it was a big secret and that Sutton may have bad intentions. Once it was revealed that Crystal took it out of context, Kyle Richards and Crystal got into a heated argument about Crystal not telling the truth — and not just about this issue.
Crystal has said in the past that she lost many of her friends (14, to be exact). During the reunion, the two housewives battled over whether Crystal was telling the truth that she lost these friends due to her contract with "RHOBH." Kyle said she knows this isn't true, because many of the women Crystal lost as friends have been asked to be on the show. Kyle also said she heard from women who used to be close with Crystal, who said their rift had nothing to do with the franchise.
Kathy Hilton and Kyle Richards are allegedly not speaking
DFree/Shutterstock
Although Kathy Hilton did not attend part one of the reunion, we know she will appear in part two based on a trailer that aired at the end of the episode. The two are rumored to not be on speaking terms, and it is unclear where they stand. Fans have been quick to point out their recent social media interactions, which have seemed kind of shady.
On social media, Kathy responded to a fan and Kyle clapped back at her sister. A fan on Instagram said, "I'm so worried why Kyle is so upset" in a video of the reunion trailer. Kathy responded and said, "Why is she upset and crying? I'm the one who [was] bullied and persecuted for 10 months! Just cruel and disgusting." Kyle commented back to her sister and said, "why? You know exactly why."
Kathy's later appearance at the reunion will follow a great deal of drama with her sister and also with fellow housewife Lisa Rinna. It's unclear whether Kathy will be offered a full-time housewife title, since she played a huge part in Season 12.
What's next for part two?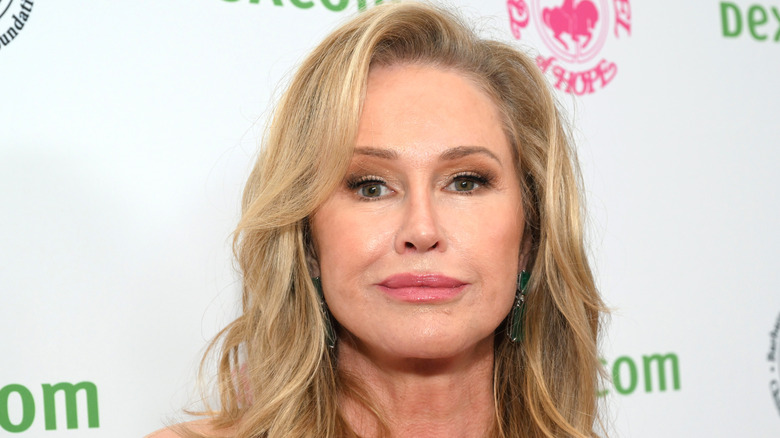 Michael Kovac/Getty Images
The sneak peek of next week's "RHOBH" reunion episode is juicy. We know a lot of the drama to come: Sutton Stracke calling Lisa Rinna not her friend, Kyle Richards and Crystal Kung Minkoff fighting once again, Andy Cohen addressing a rumor that Kyle's husband Mauricio has been having an affair with Dorit Kemsley, and the trailer ends with Kathy Hilton stepping out of a car in her slippers and robe. 
Spoilers from the trailer reveal that Kyle doesn't want to stay for the toast because she is so upset. Andy asks the producers whether she is allowed to not participate in the classic reunion tradition. We also know that there was no reunion photo taken with the whole cast, which leads us to believe something big goes down at the very end. Stay tuned to see what the next two episodes will hold for the "RHOBH" cast, and which housewives will end up returning next season.