BravoCon 2022: Teresa Giudice Holds Nothing Back About Joe And Melissa Skipping Her Wedding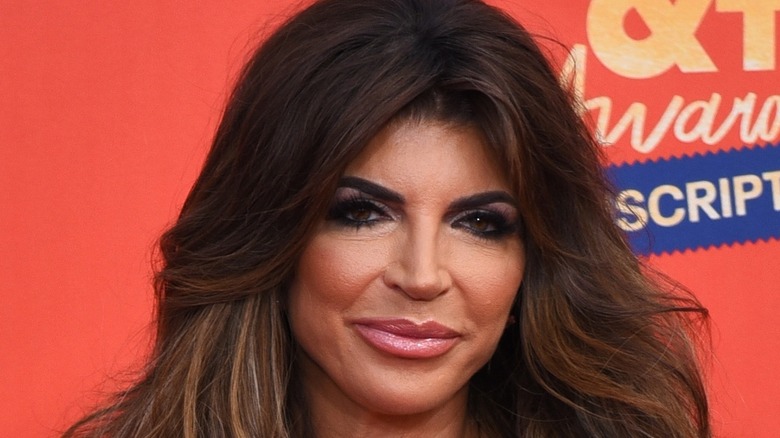 Michael Mattes/Shutterstock
Fans of "The Real Housewives of New Jersey" are familiar with the ups and downs that Teresa Giudice has gone through over the years. After serving 11 months in federal prison for fraud and divorcing her first husband, Joe Giudice, Teresa seems to have found her happily ever after with new husband, Luis Ruelas. The two wed in August 2022 in front of 220 guests at the Park Chateau Estate & Gardens in East Brunswick, New Jersey, per People.
The event was a family affair. Luis's sister, Dr. Veronica Ruelas, officiated the ceremony. The couple's children from their previous marriages — including Teresa's four daughters — came up during the vows for a special candle lighting with their parents. But there were two people noticeably missing from the festivities: Teresa's brother and sister-in-law, Joe and Melissa Gorga, who decided to skip the wedding after yet another falling out with Teresa.
"Let's go back to the reunion. She did this. This was all on her. This is what she really wanted. She didn't want [Melissa] in the wedding. She didn't want any of my children in the wedding. She barely wanted me," Joe said during an episode of his wife's "On Display" podcast. "She hates us. She really didn't want us there."
At BravoCon 2022, Teresa finally addressed the rift — and she didn't hold back about Joe and Melissa skipping her big day.
Teresa placed most of the blame on Melissa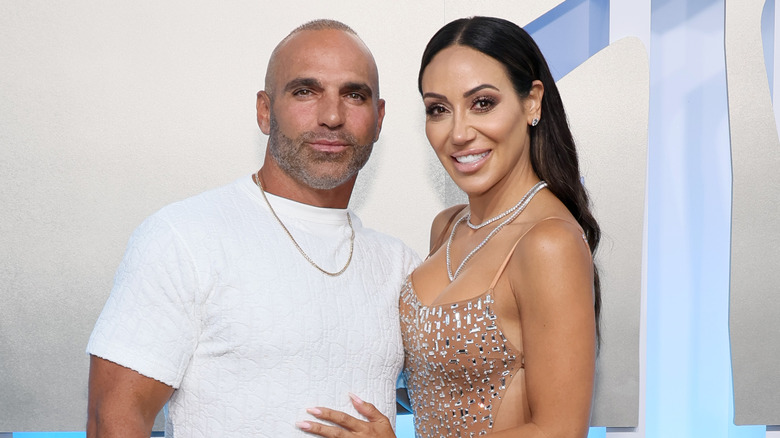 Dia Dipasupil/Getty Images
During BravoCon 2022's panel "Jersey Ladies & Their Men," Teresa Giudice didn't hold back about her brother and sister-in-law, Joe and Melissa Gorga, deciding to skip her wedding to Luis Ruelas. "I was really hurt. Obviously, it was really sad for me," Teresa revealed, according to a reporter from The List. She added that the experience was "devastating, he's my only brother, my only family that I have here. He's my only family." 
Teresa, who was joined on the panel by Luis, as well Jennifer and Bill Aydin and Dolores and Frank Catania, seemed to place most of the blame for her on-going rift with her brother on his wife, Melissa. In fact, Teresa noted that she and Joe were "inseparable" while growing up, but that "things change" when "different blood" enters the family. 
"I'm sure it happens in a lot of families and nobody should speak unless they're in the situation, so that's what happened to our family," Teresa said. "Fame and money, unfortunately, ruined our family. And, of course, I'm sad for that, but that's what happens."
Jennifer Aydin also weighed in on Teresa and Joe's rift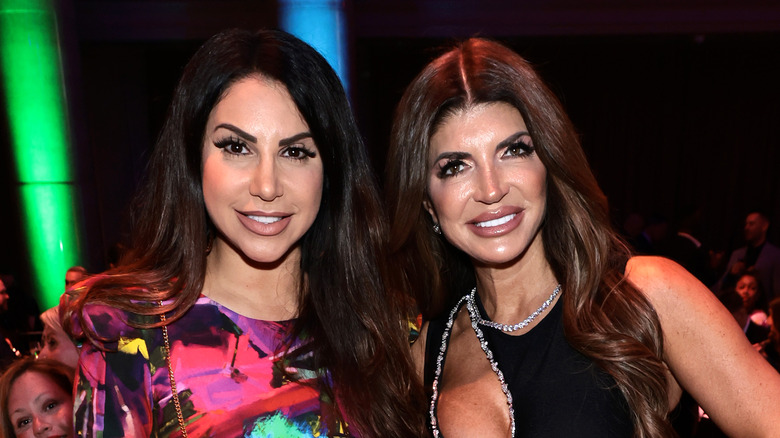 Jamie Mccarthy/Getty Images
Teresa Giudice wasn't the only one to address her rift with Joe and Melissa Gorga during the BravoCon 2022 panel. Her "Real Housewives of New Jersey" co-star Jennifer Aydin also weighed in on the Gorgas skipping Teresa's wedding, sharing that she believes Joe will "regret" not attending the special event. "I think they did what they had to do in that moment," Jennifer said, according to a reporter at The List. "You don't not show up for family."
During their own appearance at BravoCon earlier in the day, Melissa addressed the RHONJ cast being split into two panels — a decision she said the Gorgas were against. "We're not cowards and I could've sat right up here with everybody," she said, per Daily Beast. "I don't know if there [were] phone calls with anybody on the other side, but this side was ready to get up here all together."
But Aydin wasn't buying it, believing the Gorgas would do anything to stay on the show. "They're holding on for dear life," she said. "They're going to say whatever they need to say to keep them on. We would've welcomed a panel all together, because at the end of the day, we're all professional and we're able to be cordial with one another."