Abortion Rights Activists Are Already Focusing On The 2024 Elections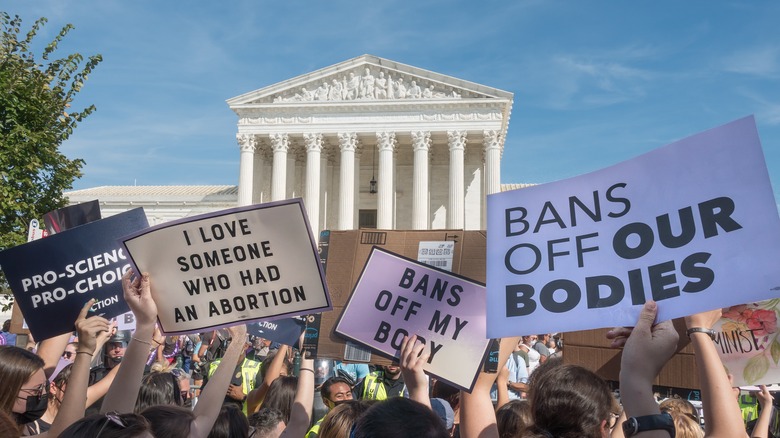 Bob Korn/Shutterstock
The 2022 midterm elections are just around the corner and abortion rights advocates are already focusing on 2024. With the repeal of the protections granted in Roe v. Wade back in June, whether or not a pregnant person has access to abortion is now up to the states to decide. Between trigger laws that went into effect in the immediate aftermath of the Dobbs v. Jackson Women's Health Organization decision and new abortion bans and restrictions that have gone into effect since, people all across the country have lost access to what can at times be lifesaving medical care.
States with trigger laws included Arkansas, Kentucky, Alabama, Tennessee, Louisiana, and Mississippi — all states that are listed by the Centers for Disease Control and Prevention as having the highest maternal mortality rates, per Axios. Texas, who has a near-total ban on abortion, was found to wait until patients were "on death's door" before they were able to receive care, according to a study published by the New England Journal of Medicine.
Despite these sometimes lethal, far-reaching side effects of the Roe v. Wade reversal, Politico reports Republicans still view the Dobbs decision as a victory. Celebrating on Twitter, former Vice President Mike Pence wrote that it was "incumbent on all who cherish the sanctity of life" to go to their state capitals to fight for abortion bans. According to Politico, both Democrats and Republicans took this as a sign that a nationwide abortion ban is not off the table, setting a major focus point for the 2022 and 2024 election cycles.
These are the states that have abortion ballot measures in the 2022 midterm elections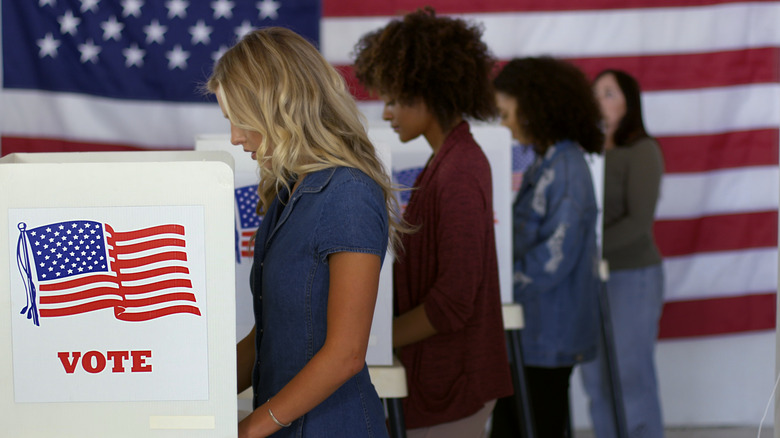 vesperstock/Shutterstock
While abortion advocate focus is already moving forward to 2024, surveys show voters are still very focused on the 2022 midterm elections. According to the Kaiser Family Foundation, there are currently five states that have passed Constitutional Amendments banning or restricting abortion since Roe was repealed. The KFF adds the Iowa Supreme Court even overturned a previous decision that had protected the right to abortion within the state — a reminder that rules and decisions can be overturned without constitutional protection.
Like in Florida, where the state Supreme Court actually recognizes a fundamental right to abortion, per the Center for Reproductive Rights. Despite the 1989 ruling in In re T.W, which tied abortion rights to the 14th amendment and the right to privacy, Florida lawmakers do what they can to restrict access. In 2004, for instance, Florida actually amended their constitution so that its state legislature could pass a law requiring a pregnant person under the age of 18 to have parental or guardian permission before obtaining an abortion.
In November, voters in Kentucky will decide whether to amend their state's constitution to ban abortion, per The 19th News. Meanwhile, the KFF reports voters in California, Michigan, and Vermont will be voting in November on state constitutional amendments that would protect the right to abortion. They add that Montana has an abortion-related law on the ballot in November, but it currently will not be addressing state Constitutional rights.
Where abortion advocates predict their focus for the 2024 election will be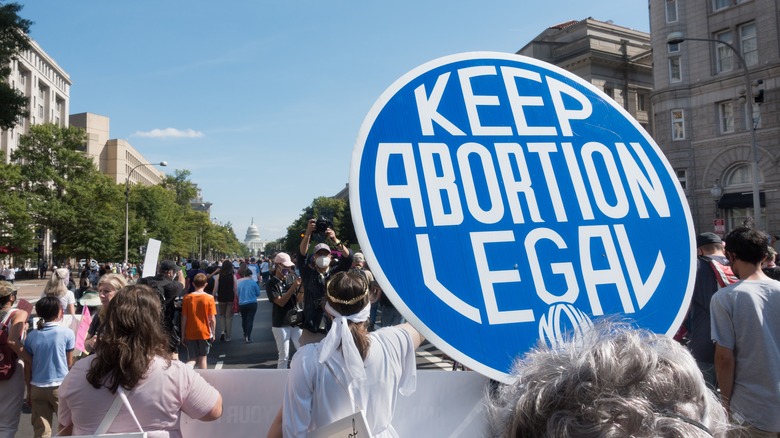 Bob Korn/Shutterstock
In dozens of interviews with advocates, The Washington Post found that persevering abortion rights in more state constitutions is going to be a major focus of the 2024 election cycle. However, there's a lot to consider between now and then, including what states actually have a viable path to amending their constitutions to protect the right to abortion.
The election in Kansas earlier this year gives many hope that they'll be able to repeat the same strategy for victories in more states, The Post adds, explaining that advocate groups use Republican messaging — like freedom of choice — to get the attention of voters.
According to the Associated Press, abortion advocates aren't the only ones looking to 2024. Talking to the Associated Press about whether or not to jump on enforcing abortion bans, South Dakota state Senator Brock Greenfield said, "It might not be a bad idea to just let the dust settle and proceed very carefully, very strategically as we go forward."
Polling done by the Associated Press suggests that most Americans aren't happy that Roe was overturned, leaving potential 2024 presidential contenders following Greenfield's advice to tread cautiously. Politico adds that some Republicans, like Senate Minority Leader Mitch McConnell, are even shying away from brand names like Senator Lynsey Graham, who recently introduced a federal ban on abortion at 15 weeks. It's a fight McConnell and other Republicans prefer is left up to the states.