Of All Ashley Tisdale's Looks - This One Stands Above The Rest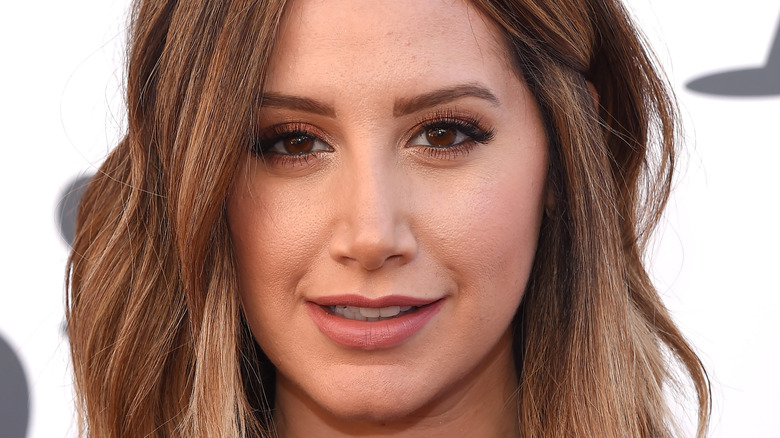 DFree/Shutterstock
Sharpay may have had a fascination with pink and glitter, but Ashley Tisdale is much more subdued with her fashion choices. The actor initially rose to fame playing the fan-favorite, and delightfully self-obsessed, character in the "High School Musical" film series and cemented her popularity with "The Suite Life of Zack & Cody," multiple albums, and grown-up roles in "Merry Happy Whatever" and "Carol's Second Act," among others.
The former teen star has always been a girly girl, with Tisdale thankfully sharing her beauty must-haves so the rest of us can follow suit, and even had her own makeup line at one point; Illuminate by Ashley Tisdale. "Makeup is supposed to illuminate you. It's supposed to enhance your natural beauty," she told New You emphatically. Elaborating on her inspiration, Tisdale shared, "I am someone who loves a glowy, beachy look."
The one-time pop star has also consistently experimented with fashion, relying on one great piece of advice from her mother to guide the way. "My mom has always taught me to be confident. That no matter what, when you walk into a room, it's not about your makeup, your skin, or your styling. It's about your energy," she revealed to Glamour. "If you can walk in with confidence, then you're good to go." This is just one of her standout looks so far.
The stunning actor looked gorgeous all in white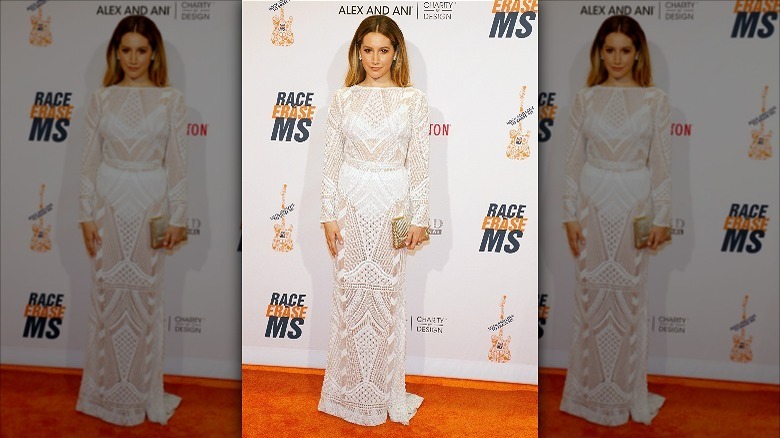 Tinseltown/Shutterstock
At the 23rd Annual Race to Erase MS Gala, in April 2016, Ashley Tisdale was full of confidence, dressed in a floor-length white dress and posing on the red carpet with her husband Chris French. She accented the look with shining accessories, including a gold clutch purse and matching gold earrings. 
According to Just Jared, Tisdale's gown was by designer Leah Da Gloria. The sheer, lacy dress was mostly see-through, and the star wore a white bralette with full-coverage bottoms underneath to protect her modesty. Discussing her red-carpet style with ET, Tisdale shared, "I think it's just about having fun. I don't take things too seriously."
In addition to attending the event, the actor was also a presenter, introducing a performance by singer Jordan Smith. "I love supporting any charity that I can and obviously with MS, I think it affects women in their 30s. It's really scary because I'm 30," she told ET. "I just love what [founder] Nancy Davis has done, making it her mission, putting together something like this, obviously trying to help and trying to find a cure."
Ashley Tisdale believes in confidence and self care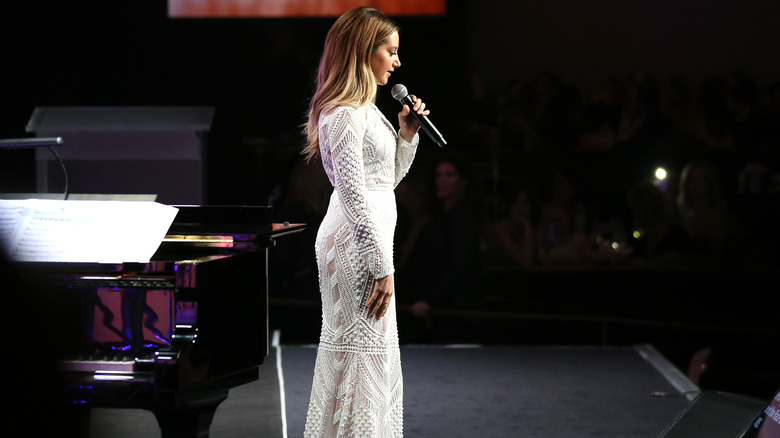 Joe Scarnici/Getty Images
Having worked as an actor since she was a young girl, Ashley Tisdale was walking the red carpet before she had even reached her teenage years. Tisdale has had a stunning transformation as a result. And yet, as the "High School Musical" star clarified in an interview with Fashionista, "I don't really get embarrassed by my old beauty or fashion choices, because the girl in those photos wasn't embarrassed." 
Tisdale continued, "I can laugh at some of the outfits and looks, but I have a lot of fondness for that girl and her confidence." While she no longer has her own makeup line, Tisdale runs the wellness platform Frenshe. "It's a collection of self-care and wellness essentials, in scents designed to make you feel good," the actor enthused. "I wanted to create a line that encourages people to take a moment for themselves, and to offer them gorgeous scents that help them feel the way they want to feel."
There are a variety of items for sale, both online and at Target, including candles, body spray, hydrating lotion, bath bombs, and hair products. As Tisdale noted on the Frenshe website, "Each offering is consciously formulated with clean ingredients and rooted in the emotional power of scent, so feeling good is as simple as taking a breath. My hope is that these products will support your own self-care rituals — and encourage you to breathe in a moment for you."