What You Need To Know About The 90s Sparkly Mini Dress Trend That's Come Back Around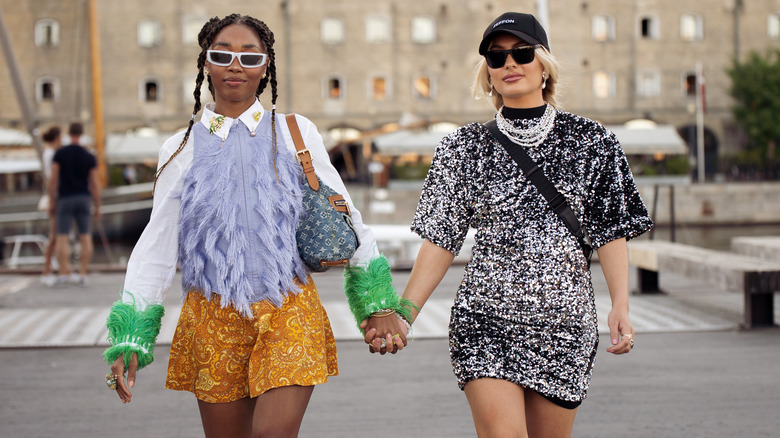 Raimonda Kulikauskiene/Getty Images
As Taylor Swift proclaimed in the lyrics to her song "Willow," there's not much stronger than a '90s trend. Bike shorts paired with oversized sweatshirts, dark lipliner popularized by Black and brown women, Doc Martens, and grunge makeup are just a few popular trends from the '90s that have found their way back into our repertoire.
Viral TikTok trends now dominate what is in style and worn by the masses. With over 600 million views under the "90sfashion" hashtag, it's safe to say that the '90s are officially back. The fashion industry, at its core, has a cyclical nature. Some trends never die; they are simply revived time and time again, repurposing themselves in the cultural zeitgeist. Such revivals are now happening at a faster rate thanks to messages of nostalgia that exist online and are apparent in political movements, according to The Zoe Report. When social politics go backward, our wardrobes follow suit.
What makes the sparkly mini dress iconic?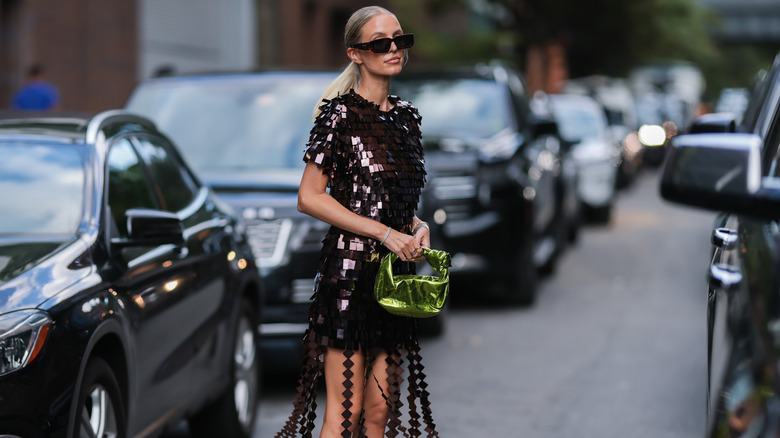 Jeremy Moeller/Getty Images
From Eve's glittery-gold moment at a Soul Train red carpet event to Fran Drescher's silver monochromatic look, the mini dress has never gone out of style. Whether it's with sequins or shimmer, the shine coupled with a mid-thigh grazing hemline is simultaneously classic and risque. It's an item that can be dressed up or down. The boldness of the fabric and cut stands out on its own; over-accessorizing isn't necessary with a dress like this.
For a few years now, the mini skirt — the mini dress' sister — has been back in rotation. According to British designer Mary Quant, shorter hemlines became popular in the 1960s as a symbol of rebellion and sexual freedom (via New York Daily News). The trend was brought back into style in the '90s with Julia Roberts' daring skirt in "Pretty Woman," and has remained ever since. Its versatility makes the sparkly mini dress such a fashion mainstay. From day dresses to formalwear, you can find one for every occasion.
Dress it up or down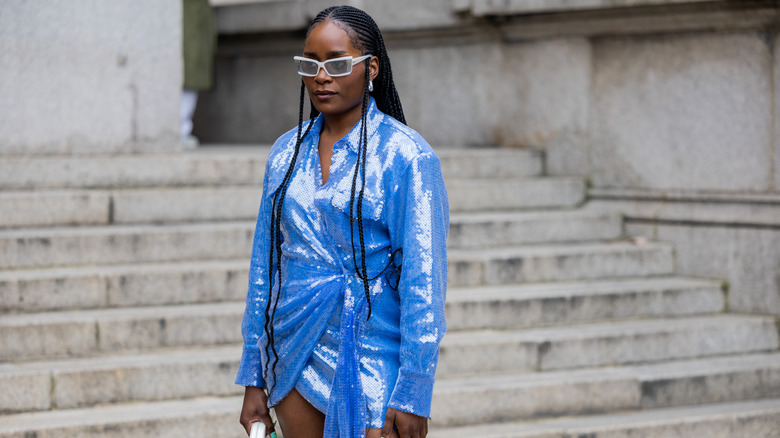 Christian Vierig/Getty Images
Thanks to the recent popularity of the sparkly silhouette, you can find them at almost any price range in any cut. Stores and online sites such as Bloomingdales, Windsor, and Pretty Little Thing offer dozens of options that are sure to fit your style. As for styling, it can be dressed up or down for various occasions.
Windsor recommends pairing the dress with a denim jacket for a more casual day look. At night, swap it for a leather jacket or oversized blazer. If you're looking to channel your inner Naomi Campbell, take notes from her classic look at the 1997 VMAs. She wears understated jewelry and shoes, allowing Versace's handiwork to shine on its own. The result is a bold yet sleek look. Replicate it by wearing light jewelry, such as a dainty necklace or simple bracelet. You can add a ring or two like Tayisha Adams' 2020 AMAs look, or if you're a maximalist at heart, layer bracelets and rings and don shoes that are as bold as the dress.