This Viral TikTok Dress Keeps Selling Out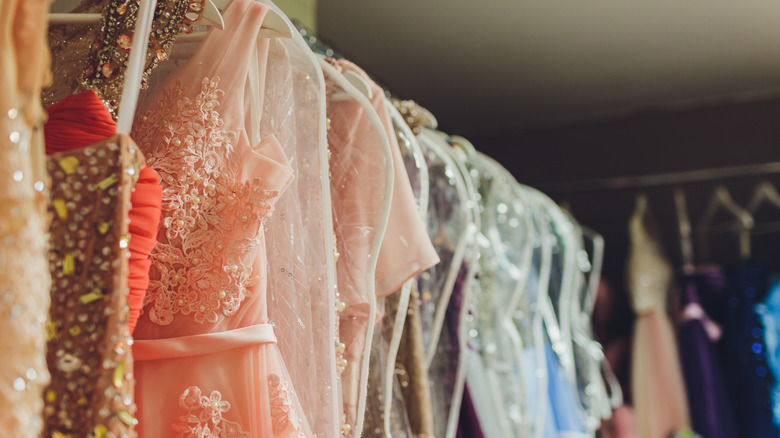 Shutterstock
Scrolling through TikTok, you'll come across tons of trends and viral videos, from food and fitness to beauty and breathing. If you happen to be on the fashion side of TikTok, no doubt you've noticed a few popular trends, like tie-dye and sage green (via Today). When cottagecore was all the rage, you may have even seen "The Strawberry Dress" from designer Lirika Matoshi that Tess Holiday even wore to the Grammys, according to Vogue.
However, once something becomes viral, it can quickly sell out. So, if you scroll past something you like, you may want to "add to cart" ASAP to avoid missing out on buying it all together. In fact, some of the most popular TikTok dresses have already sold out and are no longer available. Sometimes, dresses can come back in stock — like the With Jéan Alexa Dress in Juicy green, which Refinery29 has labeled as one of the most viral summer dresses of 2021. Unfortunately, one of the most popular dresses on TikTok may now be gone for good. Here are all the details about the dress.
The Lisa Says Gah Anoki Mini Dress is part of the 'Avant Basic' trend
The Lisa Says Gah Anoki Mini Dress — which PopSugar reported was one of the most popular TikTok dresses in April — is no longer available on the website. Despite coming back a few times for restocks, the viral dress (which retailed for $129) would sell out "within days." Now, it seems it's gone for good. While the adorable checkered print dress is the perfect sundress to wear to a backyard BBQ and pool hang with your best friends, there are tons of other options on Lisa Says Gah's site. 
In fact, Lisa Says Gah is one of the most popular shops for TikTokers. According to CR Fashion Book, Lisa Says Gah is part of the "Avant Basic" trend which has taken over TikTok this summer. As one one TikToker told Refinery29, it's a lot of "clashing patterns" and "bright" colors, and Clothes and Water summed up Avant Basic as "reminiscent of the psychedelic fashion of the 1960s" with "bold colors and patterns of the 1970s."
Even though you may have missed out on the Anoki Mini Dress from Lisa Says Gah, there are still plenty of other Avant Basic styles on their website for you to choose from. There are even mini dresses that are still perfect for the summer, like the Diana Frock Mini Dress in Counting Sheep Natural ($42.25) and Pia Mini Dress in Bandana ($159), which has a similar color scheme as the Anoki Mini Dress.