Do Trending 'Jaw Bras' Really Tighten Your Skin?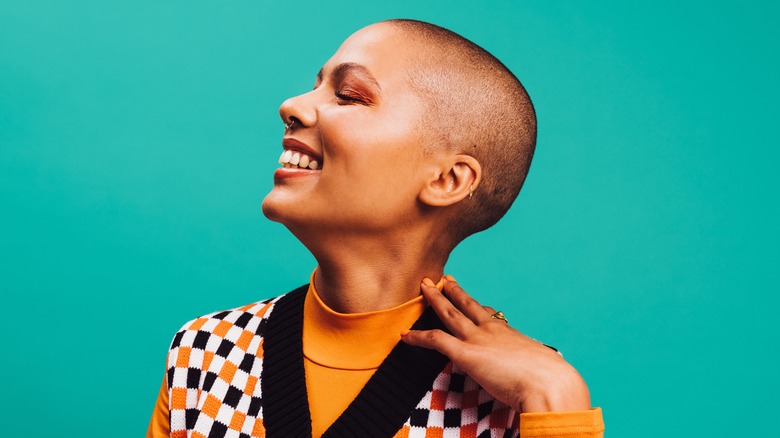 Jacob Lund/Shutterstock
We may receive a commission on purchases made from links.
Sharp jawlines have become more and more popular in recent years, regardless of what face shape you have. In 2019, a celebrity plastic surgeon confirmed this trend. "Right now, everyone wants this sculpted, chiseled jawline look," Dr. Deepak Raj Dugar told ET. "That's what everyone keeps asking and talking about."
The intense jawline effect is such a prominent beauty standard that some people even resort to investing in jawline fillers to boost their confidence. And for people who don't want to undergo any cosmetic procedures, many YouTube tutorials explain how to contour your jawline with makeup. But now there's a trendy method to enhance your jawline for people who don't want fillers or aren't into makeup: jaw bras.
No, jaw bras aren't actual bras — this isn't lingerie or underwear. Rather, it's a jawline-focused spin on skincare trends. You can find many examples of this product and how to use it on TikTok, but in short, a jaw bra is an item you can wrap around your jawline to tighten the skin in that area for a more defined jawline. So, does it actually work, or is it just a weird social media fad?
Jaw bras temporarily tighten your skin
Believe it or not, jaw bras do define your jawline, but you can expect the results to be temporary. "The likely mechanism by which these devices work is by adding compression to areas such as the under-chin region, which then temporarily decreases the amount of lymphatic fluid in that region," Edward Chamata, MD, told PopSugar. "This may create a temporary appearance of a more defined jawline." So, yes — jaw bras will make your jawline appear sharper, but not permanently.
Moreover, an influencer named Nikki shared her experience with a jaw bra with her 65,500 followers on TikTok. In the video, she says, "I did leave mine on for an hour. As soon as you apply it, it feels very tight, and it's constricting your chin and your jaw area... it actually did do a really good job of making my chin area and my jaw area feel tighter, and it did give a very temporary lifting effect." Therefore, both the doctor and the TikToker agree that jaw bras can tighten your skin, enhancing your jawline for a sharper look — but only temporarily.
If you're interested in purchasing a jaw braw, the ParaFaciem Reusable V Line Mask Facial Slimming Strap is available on Amazon for $15.99. The jaw bra has 4.3 stars with more than 20,000 reviews, and reviewers have stated that it's not hard to apply, comfortable, and lets you breathe while you use it. Plus, many happy customers think it genuinely works.
So, are you dauntless enough to try the trend?