Paint Colors You've Likely Seen On Fixer Upper That You'll Want In Your Home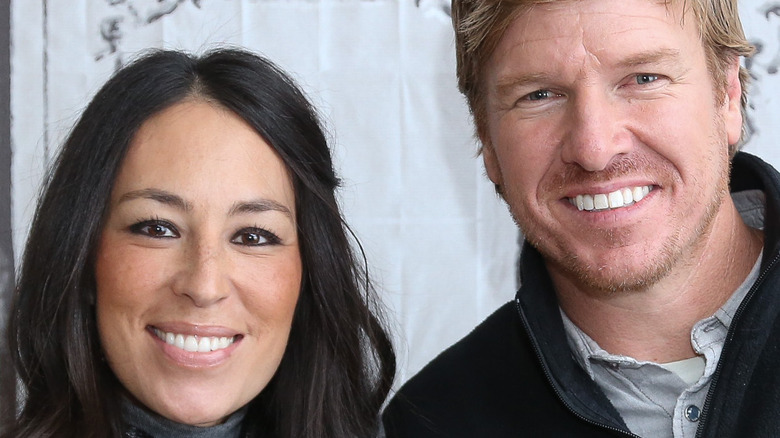 Rob Kim/Getty Images
If you've been to any home decor store recently or glanced at the TV screen while HGTV or Magnolia Network was on, chances are that you've come across Chip and Joanna Gaines. These home remodeling and design entrepreneurs are experts in just about everything pertaining to interior design. In addition to the wildly successful home renovation show "Fixer Upper" that made them famous, the couple owns a TV network that airs several original shows. In fact, the duo has recently announced an exciting new spinoff called "Fixer Upper: The Castle," where they will be renovating a castle in Waco, Texas. 
The Gaines' other business ventures include multiple home decor lines, including a paint line Joanna has created in partnership with Kilz. According to Cosmopolitan, the color of a room sets the tone for the mood you want to invoke, and with her business savvy and extensive design knowledge, it's no surprise Joanna has created the perfect colors to turn your house into a home.
Make your home a sanctuary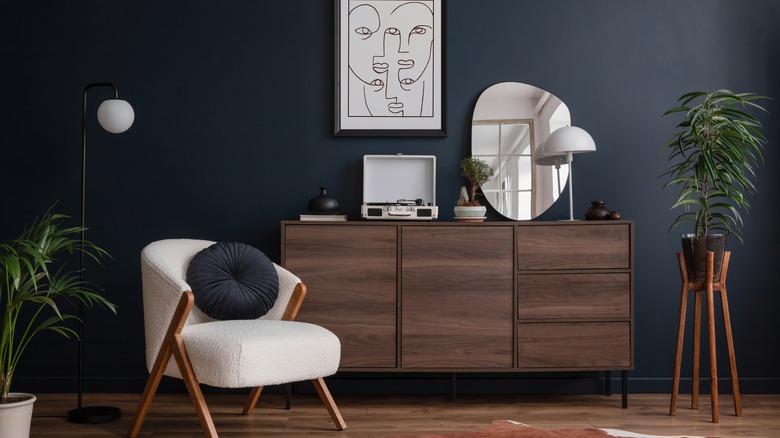 Followtheflow/Shutterstock
According to Country Living, Gaines recommends the color "Weekend" for the bedroom — a deep, rich blue reminiscent of denim or the night sky just after sunset. The shade is relaxing, lulling you into a state of peace and harmony. Dark blue hues are ideal for the bedroom, per My Domaine. They promote calmness and tranquility while bringing an interesting element to the space. Add pops of light shades, like white, to create contrast.
To keep the theme of relaxation going, Gaines suggests using "Wedding Band" in the bathroom. The paint, which got its name from the color of Chip Gaines' wedding ring, is a serene light gray. The color evokes the feeling of being in a spa — it's refreshing and renewing. The shade is versatile, making it perfect for starting the morning with a clear state of mind or winding down after a long and stressful day.
Be one with nature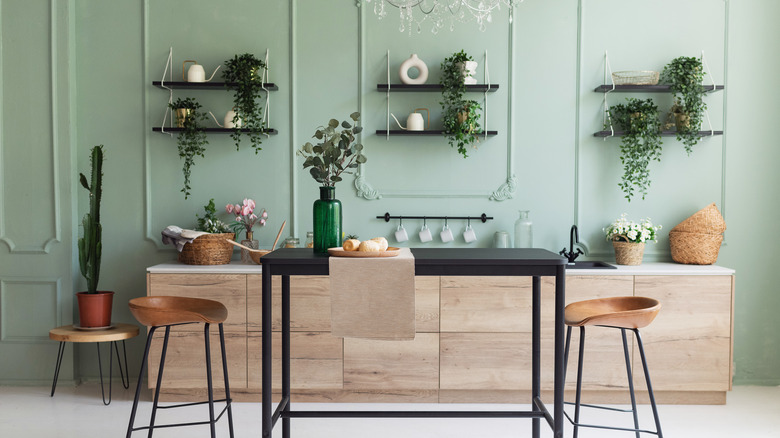 Lysikova Irina/Shutterstock
For small spaces or accents, such as kitchen cabinets or a powder room, Gaines prefers "Magnolia Green." Speaking to Country Living, she says she is drawn to "fresh botanical shades." The result is a bright and calming green, inspired by the green of a Magnolia bulb right before it blooms and flourishes. In feng shui, green represents growth and abundance, and it has been having a moment in interior design for a while now. Elevate the trend by painting the walls with the color, inviting nature into your home.
For spaces that are easily seen and get a lot of movement, Gaines recommends using the paint color "Shiplap." The smooth, off-white shade matches almost every decor imaginable. If you like to switch things up frequently or decorate for the holidays, you won't have to fret about whether the color of your room will complement the decorations. The white has a bit of lived-in depth to it, making it more comforting for a kitchen or living room than a plain, stark white.