Euphoria-Esque Makeup Is Getting A Chic Upgrade For Fall And Winter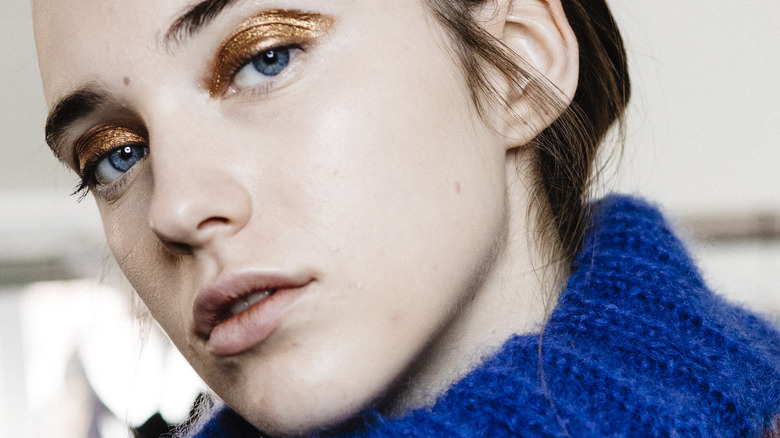 Rosdiana Ciaravolo/Getty Images
HBO's "Euphoria" took audiences by the storm with the cast's bold glitz and glam makeup looks. Bright neon colors in eyeshadow, thick eyeliner, colored eyeliner designs, face gems, glitter, and more are what made the looks truly standout. It was a hit perfectly aligning with the comeback of many Y2K trends. In fact, it was these looks that earned the show a 2020 Emmy for Outstanding Contemporary Makeup. "When I think about how these looks could help and encourage people to become better acquainted and comfortable with their own self-expression, it fills me with creative energy and gives me visual ideas," the show's lead makeup artist, Doniella Davy, told The Hollywood Reporter.
These looks are perfect for the days when you want to wear something unique and daring, but there are ways to incorporate it for an everyday look. As summer festivals and festivities wind down, you might be considering doing the same for your makeup as you enter fall and winter. But if you don't want to give up the glitter, the glam, and the occasional bright color, you certainly don't have to.
A structured shiny look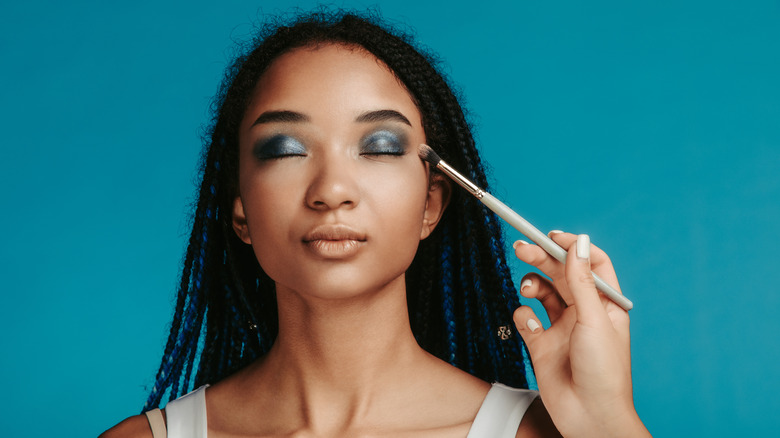 Anton Mukhin/Shutterstock
You can still enjoy everything you love about "Euphoria"-esque makeup as you enter the new season with a more structured approach. This new take on the look gives you a more intentional feel with a little more precision, without sacrificing the glitter or the glam that makes this look so lovable. Glitter eyeshadow or eye makeup is perhaps the most popular way to approach this look in a more subtle way while giving your makeup that extra little push. "All of my clients want this shimmery, lash-to-brow, wet washes of shimmer," celebrity makeup artist Mary Phillips tells Refinery29. "I love that glitters are coming back because it's a subtle way of adding something to your normal makeup routine — there's something fun about it. I'm not a glittery person, but it really does help to add a little pop to the eye."
The great thing about this style of makeup is choosing how subtle or full glam you'd like it to be with your intentional design and application. You can choose to incorporate glitter eyeshadow or eyeliner, metallic tones, or strategically placed rhinestones for your look. There are a variety of ways to play around with the color, the type of shine, and where you place it to achieve a beautiful glowy glam (via BEAUTYcrew).
Ways to incorporate it into your fall makeup
Fall makeup tends to be a little bit more toned down with warmer colors and sometimes darker hues for the ultimate cozy vibes. The key to rock a "Euphoria"-esque look with your fall makeup is by finding ways to make it fit into that aesthetic without being too loud. For example, you can aim for more neutral tones like a bronze glitter eyeshadow to stick to a more natural color. Face gems are another excellent way to add that extra spark into your fall makeup because of their flexibility and size options. Even if you want to continue using the bright colors you can do so by adding accents to the corners of your eyes, incorporating it into your eyeliner only, or through your mascara, much like the style of beauty influencer @coolgirlswearmugler.
Metallic eyes are also quickly becoming a popular choice for a shiny fall look. This approach adds that extra glimmer to the eye with as little or as much as you'd like. You can play around with colors, how much you wear, and where you put it to achieve the perfect balance of glitter and fall makeup. "I enjoy a pop of color on the inner corner for a more subtle take on this trend, or if you want a slightly more bold look, a full lid of a metallic shadow, like they had in the last Gucci show," makeup artist Hila Karmand tells CNN Underscored. This way, you can choose warmer, darker tones to fit your fall makeup looks.