Everything You Need To Know Before Going On A Carnival Cruise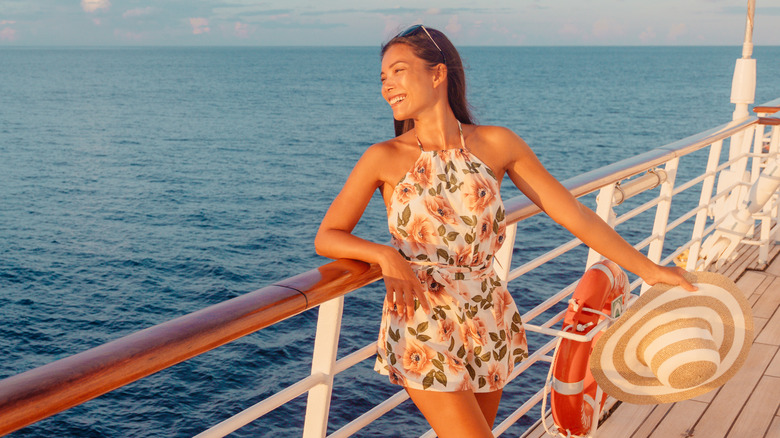 Maridav/Shutterstock
With a fleet of 23 ships, Carnival Cruise Line sails from more ports in the United States than any other cruise company (via Cruise Fever). Known for the fun atmosphere on their cruises, Carnival ships have become among the most popular cruising vessels in America. Most ships in the fleet offer itineraries that travel throughout the Caribbean and Bahamas, but there are also West Coast-based ships and those based in Australia.
Carnival has gained its reputation as America's Cruise Line thanks to its significant presence in the domestic cruising industry and its long list of amenities and perks that keep travelers coming back. To get the most out of your Carnival cruise — and to avoid any mistakes that could stop you from enjoying your trip — there are a few things to know. Inspired by official advice from the company, as well as a few insider tips, these travel hacks will be able to save you time and money and help you avoid any trouble during your cruise.
Know before you go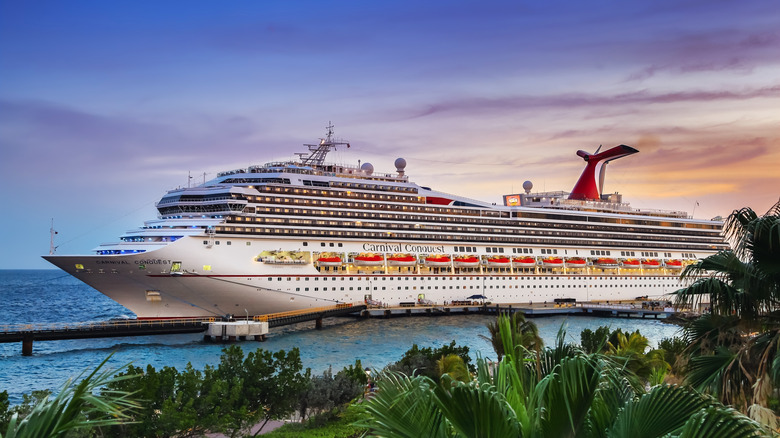 NAN728/Shutterstock
When packing, be aware that there are several items Carnival won't allow on its ships. Carnival has published a full prohibited items list, which includes obvious items like illegal drugs, medical marijuana, ammunition, explosives, and knives. However, other prohibited items include boom boxes and wheeled footwear. Non-alcoholic beverages, including water, cannot be brought in containers other than a can or carton. Of course, it's definitely worth purchasing water once you board, as keeping hydrated can relieve cruise-induced motion sickness. There can be no hard liquor or beer, but you can bring one 750-milliliter bottle of wine or champagne per adult.
Cruzely explains that the drinking age on board is 21 when sailing from the United States, regardless of where you're docked. However, 18 is the legal drinking age in many ports that Carnival visits, including in Mexico. This means that those who are 18 can legally drink in these ports, but only while off the ship. The legal gambling age on the ship is 18.
Ensure that you have the correct travel documents prior to boarding. If you are a U.S. citizen traveling within the United States, you don't need a passport; birth certificates and driver's licenses count as acceptable identification (via Cruise Hive). Speed up the boarding process by checking in online the night before your ship departs. To avoid further delays as you check in, you can also purchase the Carnival Faster to the Fun package, which offers priority check-in, check-out, and baggage options. This also allows you to skip the queue for guest services.
Saving money on a Carnival cruise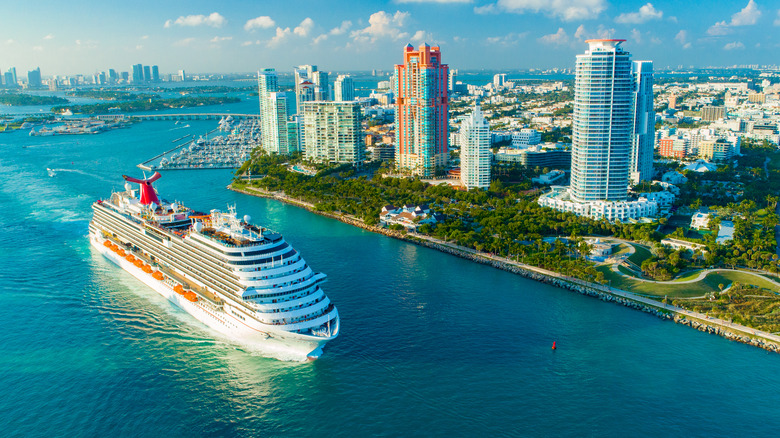 Mia2you/Shutterstock
While many perks are included in the overall price of a Carnival cruise, internet access is not. There are three Wi-Fi plans available, starting at $10.20 per day. Travelouge This recommends purchasing a plan ahead of your trip to guarantee a cheaper price. On the other hand, the travel blog advises waiting until you're on board to book a spa treatment, as specials usually become available after the cruise begins. You can further save money by bringing your own beach towels, as Carnival will charge for towels that you don't return after use.
Some dining options are included in the price, but you'll have to pay extra for others. Eating in the two main dining rooms or at the buffet is free, as are two of the more casual eateries found on most Carnival ships: BlueIguana Cantina and Guy's Burger Joint (via The Points Guy). In general, meals from the other eateries on the ships come at an extra charge. To avoid breaking your budget, be very clear on which dining outlets are complimentary before you order!
When budgeting your finances before departing for your cruise, keep in mind that tipping is expected. Carnival recommends $14.50 per person, per day, for guests in standard staterooms. For those in suite staterooms, the company recommends $16.50 per person, per day.