What You Need To Know About The '90s Backless Top Fashion Trend That's Come Back Around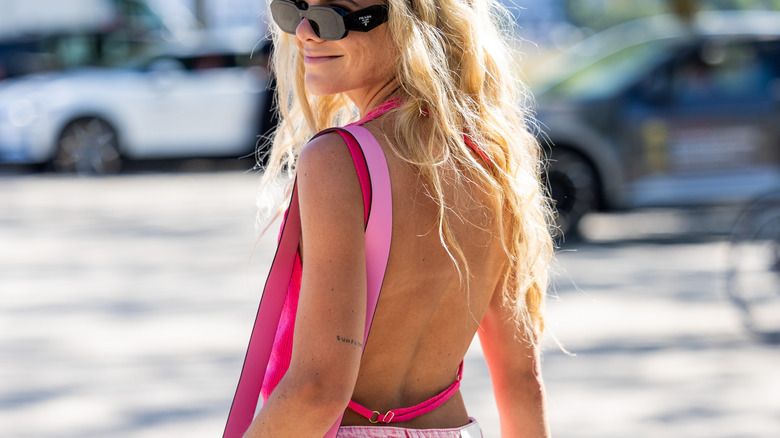 Christian Vierig/Getty Images
No matter where you shop, there's no denying that the '90s have made a full-on comeback. Everywhere it seems like '90s fashion has taken over. From the controversial return of low-rise jeans to the mini butterfly clips, all of the '90s trends seemed to have come back. Another iconic '90s item that has also made its triumphant return is the backless top. While some may be afraid of the backless top, they are a chic way to participate in this '90s fashion comeback.
Although many most likely remember backless tops as a staple of the club era, with slinky necklines and metallic hues, today's backless tops are much more structured. Baring an open back is one way to show some cleavage differently and uniquely. Designers have taken notice of the trend and begun to showcase backless tops in new, everyday ways. During the Bec + Bridge Resort 22/23 collection, we saw how backless tops are elevated and minimalist. No matter the style you are going for, backless tops are a must-have for your wardrobe.
What you need to know about the backless top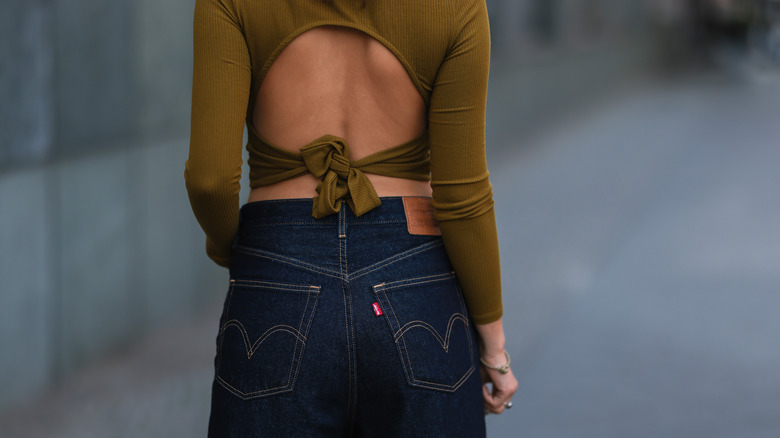 Jeremy Moeller/Getty Images
It's no secret that wearing a backless top takes a bit of preplanning. However, this item can make any outfit chic and elegant.
One of the reasons many are afraid of embarking on this trend is because it can be challenging to know what kind of undergarment to wear underneath. However, there are plenty of solutions, so you don't have to worry. Fab Alley recommends trying out undergarments like low-back bras, stick-on bras, adhesive pasties, or lift tapes. Low-back bras are the ideal options for those who want the feeling of more coverage as they are regular bras where the back is made lower. However, this type of bra will still show if you have a completely open back. Stick-on bras, pasties, and lift tapes will likely only be used for one-time use but are ideal if you are going completely backless. While they may not offer the most support, they are the best options to ensure they do not show.
Knowing the best type of backless top is essential to get the look you want. While some options are best for a nighttime look, certain fabrics and designs are best for a casual look. Fashion content creator Emmanuelle Koffi shows off a white backless top with minimal design as a casual, everyday option. Opting for something simple is the best way to take this look with you anywhere.
How to style a backless top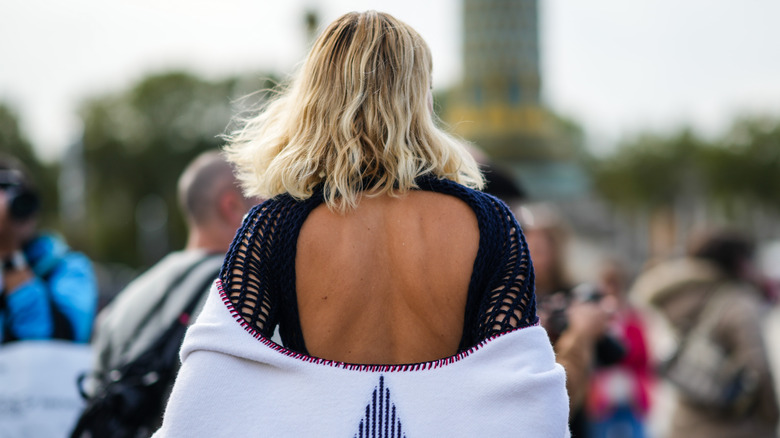 Edward Berthelot/Getty Images
Once you've figured out what to wear underneath and which backless top you want to wear, you also have to style your top. Because this isn't your everyday plain t-shirt, there are many ways you can wear it.
Content Creator Brittany Xavier gives us one casual way to style your backless top by pairing it with your favorite denim jeans. Xavier styled a simple long-sleeve black backless top with denim jeans, making it a simple but chic casual look. Pairing a long-sleeve backless top is also a great way to make this piece an ideal transitional item for those in between months. Swap out your basic tee for a backless top to wear with your jeans to give your everyday uniform a new, modern twist.
On the other hand, if you want to make even more of a statement with your backless top, try playing with your colors. Fashion content creator @vitaliia makes a statement by pairing her knit black long-sleeve backless top with a bold green pair of trousers. This sleek but bold color statement is a chic, elegant way to bring some uniqueness to an already stunning piece.