A Minimalist Nail Color Is Trending For All Your Fall And Winter Manis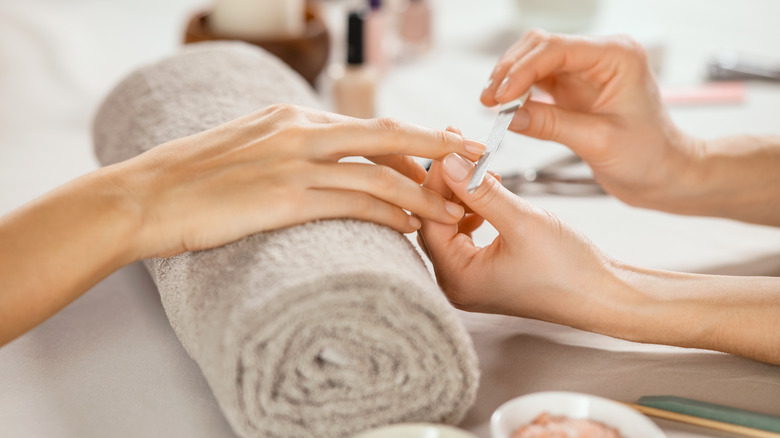 Rido/Shutterstock
Minimalism has been a growing phenomenon in recent years and only keeps growing stronger. No matter where you look, you'll find minimalist home decor, clothing, and beauty products. In a country where bigger has been better, many people are quietly realizing that less is indeed more.
There's a good reason for that since the COVID-19 pandemic forced many to consider what is truly important. At the same time, it also frazzled our nerves. The outbreak caused a great amount of mental distress, including anxiety and depression (via National Library of Medicine).
It also caused us to dig deeper to find ways to calm and soothe our senses, and one great way is through color. Subdued colors tend to be more calming and summon peace and restoration (Homes & Gardens). Something as simple as nail polish color, which you see all day long, can help you self-soothe. 
For the fall and winter, there is one minimalist nail color that is more popular than ever.
Go gray for the fall and winter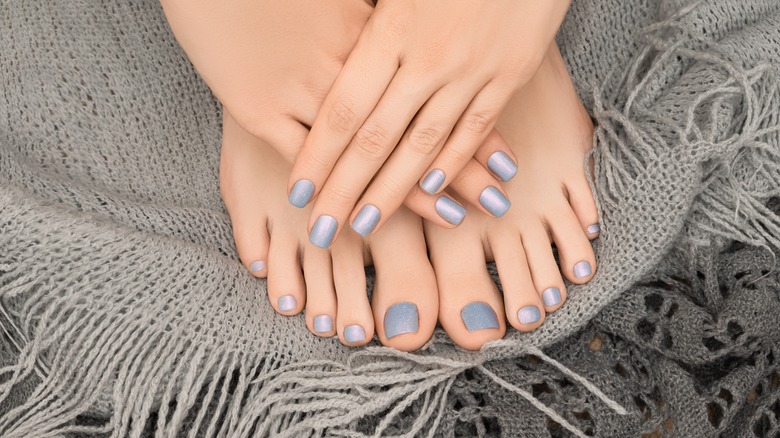 Dev_Maryna/Shutterstock
While pastels like pinks and neutral whites are soothing nail colors, they work better in the spring and summer (via Cosmopolitan). However, in the fall and winter, the one minimalist color that is growing in popularity is gray.
Essie celebrity manicurist Michelle Saunders tells PopSugar, "Gray nails are making a mark because they're a contemporary color but also cozy, soothing, and serene." Becoming known as "the new nude," Saunders says that various shades of gray work in restoring a serene feeling, "Gray signifies balance and serenity, and I think sometimes we forget how it feels to be still and neutral."
Painting your nails does more than just create a look. It's a gift you give yourself. "Manicures are part of self-care and the perfect time to find a bit of peace; by choosing the 'gray space' theme, we can give ourselves a gentle reminder of this," says Saunders. "Not only will this reflect on your nails but also in your overall appearance."