Liz Truss Vs. The Liz Truss Lettuce: Which One Lasted Longer?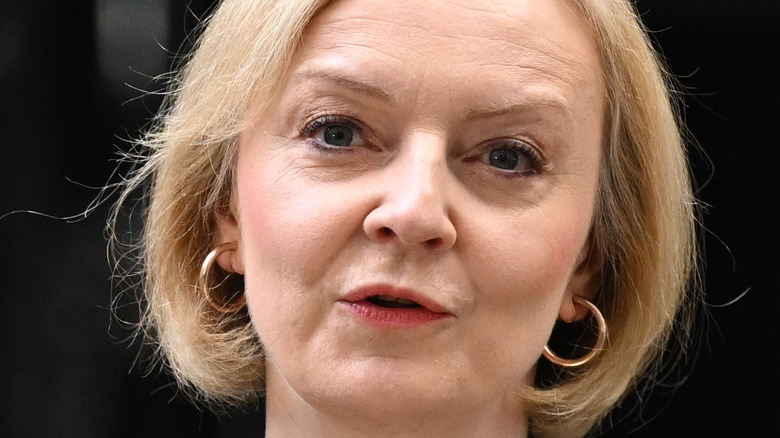 Leon Neal/Getty Images
Liz Truss made history as the last UK prime minister to meet Queen Elizabeth; the two met on September 6 at Balmoral, and Queen Elizabeth died on September 8. Their meeting was the last picture of Queen Elizabeth. Truss made history again when she resigned on October 20; with just over six weeks in office, she's now the shortest-serving UK prime minister in history. Truss became prime minister after Boris Johnson, who resigned in July 2022, after a two-month long election process that saw her come out as the winner as Conservative Party leader over seven other candidates, per BBC. Announcement of her fiscal plans for the UK on September 23, including unfunded tax cuts, ended up with the British pound plummeting in value, according to The New York Times. Recently, she did a U-turn on the tax cuts and fired ally Kwasi Kwarteng, the chancellor of the Exchequer. And her polling numbers were abysmal, with 70% of those polled saying they disapproved of her. All of it seemed to add up to an untenable position of power.
The Economist published an article on October 11 that said if you don't count the 10 days of mourning for Queen Elizabeth that Truss had seven days in control, comparing that time frame to the "shelf-life of a lettuce." And someone took that as a challenge to see which would last longer — Liz Truss as prime minister or a head of lettuce.
The lettuce Liz came out on top
By October 14, the Daily Star, a daily UK tabloid newspaper, set up a livestream on YouTube of a picture of Liz Truss next to a head of lettuce, complete with googly eyes and asked: "Will Liz Truss still be Prime Minister within the 10 day shelf-life of a lettuce?" On various days, additional props were added, like on day four when the lettuce was topped with a blonde wig, a smile was added, and a bottle of Irn-Bru — a popular Scottish soft drink — placed next to it, per TikTok.
It turns out that the 60p (approximately .68 USD) grocery store lettuce did indeed outlast Prime Minister Truss. Upon the announcement of Truss's resignation, seven days after the Liz vs. Lettuce competition began, the picture of Truss was turned face down on the livestream and colorful lights started swirling, per The New York Times. "God Save the King" started playing, and the lettuce had a glass of bubbly next to it, according to USA Today.
Twitter loved it. One person thought Truss should have held on a few more days: "Sorry but no way I would've resigned before the Daily Star lettuce expired if I was Liz Truss. I'll be damned if I get shown up by a vegetable in a wig!" Others reveled in the fun of it, tweeting that Truss's quick resignation: "highlights the issues within the government, and that's just the tip of the iceberg".