What You Need To Know About Queen Camilla's Coronation Crown Choices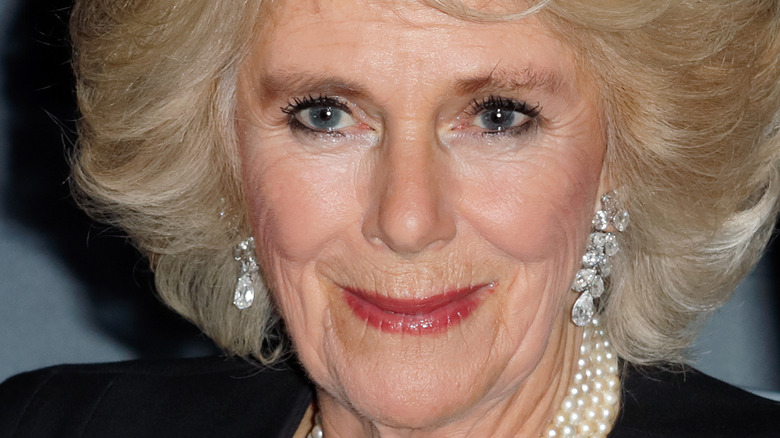 Max Mumby/indigo/Getty Images
When King Charles III is formally made king during the coronation on May 6, 2023, which also happens to be grandson Archie's fourth birthday, he will be sporting some elaborate ceremonial robes and priceless jewels. For the crowning itself, he'll wear the St. Edward's Crown, which the Historic Royal Palaces website calls the "most important and sacred of all crowns." The solid gold frame means the crown weighs nearly five pounds, and it will need to be resized for King Charles since it was last worn by Queen Elizabeth for her coronation in 1953, per Entertainment Tonight. After the coronation, as he leaves Westminster Abbey, the king will wear the Imperial State Crown, which at 2.3 pounds should feel like a relief, per BBC. The Imperial State Crown was the crown that was on Queen Elizabeth's coffin as she was lying in state and during her funeral, and it was originally made for the 1937 coronation of King George VI.
The official announcement of the date of the coronation noted that at the coronation, Camilla, queen consort, would be crowned. While we know, at least due to tradition, what crowns King Charles III will wear, Camilla's is still uncertain — but she's got some options.
The Queen Mother's crown features a controversial diamond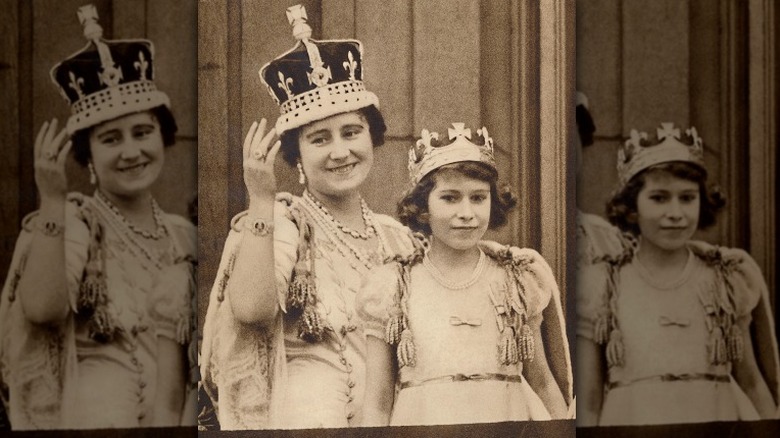 Print Collector/Getty Images
Queen Elizabeth, the Queen Mother's crown, made in 1937 for the coronation of King George VI, would typically be a top contender for Queen Camilla to wear, but there's ongoing controversy over one of the crown's 2,800 diamonds, the Koh-i-Noor Diamond – one of the largest cut diamonds in the world. There's debate over when the diamond was first discovered, but there have been historical records of it dating back to 1628, per Smithsonian Magazine. As Britain expanded its empire through India, the East India Company seized — or was gifted, depending on who you ask — the diamond. It ended up in the possession of Queen Victoria, and after Prince Albert had it recut, she wore it as a brooch. India, Pakistan, Afghanistan, and Iran have all at various times asked for the diamond to be returned, per NBC News. Instead, the crown, in which the Koh-i-Noor is the centerpiece at the front, was last seen atop the Queen Mother's coffin for her funeral in 2002.
Other rumored options that Camilla might wear from the Crown Jewel collection are Queen Adelaide's crown made for King William IV 1831 coronation, Queen Alexandra's 1902 crown made for Edward VII's coronation, and Queen Mary's 1911 crown made for King George V's coronation — the Koh-i-Noor was used in both Queen Alexandra and Queen Mary's coronation crowns before it was placed in the Queen Mother's crown, per People.
Queen Camilla may not wear a crown at all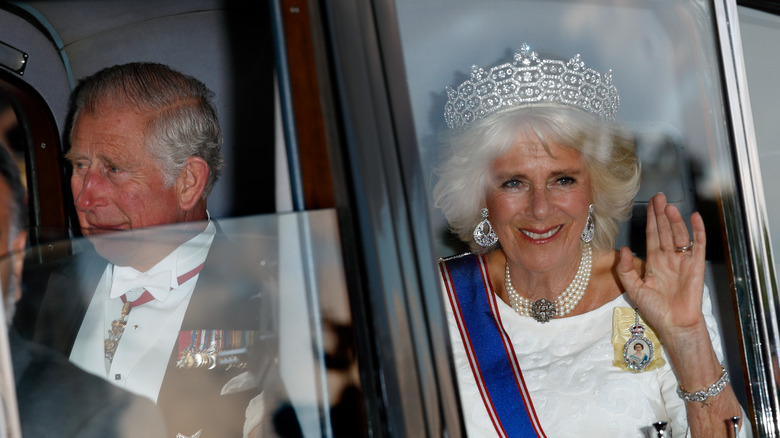 Max Mumby/indigo/Getty Images
But if Camilla, Queen Consort, wears one of the three crowns made for the former coronations, she would be facing a challenge that Queen Elizabeth once commented on, that crowns can be heavy and hard to wear, according to Vanity Fair. Each of the older crowns is made from solid silver or gold and would have the added weight of jewels. The lightest and likely most comfortable option is the controversial Queen Mother's crown, which has a platinum frame, royal jewelry expert Lauren Kiehna told People. Kiehna thought it could be possible to remove the Koh-i-Noor diamond in the crown and have it replaced with a non-controversial gem.
Another option could be to not use a crown at all. Queen Victoria's coronet is an option, per Daily Mail. The sapphire and diamond coronet was beloved by Queen Victoria, and it was designed for her by her husband Prince Albert. The Telegraph has theorized the George IV Coronation Diadem could be chosen. It was made in 1820, and Queen Elizabeth wore it as she arrived for her coronation and for the photos used on British money and postage stamps. She also wore it for the 2019 opening of Parliament, per Vanity Fair. Unless there's an update from Buckingham Palace, royal fans may just have to wait until the 2023 coronation date to find out what she wears.