How To Pick The Right Glasses Frames For A Round-Shape Face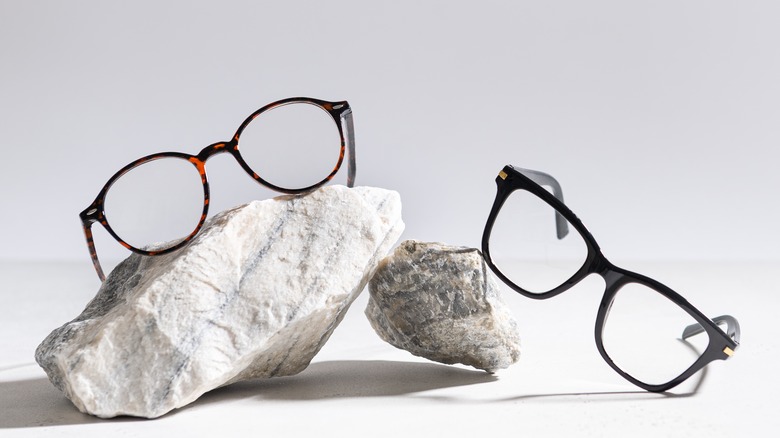 Dina Photo Stories/Shutterstock
There are vast options when it comes to cultivating your personal style with hair and makeup, and it can be difficult to determine what suits your face shape. For example, the best hairstyle for someone with sharp, angular cheekbones, like Zoe Kravitz, might not flatter someone with a rounder face, like Kate Bosworth.
Factoring your face shape into your aesthetic choices can help you elevate your look and ease your decision-making. And this doesn't just apply to hair and makeup, but glasses too. There are hundreds of options to choose from when searching for a new pair. Frames come in various styles to suit the six main face shapes: square, round, oval, rectangular, diamond, and heart.
It can be easy to mistake an oval face for a round face, yet they have slight differences. Oval faces are more oblong, sort of like an egg. If you have a round face shape, meaning the width of your face is equal to the length, and your face has curves rather than angular lines, try these frames.
The best frames for round faces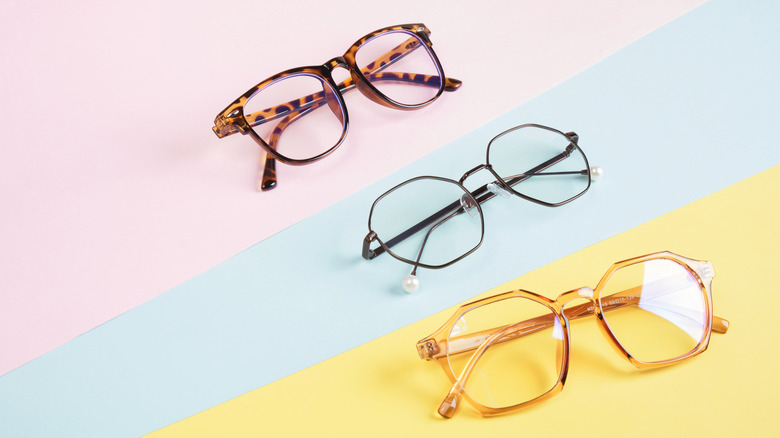 TShaKopy/Shutterstock
Rectangular, square, cat-eye, and geometric glasses are widely accepted as the best frames for rounder faces. According to Warby Parker, rectangle-shaped frames will help offset the curves of your face if that's what you're looking for. With an equal width and length, square frames reflect and accentuate the proportion of your face, per Zenni Optical. They balance the face perfectly, making your cheeks appear slimmer and longer. The signature pointy corners of a cat-eye frame suit round faces. The upward curve lifts the face, slimming it and adding a bold flare to your look. They also help bring extra attention to your eyes and brow bone. Geometric lenses are also suitable for a round face. Not only do they come in interesting and experimental shapes, but the sharp, angular lines bring balance to the soft curves of your face. Plus, they're a great option for those with a more eclectic style.
Glasses to avoid for a round face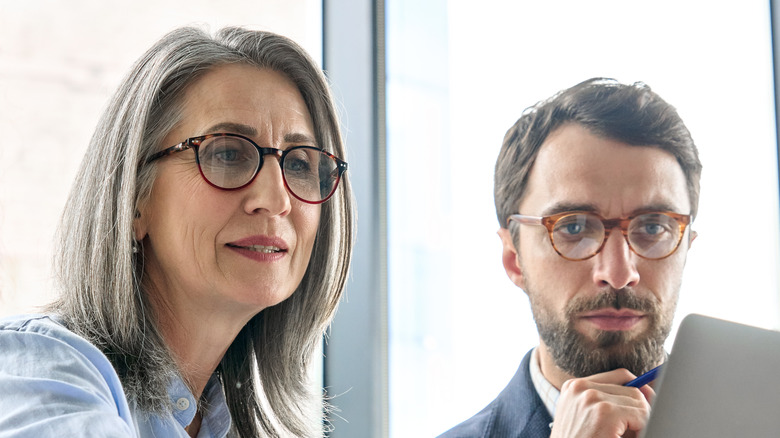 Ground Picture/Shutterstock
If you want to downplay the roundness of your face, it's best not to go for rounder shapes, such as circular frames. These, and small glasses, will only draw attention to the curves of your cheeks (via All About Vision). They make your face appear fuller and rounder due to the lack of contrast they bring.
If you think you have a round face shape, yet none of the recommended styles flatter you, you may actually have a different face shape. Thankfully, it's not that difficult to determine what face shape you have. All you need to do is pull your head back and assess your features closely. Your jaw is the key to determining your face shape. If you have a strong jawline, you most likely have a square face shape. If your jawline is sharp with a prominent chin, then you probably have a heart-shaped face.