Spanx Vs. Skims: Which Shapewear Is Better?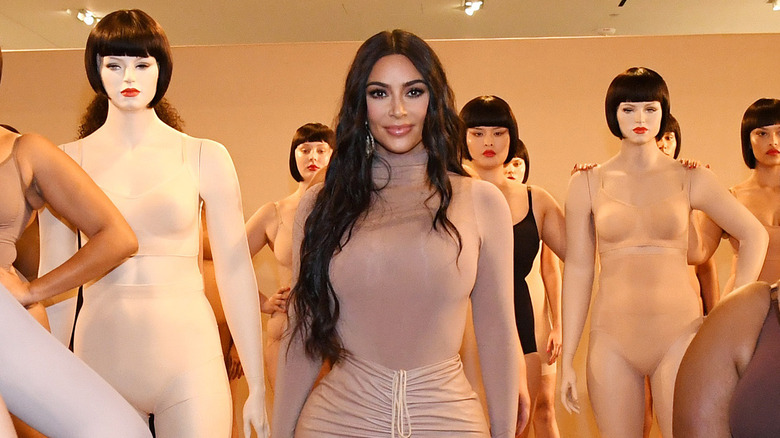 Kevin Mazur/Getty Images
The Kardashian-Jenner family knows how to build a brand. Khloe has her Good American denim line, Kourtney runs her Poosh blog, and let's not forget about Kylie's Lip Kit empire. Just like the rest of the family, Kim Kardashian started a brand based on what she knows best: shapewear. Of course, Kardashian's Skims line isn't the first shapewear brand on the market. So which is better, Skims or Spanx? Here's the full breakdown so you know which one is for you.
The shapewear market is ever-expanding and becoming, well, more cool as time goes on. The two biggest brands on the market are without a doubt Spanx and Skims. Spanx came out in 1998, when Sara Blakely got the idea for footless tights (via Inc.). What started as a shapewear line has evolved and grown into offerings like bras, panties, activewear, and even a men's line. Then came Skims, which essentially does what Spanx does, but arguably cooler. Because when you put Kim Kardashian's name on something, that tends to be what happens.
If you're torn between the two, there are a few factors that might be the deciding vote. From colors and sizes to fabrics and offerings, there's one brand that stands out from the other.
Skims offers a larger shade and size range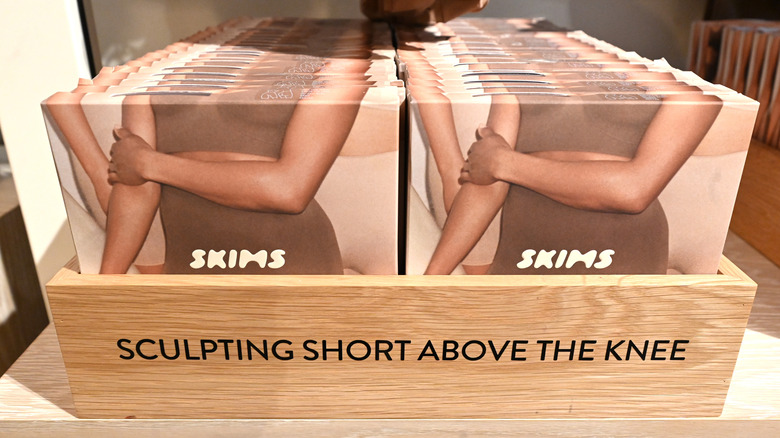 Kevin Mazur/Getty Images
When it comes down to it, you're going to get more options with Skims. According to both brand's websites, Skims offers XXS to 4XL, while Spanx only offers XS to XL. Break down the size guides and you get a waist-size range from 23.5 to 50 inches for SKIMS and 24.5 to 48 inches for Spanx. Skims is the winner when it comes to having a more inclusive size-range.
Add to that the shade range, and Skims also comes out on top again. The Skims brand currents offers nine different shapewear shades, while Spanx delivers only five. That alone can make or break someone's shopping.
When it comes to shapewear, most women opt for a shade that matches their skin (via WhoWhatWear), so it's almost not noticeable underneath the clothing that they're wearing. If you're in-between shades at Spanx, it might be time to check out Skims. Not to mention that Skims are actually cheaper in many categories as well. Smell a winner yet?
Skims is transforming how people see shapewear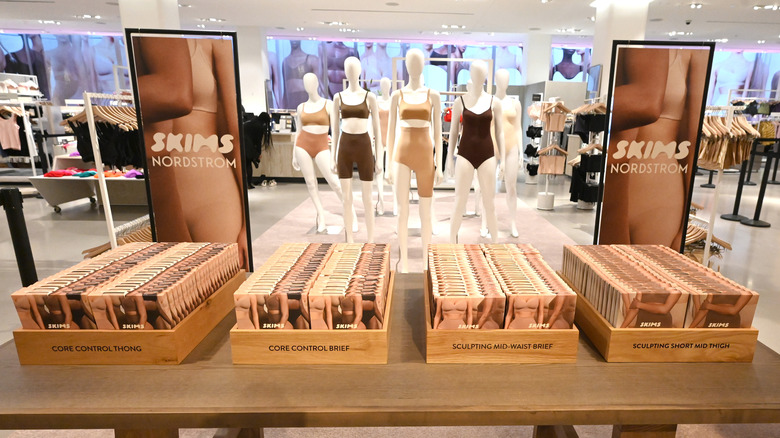 Kevin Mazur/Getty Images
Of course, as The Daily Beast mentions, there would likely be no Skims if there weren't already a Spanx. The two brands are extremely similar, even down to the offerings. The only thing Skims has working more in its favor is that it's, well, cooler. While Spanx focuses on wearing the items underneath clothing, Skims is an advocate of wearing it on its own (via Us Weekly). Say goodbye to the days where you're embarrassed to wear shapewear, because Kardashian is rewriting the narrative.
There is one section of the Spanx brand that is completely different from Skims — the clothing section. Skims opts for activewear, like velour tracksuits and knit separates, while Spanx offers full-on denim and "Leather-Like Pants."
When it comes down to it, Skims really is the way to go. From the price point to the size range, Kardashian is able to offer more options for shoppers. According to The New York Times, Skims is worth a whopping $1.6 billion in its first three years on the market. Looks like the brand isn't slowing down any time soon. Hooray for shapewear being cool again!