How To Apply For A Student Visa In Switzerland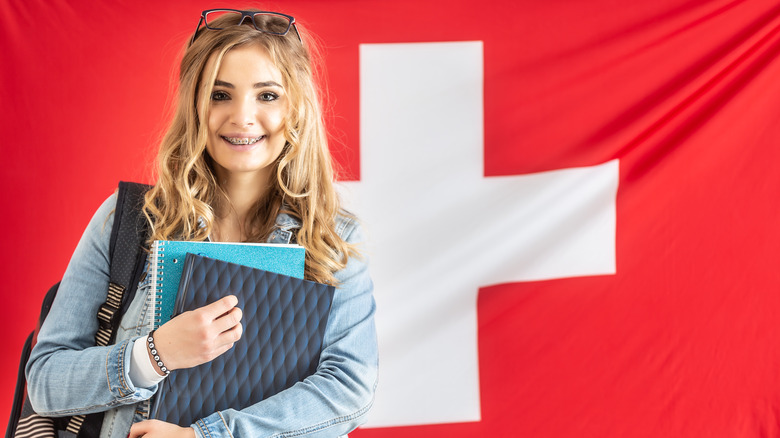 Marian Weyo/Shutterstock
Have you ever considered applying for a student visa in Switzerland? This European country is best known for its scenic landscapes and ski runs, among other aspects. Not to mention the famous Swiss chocolate as well that simply melts in your mouth and leaves you craving for more. Switzerland is also home to some of the most prestigious universities in the world, including ETH Zurich, the University of Basel, and the École Polytechnique Fédérale de Lausanne (EPFL) (via Mastere).
In 2020, more than 12,000 foreign students enrolled in Swiss universities despite the challenges posed by the COVID-19 pandemic, and in 2018, approximately 51% of Swiss adults aged 25 to 34 held a tertiary qualification, such as a doctoral degree. The country's focus on innovation and its high employment rates make it appealing to students worldwide.
Whether you want to become a gourmet chef, a scientist, or an engineer, you can study and work in this amazing country. Last year, the median annual wage in Switzerland was around $68,957, but it's possible to earn a lot more. For example, software developers make anywhere between $73,160 and $154,338 per year, with the average salary being $107,235.
However, you can't just pack your things, book a flight, and rent an apartment or dorm room in Switzerland. First, you must research your legal obligations and apply for a student visa. This process is quite complex and has several steps, but your school may be able to help. 
Know your legal obligations before moving to Switzerland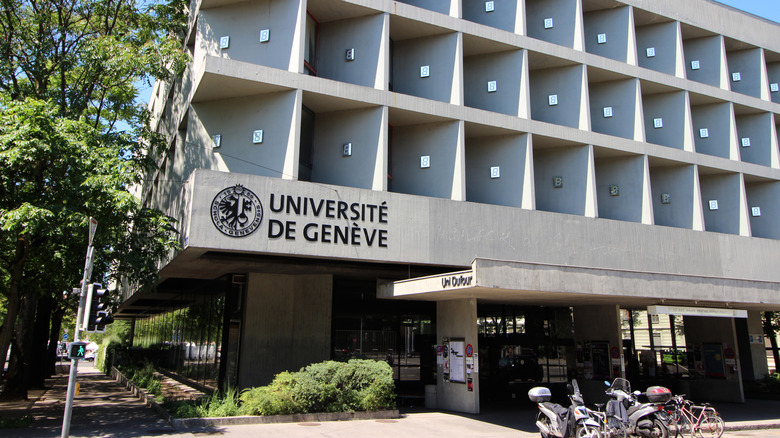 Go Wild Go Nature Pictures/Shutterstock
European Union (EU) citizens, as well as those residing in the EFTA (European Free Trade Association) area, don't need a visa to study at a Swiss university. The EFTA area includes Norway, Iceland, and Liechtenstein. Also, you don't have to apply for a visa if you're a citizen of Japan, Australia, New Zealand, Singapore, Malaysia, or the UK.  
All expats, including EU/EFTA citizens, must register with the local authorities within 14 days of entering the country, according to the Federal Department of Foreign Affairs (FDFA). Make sure you bring your ID card or passport, proof of enrollment at the university where you study, two passport photos, and a rental contract or other documents proving your place of residence. Apart from that, you'll need an official bank document showing you have enough funds to cover your living expenses.
If everything looks good, you'll be granted a residence permit. Note that students who work more than 15 hours a week while in Switzerland must obtain a work permit and contribute to the social insurance system. So, if you want to start a career as a photographer or software developer and work full-time, you'll first have to get the necessary approvals. 
Things are a little more complicated for non-EU/EFTA nationals, including U.S. citizens. If that's your case, you must apply for a student visa before moving to Switzerland. After that, you'll have to follow the steps outlined above to obtain a residence permit. 
Apply for a visa to study in Switzerland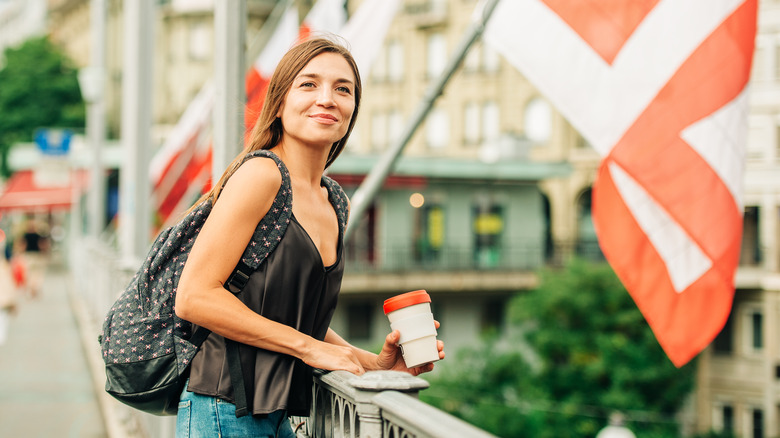 Anna Nahabed/Shutterstock
Non-EU/EFTA nationals who plan to study in Switzerland must apply for a C or D visa. The former allows them to stay in the country for up to 90 days within a six-month period, explains the FDFA. Consider this option if you wish to take short-term courses. The D visa, on the other hand, allows you to work or study in Switzerland for longer than 90 days.
American citizens must apply for a D visa before leaving the U.S. Be prepared to submit copies of your passport, resume, school certificates, diplomas, and a confirmation letter from the university you're enrolled in. You'll also need to write a motivation letter and prove you have sufficient funds (around $21,000 for 12 months) to support yourself during your stay. When you're done, send your visa application by mail and wait eight to 10 weeks to hear back.
Swiss authorities also require a written pledge to leave the country after finishing your studies, notes the University of Zurich. However, you may be able to remain in the country if you start a business or find work after graduation. In either case, you'll have to renew your visa and get the necessary permits. 
Most schools will assist foreign students with the visa application process. Just make sure you apply ahead of time and meet the legal requirements. Also, note that applicants over the age of 30 may not be granted the right to study in Switzerland.