If You Love Only Murders In The Building, Here Is The Book You Should Read
The hit series "Only Murders in the Building," starring Selena Gomez, Steve Martin, and Martin Short, has an unexpectedly cozy feel to it for a murder mystery. Its popularity is easy to understand, however, especially given beloved characters Mabel, Oliver, and Charles and their hilariously charming approach to unraveling the disturbing details of the deaths that happen in their apartment building.
In the evening hours, there's nothing better than tucking up with a good murder mystery novel or snuggling under a blanket to watch a new mystery crime show. Whether you prefer dark mystery books by Gillian Flynn or James Patterson's crime-focused novels, there's no doubt that most of us love putting on our detective glasses and trying to solve a case.
"Only Murders in the Building" is fast-paced and full of wit and mystery, and so is the book we've picked to be your new favorite read. You won't be able to put it down!
This book is the perfect read for fans of the show
According to Reader's Digest, if you love "Only Murders in the Building," you'll love reading "The Maid" by Nita Prose. Prose's novel contains many of the same types of quirky characters as "Only Murders in the Building."
Published in January 2022, the book currently has an almost four-star rating on Goodreads, with hundreds of thousands of reviews. The main protagonist, Molly, is a 25-year-old maid at an upscale hotel who finds her life turned upside down when she discovers a guest dead in bed. Her trademark obliviousness and straightforward manner of speaking land her in a sticky situation when she quickly becomes the chief murder suspect. Luckily, Molly has a few friends around her that are willing to help her try and clear her name.
Unlike the three main characters of "Only Murders in the Building," who are obsessed with true crime, Molly wants nothing to do with the world of crime. Still, both she and the "Only Murders" characters tell their stories with similar wit and verve. Even better, "The Maid" is being made into a film, with Universal acquiring the rights earlier before the book was even published (per Variety).
If you like quirky murder mysteries, you'll like these books, too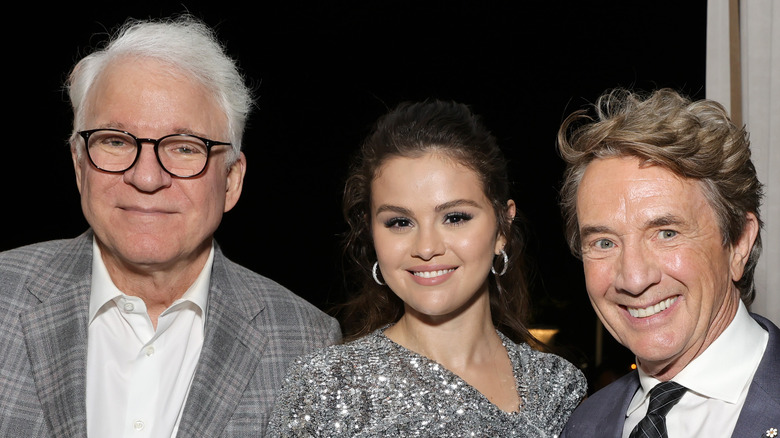 Amy Sussman/Getty Images
If you're a bit of an armchair detective and looking for another read with all the mystery and intrigue of "The Maid," you're in luck. Per the Chicago Public Library, "Pretty as a Picture" by Elizabeth Little takes inspiration from classic mysteries and currently has over thousands of four and five-star ratings on Goodreads. It was also a Wall Street Journal, Seattle Times, and CrimeReads pick for best mystery book of 2020 (via Penguin Random House).
The novel's main character, Marissa, is described as a somewhat reserved but respected film editor who is quickly drawn into a mystery when odd things start to happen on the set of the movie she is working on. Soon, Marissa finds herself involved in the unsolved murder case the film is focused on. The only problem is that the killer is still on the loose. You'll need a clear mind and maybe a notebook to keep track of all the names in this novel, but you'll come out of it feeling successfully proud that you've cracked the case.