Clarence Thomas Just Used His Powers To Help Lindsay Graham And Twitter Isn't Having It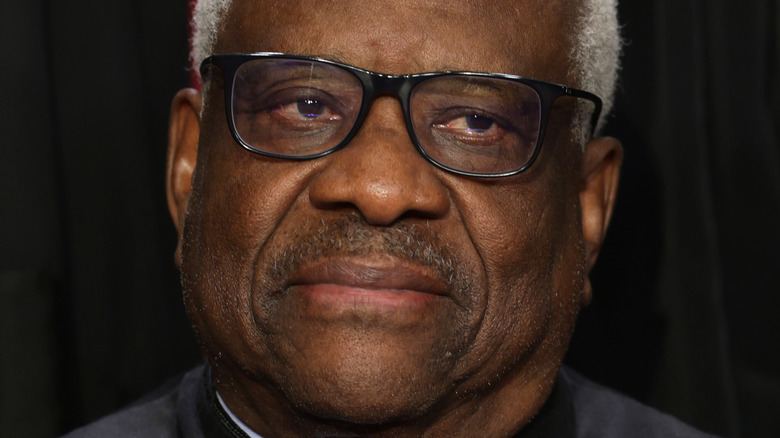 Alex Wong/Getty Images
Clarence Thomas has been a controversial Supreme Court Justice since his 1991 confirmation hearings when Anita Hill made allegations of sexual harassment against him — he was still confirmed as a Supreme Court Justice. Thomas said his confirmation hearings were "a high-tech lynching for uppity Blacks who in any way deign to think for themselves," per CNN. But after Donald Trump's fake electors scandal and the January 6 insurrection, the Supreme Court Justice's wife turned the spotlight on him. 
Political operative Virginia Thomas has been questioned about the January 6 insurrection by the House Select Committee. The Washington Post reported Virginia texted Chief of Staff Mark Meadows 29 times after the 2020 presidential election. Clarence Thomas' wife found herself in extremely hot water over the texts because they seemed unhinged. In one message, she wrote, "Biden crime family & ballot fraud co-conspirators . . . are being arrested & detained for ballot fraud right now . . . & will be living in barges off GITMO to face military tribunals for sedition." In September, The Washington Post reported that Virginia used her influence to pressure lawmakers in Arizona and Wisconsin to overturn Joe Biden's presidential win in 2020. 
As the wife of Supreme Court Justice Thomas has been in the spotlight over the company she keeps, Justice Thomas just used his powers to help Lindsay Graham, and Twitter isn't having it.
Clarence Thomas blocks Senator Lindsey Graham's testimony for 2020 election investigation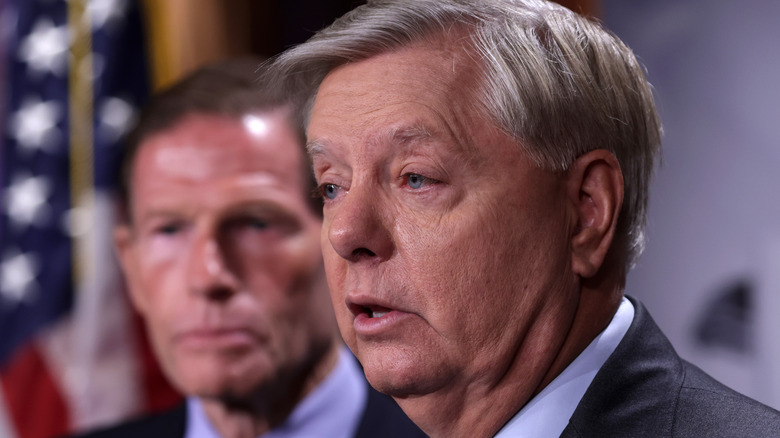 Alex Wong/Getty Images
Justice Clarence Thomas blocked a court order for Lindsey Graham's testimony to a grand jury investigating efforts to overturn the 2020 election on October 24. CNN reported that Graham was able to stall his testimony in the investigation on Donald Trump and his allies trying to influence the 2020 election results in Georgia. Graham's proposed national abortion ban had Twitter fuming recently, and the break that Thomas gave Senator Graham created a Twitter tsunami. One angry Twitter user wrote: "HOLD ON — Clarence Thomas, someone whose wife plotted to overturn the 2020 election, just blocked a Georgia grand jury subpoena seeking testimony from Lindsey Graham related to his efforts to overturn the 2020 election? And this is just somehow ok?" Another upset user tweeted: "Clarence Thomas has intervened and is helping Senator Lindsey Graham avoid his subpoena. A new low for America."
Other tweets contained slightly less outrage. One person explained: "Supreme Court Justice Clarence Thomas' wife tried to overturn the election, so he shouldn't decide cases about that election." TV host Mehdi Hasan tweeted: "How on earth is Clarence Thomas allowed to rule on anything 2020 election-related??" Legal expert Laurence Tribe posted: "Justice Thomas violated 28 USC 455, requiring any 'justice' to recuse when his or her 'impartiality might reasonably be questioned' or his or her 'spouse is known by the justice to have an interest that could be substantially affected by the outcome.'"