Why Haunted Halloween Days Of Our Lives Spoilers Have Fans On The Edge Of Their Seats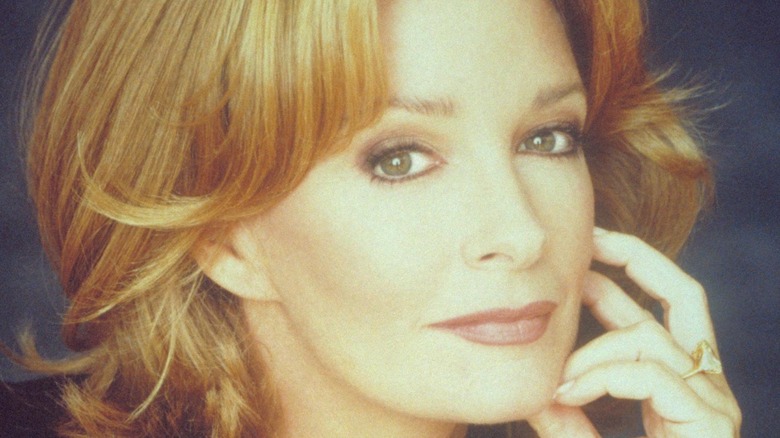 Getty Images/Getty Images
"Days of Our Lives" viewers have become accustomed to seeing the soap opera air spooky and often hilarious Halloween-inspired episodes. Many times the Halloween episodes of the sudser will be a fantasy-like storyline and later be revealed as a dream that one character is having, per Soap Opera Spy. Sometimes characters would even be seen getting killed in the episodes, or formerly dead characters would return.
However, in the fall 2021, "Days of Our Lives" went in a different direction. During that time, the soap had returned to its former possession storyline, with Dr. Marlena Evans (Deidre Hall) being possessed by the devil. This time around, the show went supernatural and had a possessed Marlena bring former Salem villains such as Nick Fallon (Blake Berris) and Charlie Dale (Mike Manning) return as zombie-like creatures who followed Marlena's every order, via TV Fanatic. Nick and Charlie were ordered to give some Salemites a scare before they were put back into their graves when Marlena's Halloween fun was over.
This year, it seems that "Days of Our Lives" viewers will also see some Halloween hijinks as the soap opera appears to have a few creepy twists and turns in store for fans.
Another spooky Halloween in Salem
"Days of Our Lives" is ready to tackle Halloween again, and this time there will be plenty of drama. In a preview, which was posted to the soap's official Twitter account, EJ DiMera is startled to see a creepy clown outside his window holding a knife. This begs the question of EJ's safety. Other Salemites are seen dressed up for the holiday, including Steve Johnson, who wears a pirate costume to match his infamous eye patch, and Alex Kiriakis who dresses as a cop complete with handcuffs.
In addition, Chad DiMera appears to find a briefcase with counterfeit money, which could be a setup for Sloan Peterson. Eric Brady is hired to photograph his ex-wife, Nicole Walker, via Soaps.com. Meanwhile, Paulina Price hires Leo Stark to help her with her campaign, and her husband Abe Carver isn't happy about it. Of course, Leo — who is often the comedic relief — dresses up like a political donkey. Of course, the most shocking part of the promo is when Gabi Hernandez holds a knife to Dr. Rolf and forces him to tell her the truth about Stefan DiMera's resurrection, proving once and for all that her fiancé, Li Shin, was behind his brainwashing.
"Patch the pirate and Officer Alex! I can't wait," one fan wrote. "Nobody does Halloween like Days," another tweeted. It seems like it's going to be another wild and wacky Halloween in Salem, and fans can't wait to see it all unfold.