One Hallmark Exec Named Their 'Biggest Challenge' For Making Movies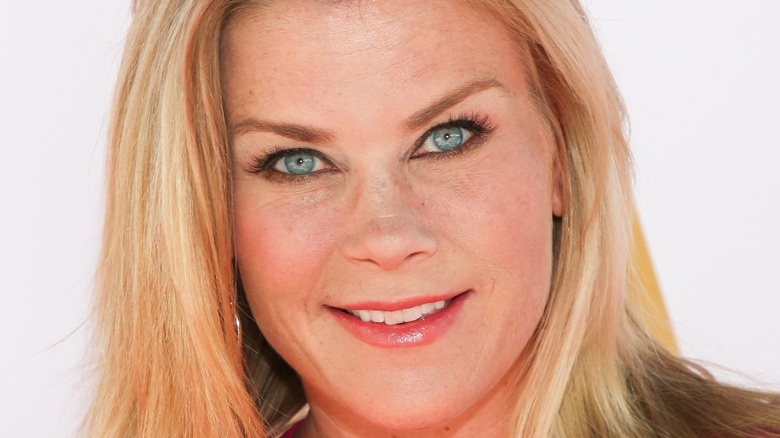 Paul Archuleta/Getty Images
For several years, The Hallmark Channel has been a leader in escapism entertainment, especially when it comes to holiday movies. With a stable of popular stars, including Alison Sweeney, Candace Cameron Bure, Lacey Chabert, and Danica McKellar, Hallmark movies have effectively owned Christmas on cable television, drawing in viewers eager for wholesome romantic or family stories set around the holidays. Along with at least 80 million viewers (per Forbes), the network has attracted numerous Hallmark Christmas Movie fan clubs on Facebook, podcasts, and blogs — and even hosts its own fan convention called ChristmasCon each year, according to Newsy.
Even so, the network has experienced several challenges, most recently when former Hallmark executive Bill Abbott started rival network GAC Family, taking with him several beloved stars, including McKellar and Cameron Bure. Abbott resigned after the network apologized for pulling commercials featuring same-sex couples and announced it would include LGBTQ storylines in its Christmas lineup, according to CBS News. As The Hallmark Channel prepares for a new holiday season under a newly branded company called Hallmark Media, some viewers might be surprised to learn what is probably the network's biggest obstacle in making movies.
Hallmark has become a Christmas movie-making machine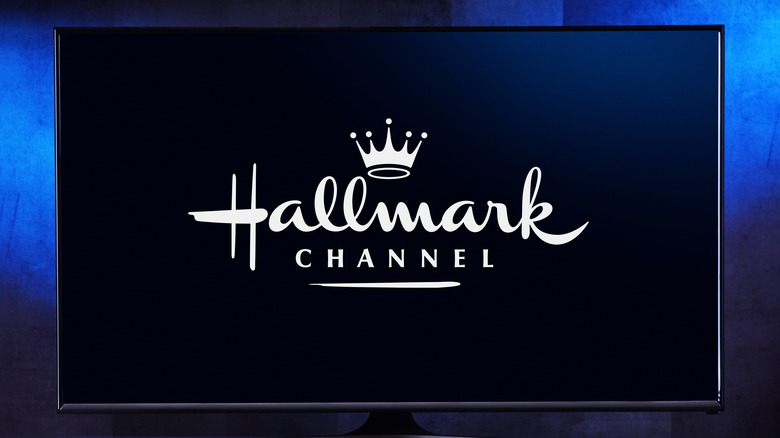 monticello/Shutterstock
The Hallmark Channel has produced 40 new movies each year for the last few years, and it has hundreds of favorites dating back to 2001 on standby to repeat, according to Forbes. One might assume the cost of making so many movies each year would be the network's biggest challenge, but Hallmark original movies are among the least expensive to produce, and they bring a return on investment in the form of viewers. Forbes reports that budgets for Hallmark films are usually below $2 million, and tax credits in Canada where the movies are shot help keep costs low.
Attracting new or keeping beloved Hallmark actors might have grown more challenging since former Hallmark executive, Bill Abbott, started the rival network GAC Family. However, Bustle notes that many actors have credited the network with boosting their careers. That means new and familiar actors are happy to join their list of talent. But not all viewers are as devoted to the actors anyway. On a Reddit board dedicated to Hallmark movies, user IAmTheEuniceBurns commented, "I personally would love more new faces on Hallmark. Aren't they running out of pairings?"
Storytelling can prove to be challenging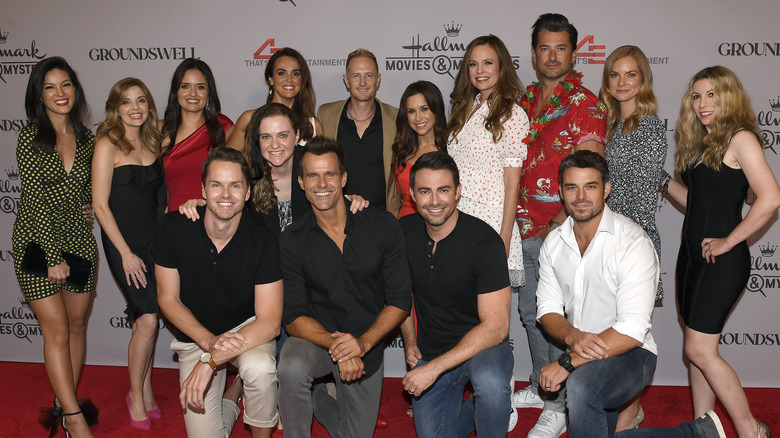 Michael S. Schwartz/Getty Images
In 2017, former Hallmark executive Bill Abbott revealed to Business Insider, "My biggest challenge is finding good scripts and good writers." One way producers have managed to keep viewers tuning in is by making sequels and finding inspiration in already published romance novels, such as "The Nine Lives of Christmas" by Sheila Roberts or "Debbie Macomber's A Mrs. Miracle Christmas." To help find good writers and stories, Hallmark also launched its own book division, allowing writers to submit manuscripts for consideration for adaptation from page to screen. 
As for what the network looks for, Joany Kane, who penned the first Christmas movie script for Hallmark that set the formula, told Bustle, "We all know how the movie ends. What makes these movies magic is the journey they take us on. The reason for the enormous popularity of these movies is that the fans of these movies want to feel: They want to feel love, to feel hope, to feel joy ... Christmas lends itself beautifully to this experience because this is the time of year where we have the most hope, the most anticipation for something wonderful coming."