Meghan Markle Takes A Swing At Racial Stereotypes In Latest Podcast Episode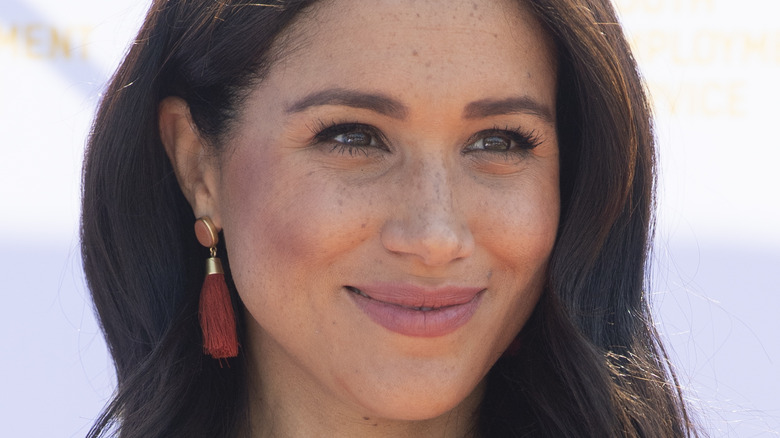 Wpa Pool/Getty Images
The Duke and Duchess of Sussex might have been accused of pitching "shows that are educational and inspiring, rather than sexy and sensational" to Netflix, as an industry insider memorably told the Daily Mail, but there's no denying her podcast is a hit — despite being resolutely serious in tone. Although "Archetypes" was briefly put on hold following the queen's death out of respect, it soon returned with a vengeance (via Entertainment Tonight).
After feeling silenced during her time with the royal family, as the duchess infamously told Oprah Winfrey (per Insider), she finally has the opportunity to tell her story in her own words. Among other things, Meghan Markle unpacked the reason she envies Archie and Lilibet while, during an episode with Lisa Ling and Margaret Cho, fans believe the former actor took a subtle dig at the royal family after enthusiastically encouraging listeners to always be true to themselves. 
"Just be yourself no matter what any societal framework or archetype or loud voice coming from a small place tells you that you should be," she said at the time. Meghan isn't slowing down either, using the latest episode to discuss racial stereotypes while sharing her own experience in the industry.
The Duchess of Sussex isn't afraid of being seen as demanding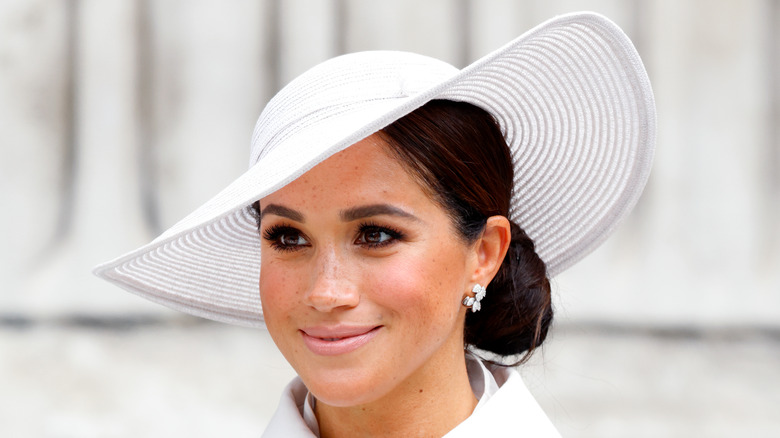 Max Mumby/indigo/Getty Images
Meghan Markle isn't pulling any punches with the latest episode of her hit podcast, "Archetypes." The Duchess of Sussex sat down with Issa Rae and Ziwe Fumudoh to dismantle the "angry Black woman" myth. Prolific actor and producer Rae, who created "Insecure," shared how she's gradually learned how to be more assertive, reasoning that being called "particular" is actually a good thing. "To me, that means I have a sense of what I want," Rae argued.
Meghan agreed, especially "because it's a shared success for everybody." The former "Suits" star admitted to sometimes falling back on respectability politics, but quickly encouraged her female listeners to "Stop whispering and tiptoeing around and say what it is you need." Meghan stated firmly, "You're allowed to set a boundary, you're allowed to be clear. It does not make you demanding, it does not make you difficult. It makes you clear."
There's plenty of work still to be done, with Rae noting she must choose carefully when to fight back, lest she unwittingly confirm the public's wrongful perception of her, and Black women generally. In fact, when Meghan was a working actor, the description of Black characters always included "an edge or an attitude," with no nuance. The idea of being seen as an "angry Black woman" clearly cuts deeply considering Meghan's bullying controversy. When the allegations first emerged, her spokesperson notably described it as a "calculated smear campaign" (via Vanity Fair).
Meghan Markle reportedly experienced racism within the royal family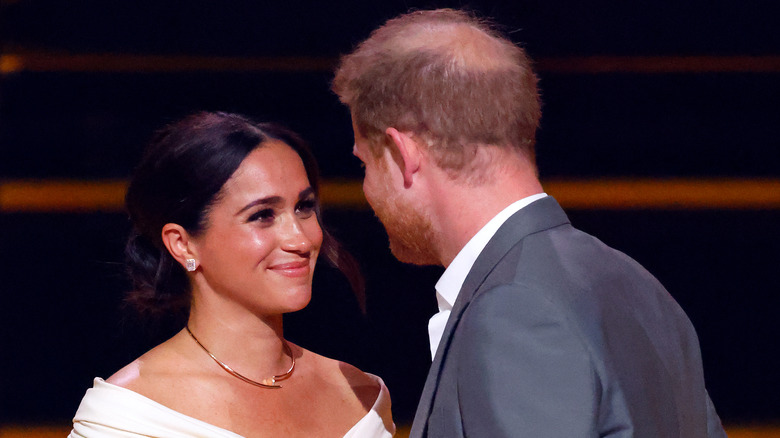 Max Mumby/indigo/Getty Images
Although the Duchess of Sussex experienced rampant racism throughout her time in the entertainment industry, being part of the royal family might have been even tougher. During Meghan's groundbreaking chat with Oprah Winfrey, alongside Prince Harry, she acknowledged enduring some shockingly racist comments during her short sojourn in Britain. Per People, the duchess shared that there were "concerns and conversations about how dark [Archie's] skin might be when he's born." 
Moreover, "They didn't want him to be a prince ... which would be different from protocol, and that he wasn't going to receive security." When Winfrey tried to get her husband to divulge who asked in the first place, he refused to be drawn. All Harry would say was that he was "shocked" when it happened. According to Christopher Andersen's book, "Brothers And Wives: Inside The Private Lives of William, Kate, Harry and Meghan," it was King Charles himself.
Page Six reported that, according to sources, he asked Queen Consort Camilla Parker Bowles for her thoughts on the matter, but she simply reassured Charles his grandson would be "absolutely gorgeous." A spokesman denied the claims, stating, "This is fiction and not worth further comment." During an appearance on "Today," Andersen explained that the comments were blown out of proportion, and Prince William argued that, although "tactless," they were absolutely "not a sign of racism within the family." The Prince of Wales later noted "we are very much not a racist family."